One thousand schoolchildren in Zimbabwe have brighter smiles thanks to a two-week dental outreach program at The United Methodist Church's Mutambara Mission Hospital.
The project — a collaboration between the church's dental clinic and a Swedish team with Dentists Without Borders — provided free services, including oral health education, screenings, fillings and extractions of broken and decayed teeth.
The group also distributed 1,000 toothbrushes and toothpaste to five schools in the Chimanimani District, said Sara Elmqvist, a dental hygienist from Sweden.
"Brushing teeth twice every day with toothpaste is a very easy and a very effective way in preventing dental problems," she said.
Elmqvist said buying a toothbrush and toothpaste is not cheap in Zimbabwe, especially with the economic hardships facing rural people in the country.
The Rev. Alan Masimba Gurupira, administrative assistant to Bishop Eben K. Nhiwatiwa, said the office of the bishop hails the work of Doctors Without Borders.
"Their contribution and support enhances the church's health ministries. However, our challenge becomes the sustenance of this wonderful program," he said.
Dr. Advance Chingwena, project coordinator and head dentist for United Methodist Dental Services, said Swedish dentists and hygienists visit twice a year (in February and July) to set up shop at Mutambara or Old Mutare Mission hospitals.
"The program (supports) the primary objective of The United Methodist Church dental clinic of taking dental care services to remote and disadvantaged communities (with) limited access to dental care," Chingwena said.
Last month's visit was the second trip for Swedish dentist Dr. Kjell Gustafsson.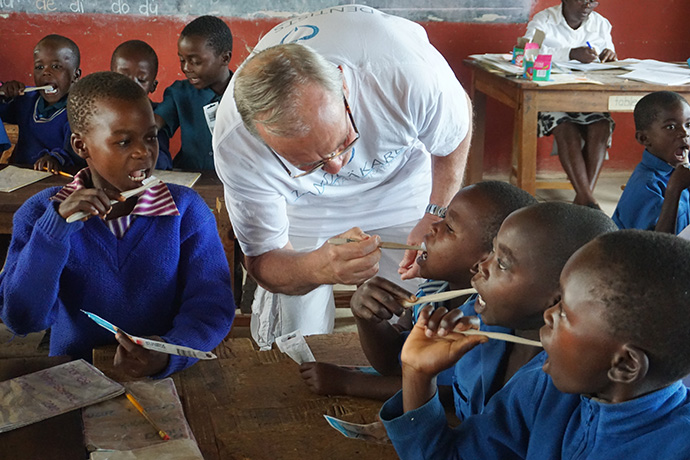 "We have been implementing this project for the past 10 years and we have realized a lot of positive results. At Bvumbara School, where we visited and assisted last year, pupils are now much more aware of preventing tooth illnesses. More children had healthy teeth compared to new schools that we visited," he said.
"Children are now brushing their teeth often and have imparted the knowledge to their parents, which is quite encouraging."
Farai Mahlangeni, a dental therapist at Mutambara Mission Hospital, said that since the inception of the program, Mutambara Mission Hospital's dental clinic has experienced an influx of patients. People are taking better care of their teeth, she said.
"The emphasis of the program is to catch them young and prevent tooth decay. … Prevention is better than a cure," Mahlangeni said.
Dr. Carina Norberg, a specialist pediatric dentist from Sweden, said the group's primary target is children ages 6 or 12.
"At 6 years, it is the time when the permanent sets of molar teeth erupt, hence the need to preserve them because they have to last a lifetime," she said. "At 12 years, they would have lost the temporary teeth and have permanent teeth and are prone to decay."
Norberg said the program also includes a hands-on station that teaches children how to brush correctly.
"The children are given a toothbrush and toothpaste and time to brush their teeth under the supervision of their teachers every day. By so doing, they also get accustomed to the habit of cleaning and subsequently transfer the knowledge to their family and the community," she said.
Subscribe to our
e-newsletter
Like what you're reading and want to see more? Sign up for our free daily and weekly digests of important news and events in the life of The United Methodist Church.
After the oral health education, the dental team screens, fills, extracts and, where necessary, recommends a visit to the resident Zimbabwean dentist for follow-up.
Nester Jeyacheya, deputy head of Mutambara Central Primary School, said the project has changed the habits of children and their families.
"As a school, we are grateful for the project," Jeyacheya said. "The attitude and behavior toward dental care has improved within our children and they have managed to pass on the knowledge to their parents."
At the end of the two-week program, Gustafsson said the team leaves all of their equipment at Mutare dental clinic for the next group to use.
"Our wish is to continue the outreach so that more of the populace of Zimbabwe will be aware of the need for dental care and subsequently have healthy teeth," he said.
Chingwe is a communicator for the Zimbabwe East Conference.
News media contact: Vicki Brown, Nashville, Tennessee, (615) 742-5470 or [email protected]. To read more United Methodist news, subscribe to the free Daily or Weekly Digests.