Moses Kumar's day job with The United Methodist Church reaches across oceans.
As top executive of the General Council on Finance and Administration, he oversees a quadrennial budget of $604 million — touching mission and ministry throughout the multinational denomination.
But recently he has answered a second call — setting aside balance sheets to brush up sermons as the part-time pastor of a small, country church.
"I view this as an extension of the ministry I already do," said the newly titled the Rev. Kumar, just days after being licensed as a local pastor in the Tennessee Conference. "It's not that I end my work and then I go do this. It's a holistic approach."
Bishop Michael McKee, president of the finance agency's board, sees the additional role as good for both Kumar and the agency he has led for 10 years.
"Moses has a heart for the local church and the impact would best be described as affirming his heart for the church and the ministry of Christ," said McKee, who also leads the North Texas Conference.
Since July 1, Kumar has served a quarter-time appointment as pastor of Lillard Chapel United Methodist Church, an African-American congregation founded in 1887.
Quarter time means he is expected to work with the congregation no more than 10 hours a week.
But there was nothing quarter-way about Kumar's passion as he preached his first Sunday to some 20 worshippers or the welcome he received. Warm applause greeted Kumar when he completed his sermon.
"Jesus lives in our hearts," longtime member LaRue Chaney told those gathered, before sharing the week's announcements. "We may be a small church at the end of the road, but we have a great heart."
The picturesque, red-brick church sits amid open fields on the outskirts of Murfreesboro, a city about 35 miles from Nashville.
A frequent complaint is that the denomination's general agencies can seem far away from the needs of local churches. But Kumar and other agency executives are trying to change that.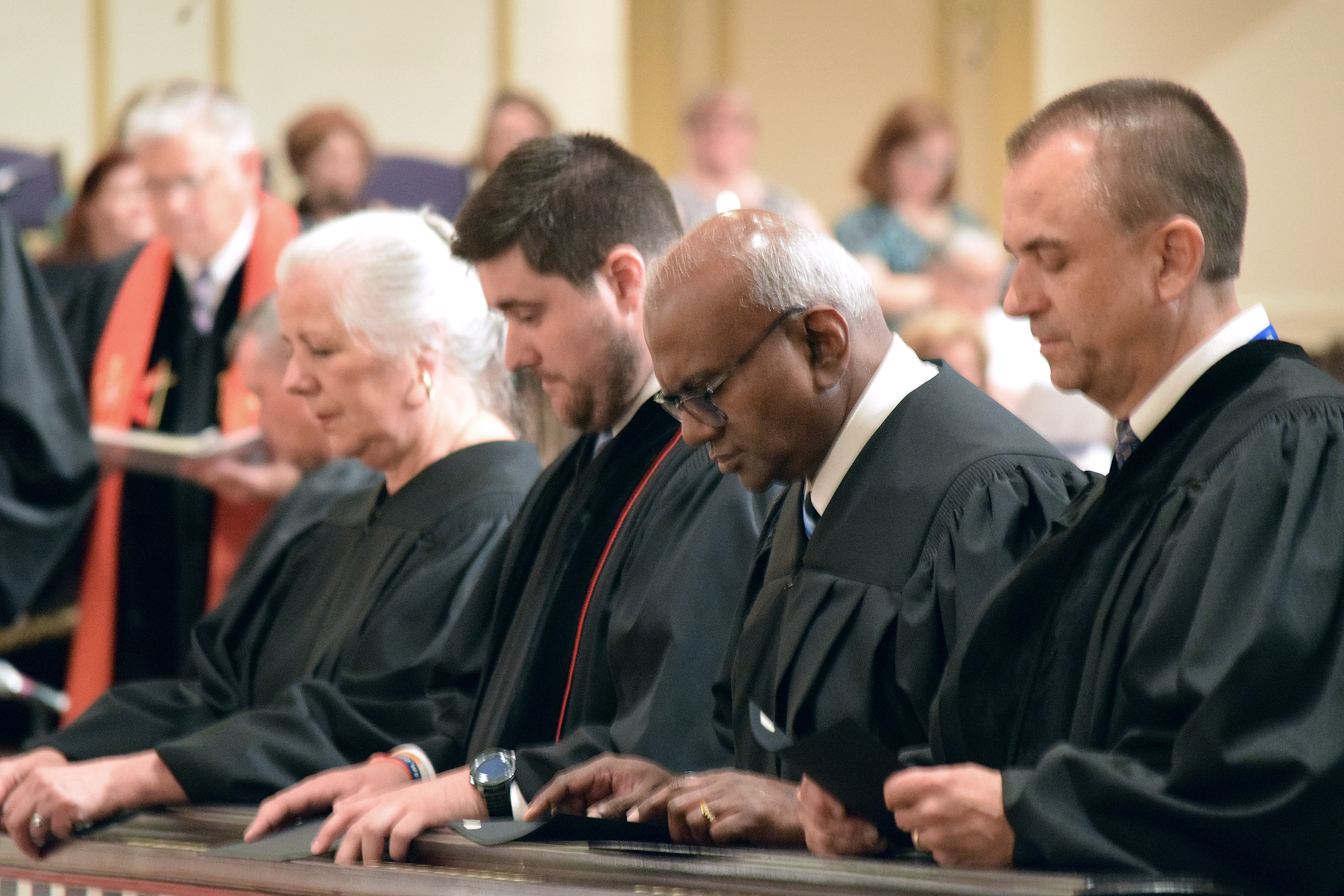 Kumar has long had congregations like Lillard Chapel in mind while seeking to steward the denomination's finances. He sees general agencies as a support for the work of local churches.
For example, he pointed to the many church products his agency promotes as United Methodist ministry partners as well as the resources provided by other agencies such as Discipleship Ministries and United Methodist Communications.
"So many things to benefit the local church," he said with a big grin, "I get to use them now."
And, he added, he will learn what really works.
Kumar is also joining a national trend. Since the 1980s, local pastors have been on the rise at United Methodist churches across the United States while the number of seminary-trained, ordained elders has dropped.
The Lewis Center for Church Leadership at United Methodist Wesley Theological Seminary monitors that growth in its annual Clergy Age Report. As of 2017, the center reported, 7,512 licensed local pastors served in the U.S. — nearly double the number that served in 1990.
Many of those local pastors, like Kumar, work part time while continuing in other professions. Also, like the 64-year-old Kumar, many answer the call to pastoral ministry later in life.
The Rev. Ed Trimmer, executive director of the Turner Center for Church Leadership at Martin Methodist College in Pulaski, Tennessee, would like to see more experienced church leaders like Kumar take on the role of small-church pastor.
Trimmer himself recently took an appointment as pastor of First United Methodist Church in Lawrenceburg, Tennessee.
"Our smaller congregations — in this day and age when everything is about size — need great leadership," Trimmer said. "When we have somebody like Moses willing to step into that role, I think it's a great sign of health for our church."
Kumar's wife, the Rev. Felicia Kumar, is a United Methodist elder, and he has long made a point of being involved in the ministries wherever she is appointed.
He has taught vacation Bible school and visited parishioners at the hospital. Last year, he started a men's fellowship at First United Methodist Church in Smyrna, where his wife is associate pastor.
But he said he has felt God nudging him toward pastoral ministry for a long time.
He thinks back to a church in his native India that dug a water well for use by the whole community. The church also had "a Bible woman" sit by the well during times of high traffic to speak and pray with whoever dropped by, whether Muslim, Hindu or Christian, high-caste or low-caste.
That church doubled in size, Kumar said.
"It's about bringing people together at the well. This always stuck in my mind," he said. "God has been nurturing me to think why can't I be like the Bible woman? I wanted to do something."
Top agency executives, with their board's approval, can take a sabbatical for up to a year. Last year, Kumar asked for and received a sabbatical.
"God put it on my heart that this is the right time," he said.
He sought advice from Bishop Willliam T. McAlilly, who leads the Tennessee Conference, about his sense of call.
McAlilly encouraged him to think about the various ways he might enter pastoral ministry. Kumar attended licensing school in May.
"He has a passion for evangelism and a pastoral heart," McAllily said. "We hope that this innovative experiment will bear fruit for the Kingdom."
Amanda Rankins, a Lillard Chapel member for 12 years, said the congregation has welcomed multiple new pastors over the years and has gotten along well with almost all of them. She is equally optimistic for her newest pastor.
"He's new, but I can tell he is a good man," Rankins said of Kumar. "He's warm."
Kumar is now taking the second six months of his sabbatical as he adjusts to his new ministry. But he has every intention of continuing his work with the finance agency as well as his role as General Conference treasurer.
Ultimately, Kumar sees his pastoral role as one of empowering laity.
"I need help from the laity to do the work," he said. "I want to be a cheerleader for them."
Hahn is a multimedia news reporter for United Methodist News Service. Contact her at (615) 742-5470 or

[email protected]

. To read more United Methodist news, subscribe to the free Daily or Weekly Digests.
---
Like what you're reading? Support the ministry of UM News! Your support ensures the latest denominational news, dynamic stories and informative articles will continue to connect our global community. Make a tax-deductible donation at ResourceUMC.org/GiveUMCom.