Filipino United Methodists' outcries against human rights violations have intensified during the coronavirus pandemic, including expressing outrage over the passage of a new anti-terrorism bill that one bishop said "will suppress our rights to protest and speak against evils of the society."
The bill, which is awaiting President Rodrigo Duterte's signature, has ignited strong protests around the country. It expands the definition of terrorism and boosts police powers of surveillance, arrest and detention, according to Reuters.
Some human rights groups, universities and church organizations have united in the streets in protest, despite the general community quarantine because of the coronavirus, and released statements to throw out the bill.
Manila Area Bishop Ciriaco Q. Francisco said he is against the proposed anti-terrorism law.
"It is oppressive and will suppress our rights to protest and speak against evils of the society. It is suppressing our ministry of compassion, justice and peace," he said.
Francisco said the government instead should be focused on addressing poverty, food security, health services and employment.
"If this bill is approved and turned into law, then our rights to speak, to protest and criticize the oppressive and unjust will be abolished."
Davao Area Bishop Rodolfo Juan said the bill must protect people's human rights.
"There must be enough safeguards to promote democracy and protect lives," he said. "It is my prayer that this bill has clear-cut guidelines that provide legal empowerment of those who advocate freedom and democracy."
Bishop Pedro M. Torio Jr. of the Baguio Episcopal Area said provisions in the proposed law allowing detention without arrest warrant and surveillance are not consistent with Christian faith or the United Methodist Social Principles.
"These sections are open to abuse and the resulting violation of human rights would be a nightmare," he said, adding that he hopes better legislation will be considered. "We will support legislation that will protect basic civil rights while enabling the government to fight terrorism."
Francisco explained how terrorism is defined in the bill.
"Inciting terrorism, which can be committed by means of speeches, proclamation, writings, emblem, banners or other representative of the same, is punishable by 12 years in prison."
He said that this definition is removing freedom of speech, which is a basic human right.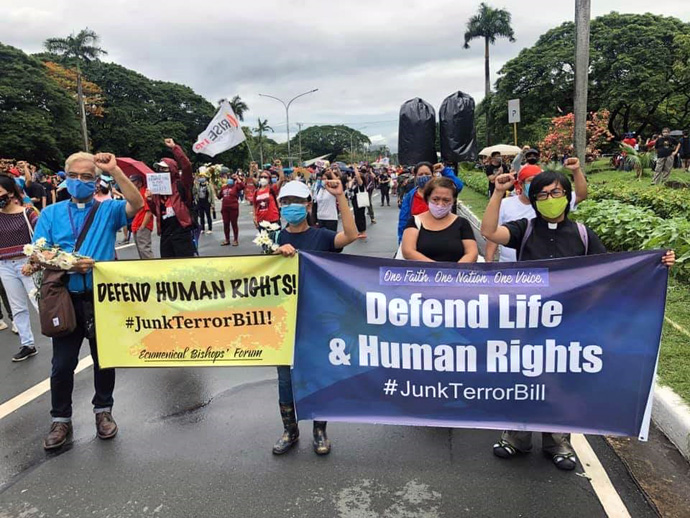 The Philippines Central Conference Board of Church and Society also issued a statement opposing the bill, while clarifying that the board does not condone terrorist acts.
"At the same time, we do not conform to any actions or legislations that trample on civil liberties and individual freedoms guaranteed and protected by the constitution and recognized by our Social Principles as essential part of our humanity and existence," the statement said.
The board's statement specifically objected to the provisions for arrest without warrant, detention without charges and surveillance and wiretapping.
Norma P. Dollaga, a United Methodist deaconess, spoke on United Methodist activism in the Philippines in a webinar on May 31 hosted by the International Coalition for Human Rights in the Philippines and First United Methodist Church in Portland, Oregon.
"Human rights is a beautiful articulation to reclaim the dignity of human beings," she said.
Dollaga said the church's ministries with poor and marginalized communities are being endangered as activists and organizations with long and credible histories in humanitarian service work are being tagged as suspected members of terrorist groups or front organizations of the Communist Party of the Philippines or New People's Army.
She said this has made doing relief work dangerous.
"One would be in trouble if she or he gives soup to the hungry. Today, one becomes a suspect, and will be in jail," she said.
"We are witnesses to the weaponization of the law used to harass, persecute and punish the faithful ones, seeking to defend the rights of the poor and pursue the cause of justice," she said.
United Methodists joined other church leaders in a statement released by One Faith. One Nation. One Voice, an ecumenical group committed to mercy and justice work, in opposing the anti-terrorism bill.
The statement said that the bill would cause a "further shrinking of democratic space and weakening of public discourse that will be detrimental to our nation."
The bill has "features that reek of the dark days of the Marcos martial law. … We are speaking, even as we recognize that to do so is dangerous. For such a time as this, to remain silent only assures the impending destruction and abuse of our people," the statement said.
The Promotion of Church People's Response, an ecumenical organization of church people that includes United Methodists, denounced recent red-tagging in the country.
"We raise the alarm for the welfare of our members and leaders, who staunchly commit themselves as human rights defenders and peace advocates," the group said in a statement.
"We are threatened under rising authoritarianism in the Duterte government, most recently exhibited in amendments to the anti-terrorism bill, which can be used against any critics of government and stifle legitimate dissent, giving authorities even greater opportunities for the curtailment of people's rights without accountability."
United Methodist human rights defenders who are engaged in ministries of justice and peace also spoke out against human rights violations during a May 16 webinar.
"The current response of the Duterte government has been marred by an extreme militaristic approach especially directed towards the poor people but compassionately considerate among his allies," said Darlene Marquez-Caramanzana, a United Methodist deaconess.
Jean Reynolds of the Western Methodist Justice Movement, in the same webinar, urged the United States to take action.
"U.S. military aid to such a dictator should have stopped long ago, but if there is ever a time for the United States to show it believes in human rights, it's now when Duterte blatantly commands the killing of innocent people in the streets whose only crime is to seek food and shelter."
Mangiduyos is a communicator from the Philippines.
News media contact: Vicki Brown, news editor, [email protected] or 615-742-5470. To read more United Methodist news, subscribe to the free Daily or Weekly Digests.
---
Like what you're reading? Support the ministry of UM News! Your support ensures the latest denominational news, dynamic stories and informative articles will continue to connect our global community. Make a tax-deductible donation at ResourceUMC.org/GiveUMCom.