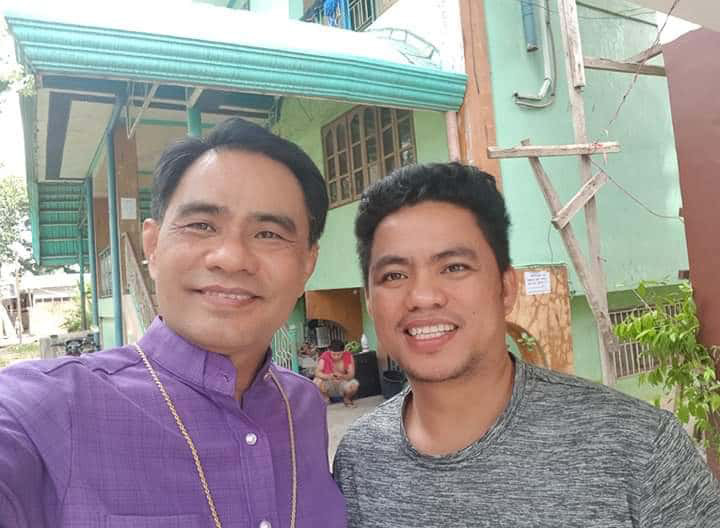 Bishop Rodolfo A. Juan, left, poses with the Rev. Eller Ordeniza, a United Methodist pastor in the Philippines, after Ordeniza was released from jail. Photo courtesy of Bishop Rodolfo A. Juan.
The Rev. Eller Ordeniza, a United Methodist local pastor, was among those arrested and detained for two and a half days after trying to rescue tribal children in the Philippines who were locked out of their school by military forces.
The group was released on bail after being detained and charged with kidnapping and human trafficking for "transporting minors without parental permission."
Ordeniza is currently assigned at Samal, a mission church of First City United Methodist Church in Davao City. In an interview with United Methodist News Service, he said he and the others were rescuing the students and teachers who were fleeing their village after the lockdown.
There has been continued unrest in Talaingod, Davao del Norte, as the armed forces, police and a paramilitary group have reportedly closed Lumad schools and threatened and harassed students and teachers.
Ordeniza said that on the afternoon of Nov. 28, students and teachers of the Salugpungan school for Lumad children were locked out of the school and dormitory where they live.
"They sought help via text message. We went to look for (an) alternative school and we sought assistance from the Department of Education (and) Department of Social Welfare and Development, (but) nobody accommodated us," he said.
He said the four teachers and forty-one students walked for 4 hours and 15 minutes to meet him and three other Protestant pastors, a congresswoman and a former legislator in Butay, where five vans were waiting.
"It was 9 p.m. already. We went through the checkpoint," he said, adding that on their way to the alternative school, one of the vehicles got a flat tire and they had to stop to check it.
"Suddenly, there was one pistol shot. The students and teachers started to cry out of fear. We were apprehended. We were asked for profiling (identification); they did not mind if we are clergies or we are rescuing the students," Ordeniza said.
He said there were about 100 military men surrounding them, so they were helpless.
They were brought to the police station in Talaingod. The next day, 18 people, including Ordeniza,were charged with kidnapping and human trafficking.
According to UCANews.com, police reports stated that the "successful rescue of 14 minors" was a result of its "continuous effort to implement" the anti-trafficking in persons law.
At a Dec. 2 press conference, some of those detained vowed to file countercharges against those responsible for the arrest and detention.
Ordeniza said it is his role as a United Methodist pastor to help the marginalized.
"Risk, pain, difficulty, hardship, these are all engraved in our service to humanity. When we rescue, we don't choose people, we respect all," he said.
"Peace, justice and freedom will come. I hope the policemen and the armed forces will be objective and fair. I am hopeful that the law will be fair."
Bishop Rodolfo A. Juan, resident bishop for the Davao Episcopal Area, said, the church will continue to work for peace, justice and reconciliation.
"I enjoin all Davao area church workers to be vigilant and do missions based on the United Methodist Social Principles, without engaging in political activities. We also pray that peace talks will resume for lasting peace here in Mindanao and throughout the Philippines."
While the group was detained, the Promotion of the Church People's Response — Southern Mindanao Region released a statement condemning the attacks.
"This recent attacks to the Lumad communities and their genuine supporters are direct violations to the rights and dignities of our marginalized brothers and sisters," the statement said, outlining the persistent struggle of the Lumad in Mindanao to defend their ancestral domain and assert their legitimate rights.
"This is but another attempt to suppress their rights and demonize their struggles."
The statement called on the government "to stop being a mercenary of power and money. We remind them that whatever they do to the least of our brothers and sisters, they do it to God (Matthew 25:40). We appeal on all the people of faith and goodwill to unceasingly pray for the safety of our Lumad brothers and sisters and those arrested.
"It is not a crime to defend the poor; it is a moral obligation of anyone who has faith. Rather, it is a sin to remain silent and do nothing when people are suffering. May the Lord of mercy and of the poor protect our Lumad brothers and sisters," the statement said.
This is not the first time The United Methodist Church in the Philippines has taken a stand to protect the Lumad.
In 2016, Bishop Ciriaco Q. Francisco and other United Methodists of Spottswood Methodist Mission Center gave sanctuary to 4,000 farmers and indigenous people after a protest for food relief turned deadly.
"Oblivious of risks and struggles, we clergies strongly believe that it is most important to attend to peoples' needs," Ordeniza said. "This is my advocacy."
Mangiduyos is a communicator from the Philippines. News media contact: Vicki Brown, news editor, [email protected] or 615-742-5470. To read more United Methodist news, subscribe to the free Daily or Weekly Digests.