Potatoes connect former NFL player Jason Brown and part-time nurse and mother-of-four Lindsey Whitley, though they don't know each other.
Whitley's home in Indian Trail, North Carolina, is about 200 miles from Brown's farm in Louisburg. Potatoes from Brown's 1,000-acre North Carolina property end up as potato soup on the Whitley dinner table through the work of the Society of St. Andrew. The Virginia-based non-profit works to share healthy food and reduce food waste.
"The big problem is that where the food is produced is not where the people are hungry," said B.J. Copeland, one of a group of self-described "Old Farts with Trucks" who volunteer their time, vehicles and trailers to haul food from farms to centers that get it to churches, food banks and additional distributers.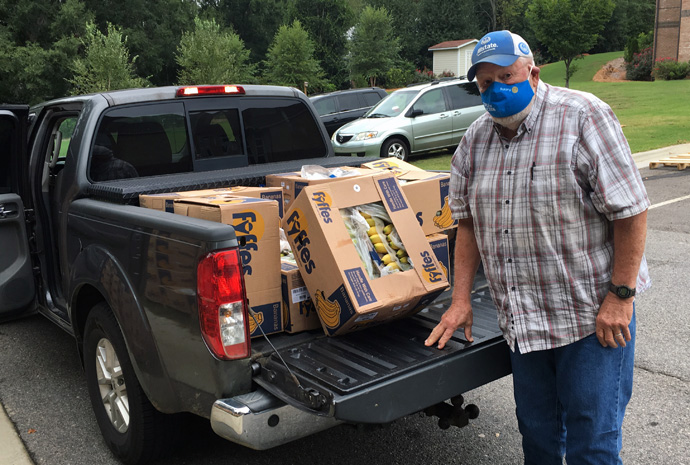 The food chain in the U.S. has built-in waste, said the Rev. Michael Binger, a United Methodist and North Carolina regional director for the Society of St. Andrew.
Farmers routinely enter into contracts to provide less food than they usually grow, in order to guard against weather and other factors that might result in smaller harvests than expected, Binger said.
They try to sell the excess, Binger said. If they can't, the Society of St. Andrew seeks the donation of the crops that would otherwise be headed for landfills as garbage.
"Nationwide we do about 30 million pounds of produce a year," Binger said. Most of the food is distributed in the southeastern U.S.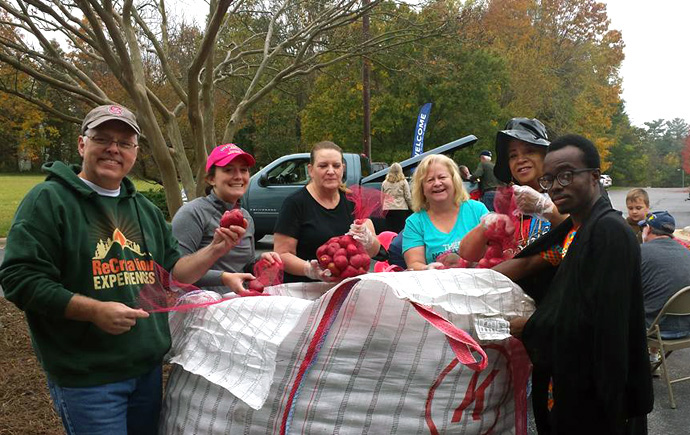 Foundation grants and donations from churches and individuals fund the organization.
"The great thing about what we do, it's tangible," Binger said. "You can see the truck coming to the church parking lot and know you've distributed 120,000 servings of produce to your community. … You can touch and see and know the impact that you've had right around you.
The Rev. Matt Smith, pastor of Faith United Methodist Church in Indian Trail, worked at the Society of St. Andrew as a volunteer and then as a part-timer after college. When he arrived as pastor at Faith United in July, one of his first actions was to get the church involved with the organization.
"A congregation comes together and you bag 40,000 pounds of potatoes. A lot of things that you do in service, there's not such a dramatic and noticeable impact. I just think it's a great thing to get the congregation involved, and invite people from the community to take part," Smith said.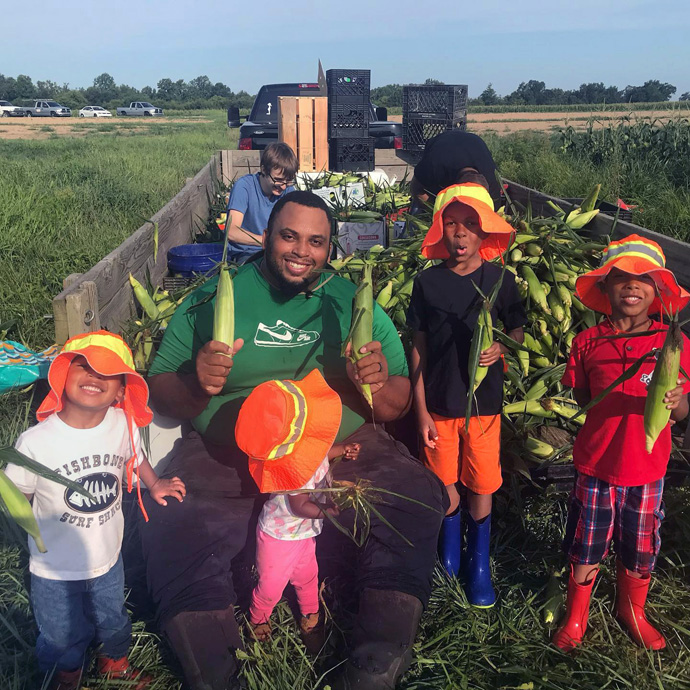 First Fruits Farm was founded by former NFL center Jason Brown in 2013, after he ditched the career that made him a millionaire. He played seven seasons for the Baltimore Ravens and St. Louis Rams before walking away at the age of 29 from lucrative offers to continue playing.
Brown said he was arrogant, even as a student at the University of North Carolina at Chapel Hill. He said he still holds several weightlifting records for the football squad there.
"Most rooms I walked through, my pride tells me that 'Hey, you're one of the smartest guys in the room, and you're definitely the strongest guy in the room,'" Brown said.
The 2003 death of his older brother, Lunsford Bernard Brown II, while serving in the U.S. Army in Iraq weighed on his mind. He woke up in his mansion on his 27th birthday – his brother was 27 when he died – walked into the bathroom, "looked in the mirror, wiped the crust from my eyes and all I saw was just a huge disappointment."
In 2012, Jason and wife, Tay, packed up their family and moved back to North Carolina, buying the land that became First Fruits Farm. Unlike other farms that donate excess food to the hungry, First Fruits donates almost all of its harvest every year. Donations and rental income from an event hall help to pay the bills.
Volunteers help maintain and gather the bounty. First Fruits Farm estimates it has provided more than 1.6 million servings of fresh produce since 2014. Crops include sweet corn, potatoes, snap beans, cabbage, pumpkins, tomatoes and peppers.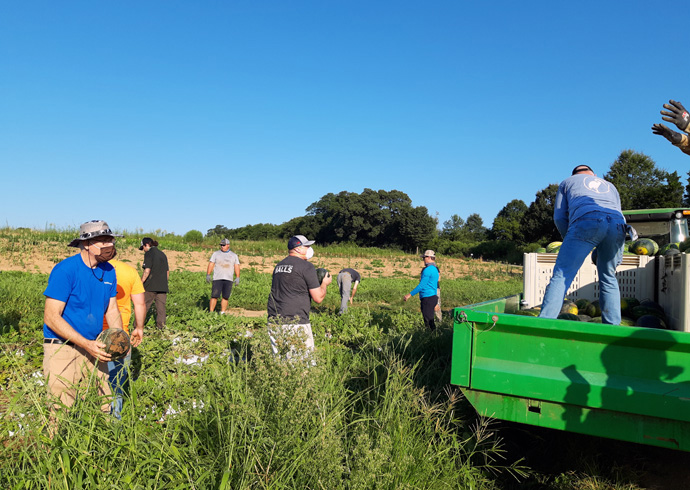 The Society of St. Andrew helps move some of First Fruits Farm's products to distributors. That's where volunteers like the "Old Farts with Trucks" come in.
"Well, Michael Binger (the North Carolina regional director for Society of St. Andrew) is the son-in-law of Charlie Hatch, who's my very best friend," said Copeland, an 84-year-old retired professor of marine science and oceanography. "Michael, I'm on his speed dial, I think."
Copeland, who attends Mount Pleasant United Methodist Church in Pittsboro, North Carolina, recruited several fellow Rotary Club members to help.
They solve the problem of transporting the food.
"That's where I come in. I can do that. I'm not into going out into the field any more. I'm a little too old for that, so I can drive my truck and haul," Copeland said.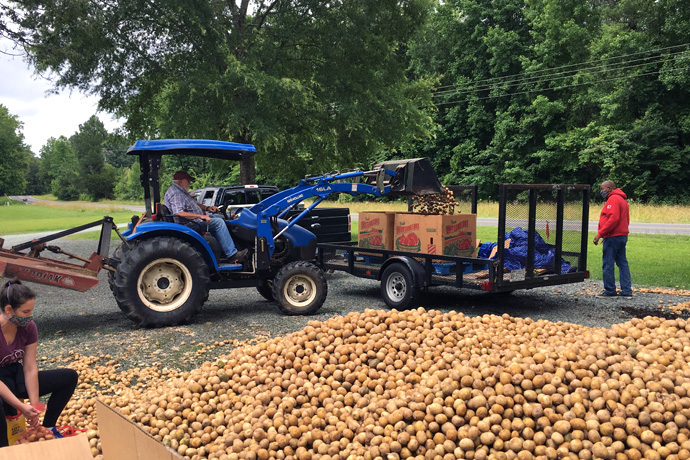 Some of the potatoes from First Fruits Farm were taken to Mill Grove United Methodist Church in Indian Trail, North Carolina.
"We made potato soup," said Alisa Pitera, a member and volunteer at Mill Grove. "They were 10-pound bags, and we used about 40 pounds and made a ton of potato soup."
The church is now averaging 190 dinners given away each Wednesday, up from 50 before COVID-19.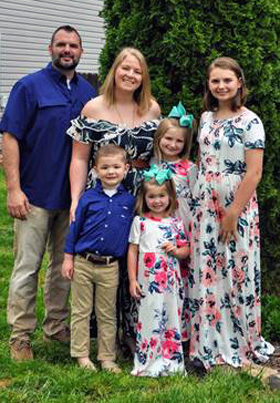 Chris (left) and Lindsey Whitley and their children get a meal once a week from their church, Mill Grove United Methodist Church in Indian Trail, N.C. Photo courtesy of Lindsey Whitley.
"We have a lot of communities around here that are very hard-working communities with large families, probably multi-families living in small trailers or something," Pitera said. "We're just reaching them. We're starting to see more people coming through, some who don't necessarily speak English. But word is getting out."
Lindsey Whitley is also a member of Mill Grove. Once a week, she picks up meals for her family at the church, along with some for a neighboring family.
Whitley and her husband, Chris, have four children, ages 11 and 8 and 4-year-old twins. She said the family is not poverty stricken, but welcomes the weekly meal.
"We're kind of on the lower end of the totem pole, but we're fine," she said. "We have our own house. I work less (as a nurse) so I can be home with the kids, so we don't have as much money as we would otherwise. … It helps me out tremendously, especially during the quarantine because the kids are all home, so there are a lot more meals that I was preparing every day. To have one less meal to prepare is just a huge blessing."
Binger said his ministry getting food to people who need it is rewarding.
"I get to see everybody at their absolute best, when I know that God is working through them and shining through them.
"The farmers are at their most generous. The volunteers are at their happiest and most giving. I get our donors at their sacred place. I get the agencies at their most grateful. At every step along the way, there is the joy of God in what we do."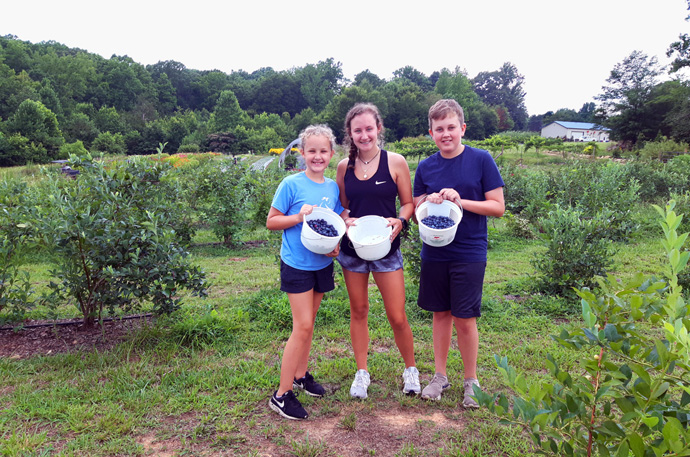 Patterson is a UM News reporter in Nashville, Tennessee. Contact him at 615-742-5470 or [email protected] To read more United Methodist news, subscribe to the free Daily or Weekly Digests.
---
Like what you're reading? Support the ministry of UM News! Your support ensures the latest denominational news, dynamic stories and informative articles will continue to connect our global community. Make a tax-deductible donation at ResourceUMC.org/GiveUMCom.