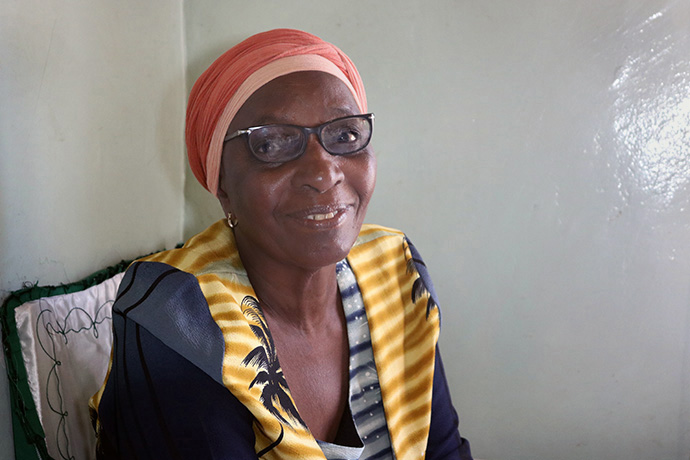 ---
Key points:
• Retired from working for decades with children with disabilities and their families, Dorcas Muranda focuses on sharing her musical gifts.
• With one album already released, the gospel composer/singer is working on three more.
• The album title, "Jesus Is the Rock," illustrates Muranda's faith as she encourages others to believe.
---
Retired from working for decades with children with disabilities and their families, Dorcas Muranda now is focused on sharing her musical gifts.
She recently launched her debut gospel album, "Dombo ndiJesu" ("Jesus Is the Rock"), at age 74.
Muranda, a member of St. Paul United Methodist Church in Harare, Zimbabwe, said that although she has faced challenges and resistance, God has helped her succeed in accepting the call to music ministry.
"My life is a testimony of God's grace," she said. "The journey has not been easy, but the hand of the Lord was always with me; hence, the name 'Jesus Is the Rock.' Many people are searching for help to face life battles, and this album encourages people to deepen their faith in the Lord Jesus Christ, especially in this current COVID-19 pandemic."
The album has nine tracks with messages of hope, prayers and counsel.
Robert Kaisi, Zimbabwe East Conference associate music director, described the album as "original" and "inspired."
"It is a message from God to us to remain connected to him in these trying times," said Kaisi. "She sings with all her mind focused on the message, making the music more appealing to those who listen to it."
The Rev. Thomas Muhomba, former pastor at St. Paul United Methodist Church, concurred. "God has gifted you with the strength and ability to shine when there is darkness," he told Muranda, "and I have seen you shine in every moment, even when there was darkness around you."
Muranda hopes to spread the gospel of Jesus Christ through her music.
The Rev. Ellison Kamupira said her music "is going to spread far."
Muranda likened her music to an empathetic friend — someone who talks to you and knows exactly what you're experiencing.
"Focusing on the message," she said, "gives one hope and calms the mind, helping to reduce feelings of stress. If you're struggling to get started on something, music can help motivate you, boost your mood and help you relax."
The Rev. Moore Ganda, St. Paul senior pastor, described music as a universal language that connects people and helps individuals to focus.
"While every country has its own language," Ganda said, "the only language we all understand is music. We do not need words to understand music."
Muranda said she receives her music in her dreams. She has written many songs and is ready to record three more albums.
"I wake up singing a new song," she said. "I quickly record it on my phone, so that I do not forget the lyrics and tune. I used to ignore it as I was shy to take up the assignment, but these dreams kept coming."
"Dombo ndiJesu" was introduced on Facebook Live and is now available on CDs, with plans to make it available online. Muranda has dedicated 20% of all sales to St. Paul United Methodist Church, and the rest will go toward production of other albums.
She said retirement provided opportunity and strength to answer her call to music ministry, and she now spends most of her time mastering her music.
She appreciates the benefits of learning new skills in her 70s.
"I think there is wisdom and fearlessness that comes with learning something at an older age," Muranda said. "As an adult, you really know what you want to achieve, and you have this sense of security and determination that you don't have as a child."
Muranda acknowledged that learning the basics for the first time later in life can be daunting.
"It is like learning a new language," she said. "When you do something as a child, it sticks with you. When you learn something a little later, sometimes, it can be a bit harder to learn. But if you have a positive attitude, you can learn anything at any age. There's no barrier."
Muranda encourages people, young and old, to keep their dreams alive and to answer God's call as soon as they hear it.
"To achieve anything," she said, "requires belief in yourself, faith, vision, hard work, determination and dedication. Remember: all things are possible for those who trust in the Lord.
"Our gifts or talents are purposely created, not just for ourselves, but also to help those around us," she added. "It is never too late to answer God's call or pursue your dreams. Your age should never be a stumbling block in the way of going after what you want."
Henry Musongwe, St. Paul United Methodist Church treasurer, said the album's debut was a big surprise, defying the odds as well as public perception.
"You have done the unexpected in the eyes of people," he told Muranda. "You are an inspiration to many to have achieved this at such an age. You have taught the young and the old that age is not a barrier to achieve desired goals in life."
The Rev. Oscar Mukahanana, Harare East District superintendent, said, "You have uplifted us to a greater level and made us understand that age is just a number. Greater things can still happen."
Muhomba encouraged all to deepen trust in God.
"Those who wait upon the Lord shall run and never go weary and mount like eagles," declared Muhomba. "Age and COVID-19 may have delayed you, but it could not stop you because those who wait upon the Lord are given strength to do wonderful things."
Muzerengwa is a communicator for the Zimbabwe Episcopal Area.
News media contact: Julie Dwyer at [email protected]. To read more United Methodist news, subscribe to the free Daily or Friday Digests.
---
Like what you're reading? Support the ministry of UM News! Your support ensures the latest denominational news, dynamic stories and informative articles will continue to connect our global community. Make a tax-deductible donation at ResourceUMC.org/GiveUMCom.