A small group of United Methodists waded into the cold Pacific Ocean to kneel and pray that the border wall separating the United States and Mexico would topple.
They were part of a group of more than 300 faith leaders who marched to the wall on International Human Rights Day, Dec. 10, in a "moral call for migrant justice."
Dozens of protesters, including two United Methodist pastors, were arrested and charged with civil disobedience when they stepped across the barrier set up by the U.S. Border Patrol.
The Rev. Shinya Goto, El Camino Real District superintendent, and the Rev. Rolly Loomis, pastor of Roseville United Methodist Church, both in the California-Nevada Conference, were arrested and released a few hours later.
After walking for about 1.5 miles from Border Field State Park, the protesters came within sight of the border wall but were separated from it by rows of razor-sharp wires and a solid line of border agents standing guard.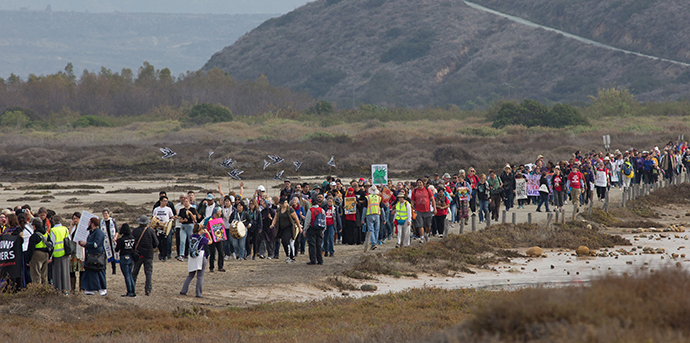 As the group inched closer, an officer using a bullhorn shouted, "Please stop where you are. Please don't pass the caution tape. Move back. Move back."
After being face to face — at times kneeling in the sand — for more than an hour, the United Methodist group led by Bishop Minerva G. Carcaño felt called to step into the ocean and pray.
"I was praying, others were joining me, in praying for the actual toppling of this wall. It felt right to join the waters of nature and to press through our spirits into this wall," said Carcaño, episcopal leader of the California-Nevada Conference and leader of the United Methodist Task Force on Immigration.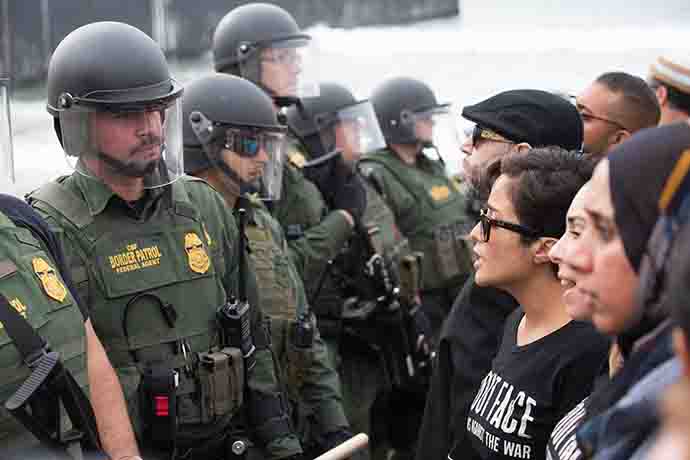 American Friends Service Committee, a Quaker organization, organized the march. Faith leaders from many traditions and denominations gathered in San Diego from across the country for "Love Knows No Borders."
Organizers said people of faith across the country are organizing a week of action that began on International Human Rights Day and will end on Dec. 18, International Migrant Day. They are calling for the U.S. government to respect the human right to migrate, to end militarization of border communities and to end detention and deportation of immigrants.
The group also is calling on Congress to defund Immigration and Customs Enforcement and Customs and Border Protection.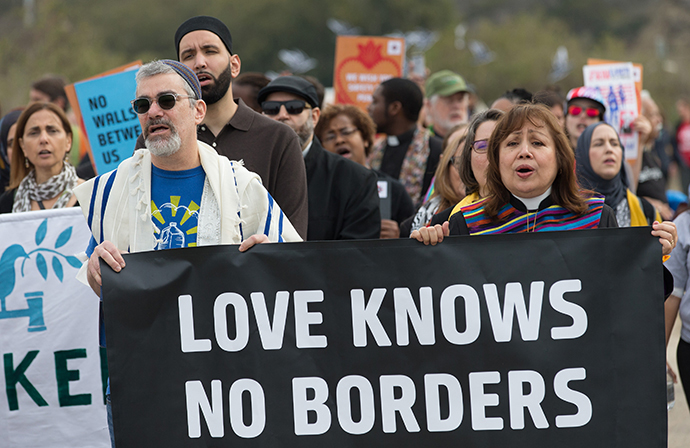 In recent weeks, more than 6,000 migrants have arrived in the city of Tijuana seeking asylum in the United States. The faith leaders planned to offer a ceremonial blessing to the migrants on the Tijuana side.
U.S. agents fired tear gas into Mexico on Nov. 25 when some migrants began throwing rocks. Some of the participants in the Dec. 10 protest said they were spurred to action by that incident.
"This is the community that I serve, the people that I walk with," said Emma Escobar, coordinator of Hispanic-Latino ministries for the United Methodist Baltimore-Washington Conference.
"That is why I am here. I do not believe that we should be separated by a wall. We should not be living in fear."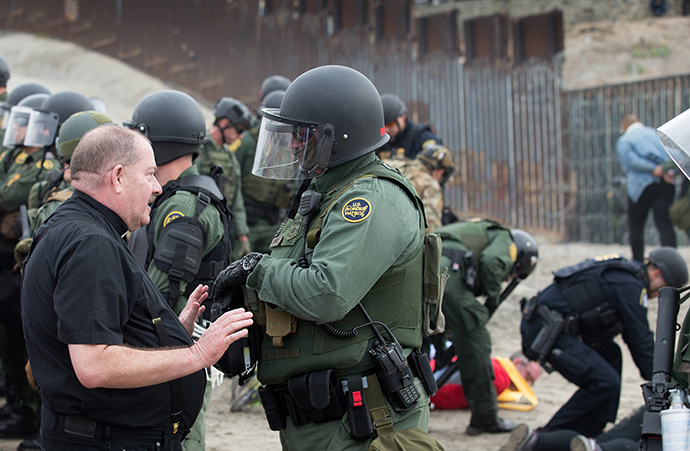 Rebecca Cole, director of grassroots organizing for the United Methodist Board of Church and Society, said more than 50 United Methodists from 12 conferences came to San Diego for the event.
She was among a small group of protesters who faced the border agents and risked arrest.
What does the church say?
In its Social Principles, The United Methodist Church recognizes all people, regardless of country of origin, as members of the family of God and opposes policies that separate family members from each other.
Cole said she could see the crowds watching on the Mexico side of the wall through small gaps between the agents.
"They were waving their hands, playing drums and blowing kisses in great joy to see the group bearing witness to the injustice our U.S. government has inflicted on migrants and their home countries," Cole said. "The music and the people on the other side gave me strength and confidence that bringing attention to the situation at the border was exactly what God calls us to do. I felt, in that moment, 'I will risk everything.'"
The Rev. Jill Zundell, pastor of Detroit Central United Methodist Church, said it broke her heart to see "the faces across the border that we could not reach.
"But also that we stood and sang 'We Are Not Afraid' to people in full riot gear. I didn't have fear. I had righteous anger. I wondered how we would have been treated without the cameras present."
Reports of people on the other side throwing rocks are false, Carcaño said.
"We saw no rocks. I think that was fabricated in order to justify further, harsh action," Carcaño said. "Some of us became concerned that our brothers and sisters on the other side might receive more pushback like being tear-gassed because we were protesting."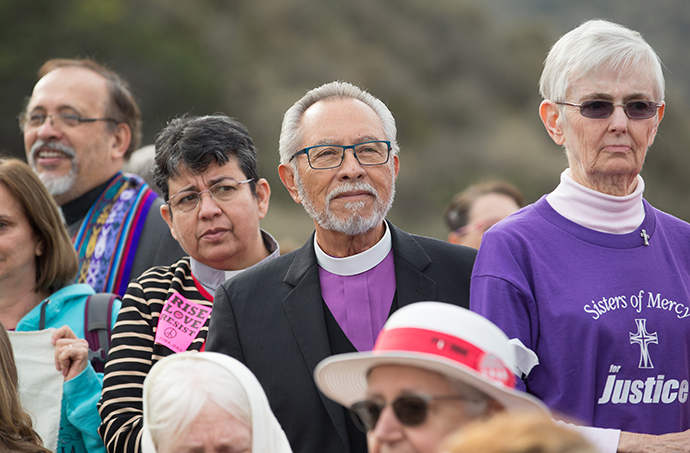 Participants spent the day before the march in hours of nonviolent direct action training, which ended with an interfaith service held at University Christian Church (Disciples of Christ).
A group of about 20 United Methodists started Sunday morning by attending worship at Christ Ministry Center, which is an immigration shelter. The United Methodist Committee on Relief recently gave the center a $100,000 grant to expand shelter capacity.
The Rev. Bill Jenkins, director of Christ Ministry Center, has been helping waves of immigrants since 2011 when the church was reborn as an immigration center.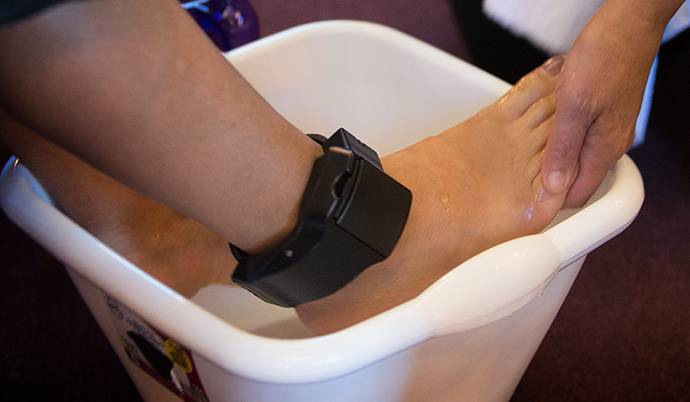 Jenkins said the church hosted 118 immigrants in the past few days.
Jenkins said he was surprised when the United Nations High Commissioner on Refugees told him this center is the only immigrant-welcoming center in Southern California. It is one of nine shelters in the stretch of border from McAllen, Texas, to San Diego.
"There is always room for one more," he said, sitting in the front of the church while his young foster son cuddled on his shoulder. Harry is Haitian and his mother was one of the immigrants who passed through the shelter two years ago.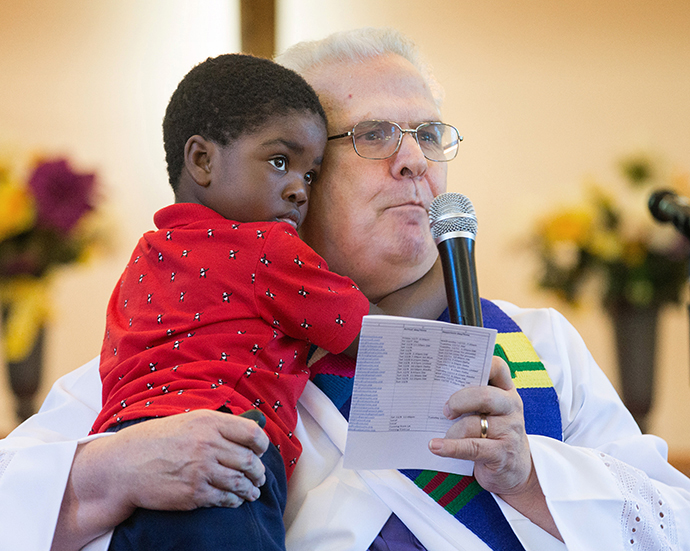 "She was so traumatized by her journey she couldn't care for little Harry," Jenkins explained.
Jenkins, who is 70, and his wife became foster parents.
How you can help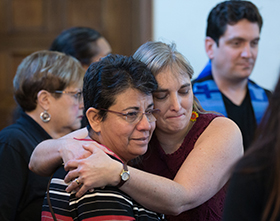 The Rev. Patricia Gandarilla (front, left) and Lori Valentine de Segovia embrace during a migration-themed worship service at Exodus United Methodist Church in San Diego.
"We are in the process of reunification for Harry and his mother," he told the congregation. "It's going to break my heart, but reunification is what I preach."
At the end of the church service, the out-of-town visitors were invited to the front of the church to wash the feet of immigrants who are in the shelter.
"Washing their feet is the opposite of what we have been hearing about how to treat immigrants," Jenkins said.
At the end of the day Christy Latona, director of Connectional Ministries for the Baltimore-Washington Conference, reflected on what she learned from the experience.
"The whole idea of humanization and how we miss that when we call people categories of things — migrants, immigrants — we lose the thread of the individual human story. There is a lot of misunderstanding about what is a human right versus the political spin on the law. It is way more complex than many people understand."
At the end of the protest, Carcaño said she was reminded to work closely with migrants, to hear their voices, get them involved in what churches do.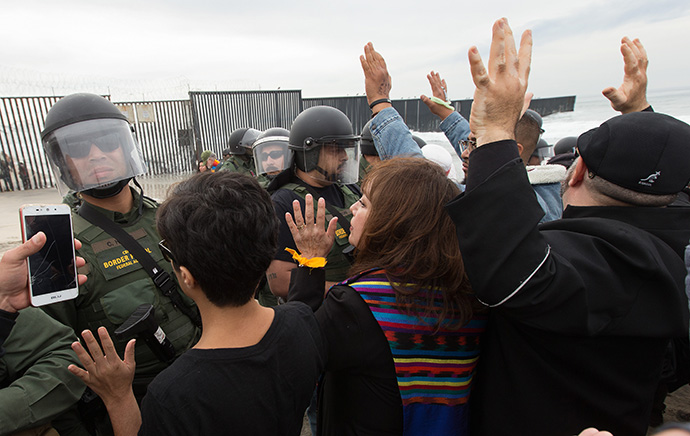 She is also thinking about the bigger role The United Methodist Church can take.
"I believe we United Methodists have been humble about our role. We have wanted to do things collaboratively, have wanted to be partners with others. But I think it is time for us to take a lead role and be the ones who convene, the ones who invite others," she said.
"As I look around and engage with leaders of other denominations I believe we have the largest power base for this movement. That is both humbling, challenging, and somewhat frightening. We are going to pray about it."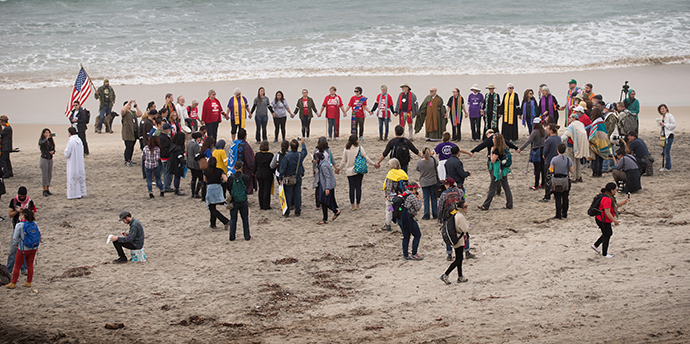 Gilbert is a multimedia reporter for United Methodist News Service. Mike DuBose is a photographer for United Methodist News Service. Contact them at 615-742-5470 or [email protected]. To read more United Methodist news, subscribe to the free Daily or Weekly Digests
---
Like what you're reading? Support the ministry of UM News! Your support ensures the latest denominational news, dynamic stories and informative articles will continue to connect our global community. Make a tax-deductible donation at ResourceUMC.org/GiveUMCom.