Billie Jean Baker knows Oak Lawn United Methodist Church inside and out. She's a member, but she also spent many nights bedded down in the sanctuary shadows as a homeless person.
"I went to sleep on God's property and woke up on God's property," she said.
Baker's role in spurring the Dallas church to expand its welcome to the homeless recently prompted the North Texas Conference to give her a
Harry Denman Evangelism Award
.
The conference's livestreamed annual meeting
featured a short video about her
and a presentation from Bishop Michael McKee.
"I keep telling people I'm not deserving," said Baker, 48. "I'm just trying to do the next right thing to keep God happy."
But she does accept that she has helped Oak Lawn United Methodist and
Union
, a nearby United Methodist coffee shop and worshipping community, embrace a population whose relationship with churches often stops with handouts.
"I stand up for people who can't stand up for their selves," Baker said. "I have a loud voice and I have pink hair, so people are going to pay attention to me."
Baker was born near the Oklahoma-Texas border, growing up there and in Arizona. She describes a deeply troubled childhood that included sexual abuse and placement in foster care. She said she dropped out of high school, married for the first time at 19 and had three children, only one of which she is in contact with now.
Her problems and challenges continued through the years, and she is candid about having been addicted to alcohol and crack cocaine, as well as sometimes working as a prostitute to support her habit.
Baker, who battles Type 2 diabetes and was born blind in one eye, vowed in early 2016 to stop drinking and taking drugs. She removed herself from the people and the Dallas neighborhood that she felt contributed to her addiction.
"I made myself homeless so I could get clean and sober and start doing what God wanted me to all the time instead of just some of the time," she said.
Baker landed in the tony, progressive area of Dallas called Oak Lawn, which has its share of homeless people. For about three years, she spent most nights camping out on what she jokes was her "loft apartment" — an outside balcony of the
Gothic Revival sanctuary
of Oak Lawn United Methodist.
She also began attending the church, singing in the choir and volunteering.
In the summer of 2017, Baker made friends with the new senior pastor, the Rev. Rachel Baughman. Baughman was committed to having Oak Lawn United Methodist open its doors wider to the community, including unsheltered persons.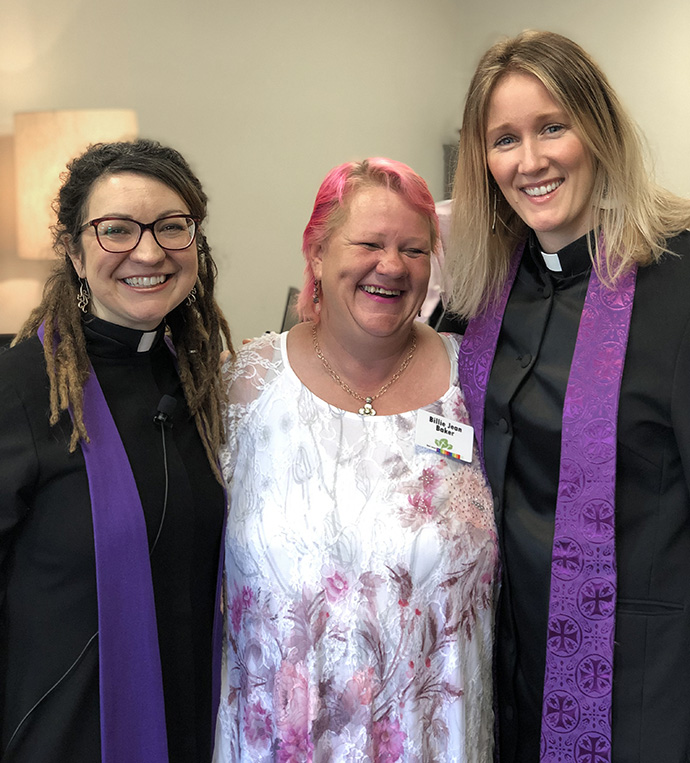 A big opportunity came on Dec. 31, 2017, a bitter cold Sunday. Baker entered the sanctuary early that morning and hunted up Baughman.
"I grabbed Rev. Rachel's arm and said, ʽCome, I need to talk to you,'" Baker recalled. "She said, ʽI've got to go.' I said, 'No! This is a matter of life and death!'"
Baker told the pastor that three different homeless people had asked her to request the church open that night as a shelter, since temperatures would be in the 20s. While Baker herself had blankets, other homeless people she knew did not and were at risk of hypothermia.
Baughman agreed to the request and made an announcement during worship about staying open that night.
That afternoon, Baker walked the Oak Lawn streets, spreading the word to the homeless. And that night a crowd of them enjoyed a meal and warm shelter at Oak Lawn United Methodist, which had pulled together a volunteer team and supplies.
"The homeless came in and they slept on the floor and on the pews," Baker said.
Baughman, in the video that went with Baker's award presentation, describes a church changed.
"That moment was groundbreaking for us at Oak Lawn," she said. "It set the path for us to welcome people inside — not just on freezing nights and not just for shelter, but also for a place of community and to experience what it is to be loved."
Oak Lawn United Methodist has since opened routinely on freezing nights, often with volunteers from other United Methodist churches. Baughman has become deeply involved in trying to persuade the city of Dallas to have a more comprehensive approach to sheltering those at risk, and to have more accommodating policies for churches that want to be a part of that.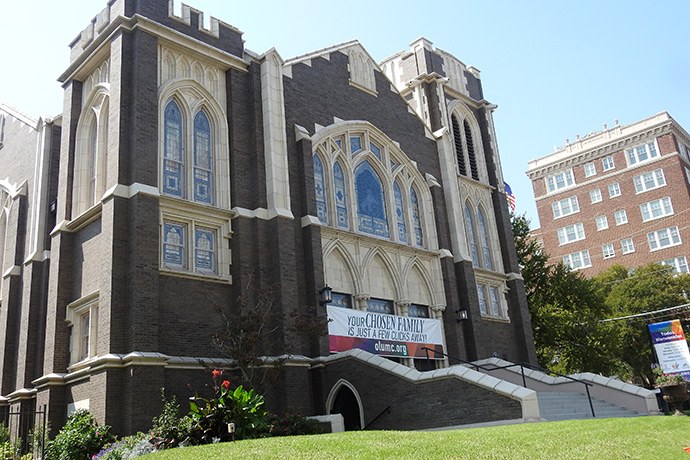 She noted in an interview that the county's top elected official —
Clay Jenkins
, a United Methodist — asked Oak Lawn United Methodist to be a respite center in June 2019 for asylum-seeking migrants from Central America who had overcrowded shelters on the Texas-Mexico border. The church agreed, and
migrants were brought in by the busload
.
Baughman credits Baker with planting the mustard seed for all this, as well as giving her practical advice about ministering to homeless people. Baker also, the pastor said, has led other homeless people to worship at Oak Lawn United Methodist and participate fully in the life of the church.
"Just as in any kind of cultural or work setting, certain personalities have sway over others," Baughman said. "Billie Jean is one whose personality certainly has sway over the homeless community we live in the midst of."
Subscribe to our
e-newsletter
Like what you're reading and want to see more? Sign up for our free daily and weekly digests of important news and events in the life of The United Methodist Church.
The Rev. Mike Baughman, Rachel Baughman's husband, leads Union, the nearby coffee shop church. He notes that Baker has been an important volunteer and worship service participant there, too.
"Rachel and I are far better pastors because of her and our congregations are far better because of her love for Jesus," he wrote in nominating Baker for the evangelism award.
With the help of Dallas nonprofit
Metrocare Services
, Baker moved to an apartment last October. It's 7 miles from Oak Lawn, and she has no car. That, combined with the pandemic, has lately limited her presence at Oak Lawn United Methodist and Union.
But on Sunday and Tuesday evenings, she brings her Bluetooth speaker outside her apartment and invites neighbors to listen with her to Union's livestream services. Sometimes a small group forms. Sometimes nobody comes.
Either way, Baker has found an advantage in worshipping remotely.
She can smoke.
"I gave up the drugs. I gave up the alcohol. God and I are working on the cigarettes, but we just ain't there yet."
Hodges is a Dallas-based writer for United Methodist News. Contact him at 615-742-5470 or

[email protected]

. To read more United Methodist news, subscribe to the free Daily or Weekly Digests.
---
Like what you're reading? Support the ministry of UM News! Your support ensures the latest denominational news, dynamic stories and informative articles will continue to connect our global community. Make a tax-deductible donation at ResourceUMC.org/GiveUMCom.