United Methodist Women is aiming to empower women in Sierra Leone through an unusual microfinance program and entrepreneurship training.
With the national economy in escalating double-digit inflation, the twin scourges of poverty and illiteracy weigh heavily on the rural poor, and women bear the brunt of that, said Ethel Sandy, women's coordinator for the Sierra Leone Conference.
"The majority of the rural women are illiterate and depend on farm work and fishing, depending on their environment, and a little bit of trading for subsistence living," she said, adding that many have no source of income and suffer from low self-esteem.
"In their relations, the man controls all the finances. If he feels like giving the wife (money), he does not care if it's enough. And the woman dare not ask; she's beaten. All of these things make them not feel good enough to even mix with their fellow women."
The women's group is hoping to change that with a loan program modeled after a successful Malawian venture that has helped many women there become self-reliant.
About 55 United Methodist women from across Sierra Leone received training Sept. 3-6 on the new loan program.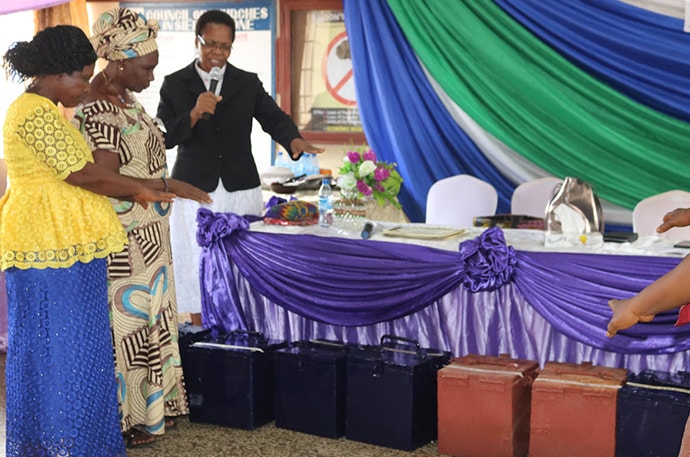 The way the program works, small groups of women would meet each week and contribute an agreed sum that would be kept in a locked box. After a few months of collecting contributions, the amount would be loaned to a member of the group.
Then, another cycle of contributions would begin and the collected money would then be loaned to another member. The loan cycle continues until all of the women who want loans have received them.
It has a social arm through which members contribute to take care of each other's needs, said Elizabeth Kargbo, a facilitator at the training.
The members would invest the money and start paying a minimal profit back to the group a week after collecting the loan. The rest of the amount loaned would be paid with interest at regular intervals.
The program urges discipline, transparency and strict record keeping, said Edith Rogers, national vice president of Sierra Leone's United Methodist Women Organization.
The groups need women of integrity, said Elmira Sellu, a United Methodist regional missionary in Sierra Leone, who led the training process.
As part of the plan, three trusted women are identified to hold the keys and all three must be present every time the box is opened.
Each district in the conference took away a three-lock box and other supplies — a stamp, stamp pad, ledger, pens and calculator — and the women decide how to start their business.
"We don't want to decide for them. Women's empowerment is all about women having the power in their own hands to make decisions for themselves," Sellu said.
The women agree on the needs of the group and document those at the beginning of the program. No money is spent outside what is agreed upon in the group's bylaws.
Sarah Jalloh from the Moyamba District, where there are several United Methodist boarding schools, said there is potential in investing in bread baking for the schools.
"We could supply the boarding homes with bread every day and make fast money. Also, most of our boarding schools are girls' schools, so sewing uniforms for United Methodist schools is another potentially lucrative enterprise we could embark on," she said.
Sellu said economic empowerment is the basis for liberation.
Subscribe to our
e-newsletter
Like what you're reading and want to see more? Sign up for our free daily and weekly digests of important news and events in the life of The United Methodist Church.
"We do not want people to think for us. We women must take control of our own lives so that we can live that abundant life that Jesus promised us in John 10:10 … Economic empowerment is one of the ways in which a woman can really be liberated. As our economic power increases, so also would our sense of dignity increase."
She said God created both man and woman and empowered them as told in Genesis 1:27-28. But, the men, she said, like the creation story where the rib of the man was removed to make the woman, which makes women subservient to men.
She said women must know the first creation story in Genesis 1:27-28, which the men hardly tell. She urged the women to go out and tell that empowerment story.
"Now, women, let us go and tell others about the first creation story — that we are empowered. God gave us power, both male and female. And we are going to continue to break those strongholds ... those cultures, those barriers that keep us back," Sellu said.
"Poverty as we know in Sierra Leone is a canker worm. When we talk about the poorest of the poor, we are talking about women."
In addition to learning about the loan process, the women were trained in leadership, developing savings and entrepreneurial skills. They learned how to start a business and sustain one.
"We've had lessons especially on proper record keeping. We know record keeping has often been a huge challenge for their businesses to thrive," Sandy said. "We've had lessons on how to keep business away from family… With business growing and profits maximizing, they're surely going to feel liberated."
Edna Palmer, a small-scale businesswoman in eastern Freetown who attended the training, said one problem she has struggled with is record keeping. Now that she knows how to do it properly, she said, it is going to help her business grow.
"Accountability, self-discipline and honesty are all new knowledge I am taking from the training. I foresee a successful loan scheme in my district after this training," she said.
United Methodist Women also is encouraging women to take up entrepreneurial activities through a separate training program.
The women's group will give seed money to four regional UMW groups to distribute to United Methodist women in their areas who have ideas for new businesses.
"Our aim is to create economic freedom, to raise the esteem of our women and make them less dependent on their spouses, communities and even donor support," Sandy said.
"Successful entrepreneurship can also attract donors and partnerships from elsewhere, outside the church, which we envisage will take the women to higher economic levels."
Jusu is director of communications for The United Methodist Church in Sierra Leone.
News media contact: Vicki Brown at (615) 742-5470 or [email protected]. To read more United Methodist news, subscribe to the free Daily or Weekly Digests.
---
Like what you're reading? United Methodist Communications is celebrating 80 years of ministry! Your support ensures the latest denominational news, dynamic stories and informative articles will continue to connect our global community. Make a tax-deductible donation at ResourceUMC.org/GiveUMCom.