Watching South Sudan become the newest country in the world was the most exciting event in the history of many people who live in a region that suffered during the 50 years of struggle for freedom.
Lives were lost. Roads, communication networks and property were destroyed. Some estimates say as many as 2.5 million died from starvation and drought.
Today, the new country is now a business hub, attracting traders and customers from the surrounding countries. Organizations, including The United Methodist Church, are participating in transforming the new nation.
South Sudan is supported by the Holston Annual (regional) Conference in the United States through its work with the East Africa Episcopal Area. South Sudan has one district with 18 churches. The membership is 1,680.
Yet in Yei District, the joy of independence seems to dwindle because of a severe malaria outbreak. Heavy rains, bushes, stagnant waters and decomposing waste provide breeding areas for mosquitoes. Health messages hanging on rags on billboards are almost illegible.
"We fought the rebels in the bush and thought it was over. Now there is yet another rebel just inside our houses - around our beds. Mosquitoes have become a menace to our lives," said Franco Taban Ali, a resident of Ligitoro, one of the villages in the area.
A few houses away, 7-year-old Lilly Paya lay helpless with malaria. With no strength even to speak, her eyes gazed dimly as sores covered most of her lips. She had been in bed for three days because of the infection.
Her mother, Besta Awate Faustino, sat beside the bed and called her name, but the child only looked at her without blinking.
"I am perturbed. My husband is in Juba (South Sudan's capital), and I have no money to buy medicine. I tried to take her to the nearby public hospital but the doctors said there were no malaria drugs," Faustino said. "She has lost appetite for food, and I am only trying her on water."
The Rev. Fred Dearing, the South Sudan district superintendent who visited the family, expressed regret. The family belongs to Ligitoro United Methodist Church.
"As a church, we are looking at putting in place preventive measures such as health trainings and networking within the churches to reach out to communities and reduce the rates," Dearing said.
There are no immediate plans to establish health centers but instead to strengthen the national delivery systems "where we shall do training of trainers on school screening, and distribution of health kits," Dearing said.
He said that the church in Yei is in need of Volunteers in Mission with special skills in education, pastoral care, health care, agriculture and finance to work with doctors and health board members.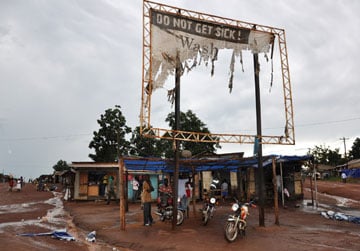 A torn billboard in the Yei District of South Sudan informs passersby of health alerts.
South Sudan has few public hospitals, and the nearest in Lilly's village of Ligitoro is five miles on a poor road. The committee of the health board includes United Methodist medical missionaries sponsored by the Mission Society, Dr. Lynn and Sharon Fogelman.
Other church programs include the training of traditional birth attendants, sanitation education, nutrition, personal hygiene, construction of latrines and hand wash stations.
"We also encourage mobile clinics to reach out to distant communities. Like now we have a visiting team from Holston Conference, which will be identifying areas of need and go back to their churches in America to share the story and mobilize for funds," Dearing said.
The team from Holston Conference is led by John Micah LaRoche. The areas of need cut across groups of women, children, youth, elderly, disabled, orphans and vulnerable children, pastors and church in general.
*Nakajje is a United Methodist communicator with the East Africa Annual (regional) Conference.
News media contact: Tim Tanton, Nashville, Tenn., (615) 742-5470 or [email protected].
---
Like what you're reading? Support the ministry of UM News! Your support ensures the latest denominational news, dynamic stories and informative articles will continue to connect our global community. Make a tax-deductible donation at ResourceUMC.org/GiveUMCom.