Ebola has orphaned thousands of children.
The number of Ebola orphans in the three West African nations of Guinea, Liberia and Sierra Leone is still being tallied, but is estimated to exceed 12,000. 
United Methodist Bishop John K. Yambasu is particularly concerned about orphans in the Kailahun, which was the first district hit by the Ebola outbreak in May 2014.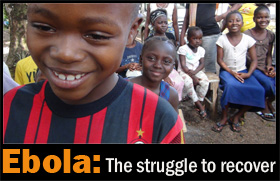 In the dusty, dry season, the craggy road to Kailahun is barely passable. When it rains every day for months, only the most hardened drivers will venture the passage.
Kailahun is a flashpoint for other difficulties, too.  The civil war began here in 1991 and Kailahun's many routes that intersect through Guinea and Liberia make it the black-market bush for trafficking minerals, weapons and even people.  The Sierra Leone Conference of The United Methodist Church launched a mission station here three years ago under the direction of an ordained elder. Right now, there is minimal United Methodist presence. 
This battle-scarred district is an area where the bishop feels Christ's love is needed most.
"The people are suffering, they are really devastated," Yambasu says. 
Since Kailahun and Kenema have the most children who lost one or both parents to the virus, there are active plans to launch an orphanage that will serve those communities. The facility would first offer a home to children while efforts are made to place them with relatives. The Sierra Leone government generally discourages orphanages as a solution because of the possible exploitation of children.  However, the United Methodist Child Rescue Center in Bo is a well-respected institution and local authorities are encouraged by the possibility of a similar facility opening its doors in the eastern region.
Placing orphaned children back in their communities takes focused effort. Take 13-year-old Alfred and 6-year-old Rosalie Sakilla, a brother and sister who were adamantly rejected by residents of Koindu, a village that sits at the edge of the Kailahun district. This diamond-mining village skirts the crossroads of Liberia and Guinea and was the entry point of Ebola into Sierra Leone.
The children's father was a much-respected health care worker who contracted the virus by tending a Guinean patient he believed to have malaria. The virus quickly spread throughout Koindu, wiping out entire families. Alfred and Rosalie survived the virus that claimed the lives of their parents.  Originally, villagers thought the sickness was the result of an evil spirit in the form of a snake but soon they blamed the scourge on the children's father.
Just as the siblings were strong enough to return home, their neighbors rejected them. "The community was enraged," explains government social worker Edith Tamba, "they blamed the father for spreading the virus."
Tamba intervened and after much community counseling, the children were eventually welcomed back.  They now live with their elderly grandmother, who is receiving some financial support from the government.
This is story shared by many of the more than the nearly 4,000 who beat the disease in Sierra Leone. Originally seen as pariahs, survivors now lend their faces to government campaigns urging society to welcome them back into the fold. Slowly, Sierra Leoneans are beginning to accept those who conquered Ebola.
"They are even regarded as heroes by some," says Tamba.
Mistrust, fear, and lingering pain
Recent research, however, indicates that the virus may live in certain parts of the body indefinitely, which puts survivors in a precarious position as scientist race to research long-term effects. When Ebola hit its peak in late 2014, it became apparent there were lingering physical effects for many survivors.  "Some of them have lost hearing, some of them are blind," explains Denis Ngotho Lansana, leader of the men's group at Kercher United Methodist Church in Kenema.
Additional maladies include joint pain, menstrual problems, and neurological damage.  The most recent research indicates that Ebola may live in certain organs indefinitely. There is no definitive research that points to the cause of a variety of ailments plaguing survivors. There are whispers of experimental treatments that resulted in permanent damage, while others say that the cause is simply that the virus attacks all the major organs of the human body and sometimes full recovery isn't possible.  Whatever the cause, it is clear that the general population is suspicious of a health care system that completely collapsed during the crisis.
In late 2014, doctors, nurses and burial workers went on strike, alleging that the government was not paying them the promised "hazard pay" for their risky work with Ebola patients.
"They feel cheated, they feel deprived, they feel they are not taken seriously," says Jaka Lappia, Kercher United Methodist council member.  He says many people died for lack of health care or fear of contracting the disease at a health facility.
Fear and panic were pervasive at the onslaught of the outbreak.
"Ebola has killed a lot of my friends, a lot of my members so I was frightened, yes," says the Rev. Andrew Forbie, Kenema district superintendent. 
Even the well-respected United Methodist Kissy Hospital in Freetown suffers from a skeptical public. When the hospital's medical director and only surgeon, Dr. Martin Salia, died of Ebola in November, Kissy was closed for a few weeks of quarantine and disinfection.  The Rev. Leonard Ben Gbloh, acting director, says that even though it is not believed that the surgeon did not contract the virus at Kissy, patients are slow to return to the hospital. Patient numbers have dwindled from nearly 100 per day to an average of 15 or 20.
A walk through patient wards indicate that some expectant mothers still rely on Kissy's highly-regarded maternal and child health program but the current patient load is not enough to pay the bills.
"They are afraid, they are scared to come to the hospital," Gbloh says.
As most of the private and some of the government health facilities were padlocked during the crisis, the annual conference kept six of its facilities open.  The four rural health centers that were closed are expected to reopen late spring 2015.  
And, a comprehensive restructuring of the church's health system is underway in order to equip facilities for any catastrophic health emergency. Yambasu says that as a mission health care provider, all the facilities need to remain in operation, just as they did during the civil war.
 "We stood tall during the war by maintaining our hospital, we have a lot to give to this country," Yambasu says.
Snider is special projects producer for United Methodist Communications and has reported from Sierra Leone multiple times since 2007.
Next: A generation lost to Ebola.

View other stories in the four-part series»
---
Like what you're reading? Support the ministry of UM News! Your support ensures the latest denominational news, dynamic stories and informative articles will continue to connect our global community. Make a tax-deductible donation at ResourceUMC.org/GiveUMCom.