As the Ebola outbreak continues to rage in the Kivu and Ituri provinces in East Congo, The United Methodist Church has ramped up its efforts to educate local communities about hygiene measures to prevent and combat the epidemic.
Since the outbreak was declared on Aug. 1, there have been 267 cases of haemorrhagic fever reported in the region, including 232 confirmed and 35 probable, with an estimated 175 deaths, according to the Congolese Health Ministry's Daily Bulletin published Nov. 1.
Dr. Damas Lushima, general coordinator of health for the church's Eastern Congo Episcopal Area, said 12 United Methodists have died from the Ebola virus in the districts of Beni, Ituri and surrounding areas.
Eastern Congo Bishop Gabriel Yemba Unda continues to encourage the people in affected areas through daily text messages.
How to help
Donations can be made to the Abundant Health Advance #3021770, which addresses global health and aims to increase access to health interventions in economically vulnerable communities.
"We join our voice to that of all other physical and moral persons of good will who, today, express their deep feelings of sympathy and their condolences to all the families suffering loss of life because of the Ebola virus in this part of the East Congo," he wrote.
The Rev. Ezechiel Mathe, Beni district superintendent, said the insecurity in the area is making the situation worse. Repeated civilian killings by the Allied Democratic Forces, a Ugandan rebel group, and other active militia have slowed efforts to contain the outbreak.
According to Reuters, the World Health Organization had to suspend its operations in Beni last month for a period after a deadly attack there.
On Oct. 30, the United Nations Security Council adopted a resolution condemning attacks by armed groups in the region, calling on all parties to the conflict to allow "full, safe, immediate and unhindered access for humanitarian and medical personnel, and their equipment, transport and supplies to the affected areas."
In resolution 2439, submitted by Ethiopia and Sweden and adopted unanimously, the 15 members of the council expressed concern that the "security situation negatively impacts the ability to respond to and contain the outbreak of the Ebola virus."
The council stressed that "humanitarian response teams and hospitals and other medical facilities providing life-saving assistance and relief to those in need must be respected and protected, and that they must not be a target."
Unda applauded the resolution.
"For the Security Council to ask all armed groups, including the Allied Democratic Forces, to put an immediate end to hostilities should allow humanitarian workers to work freely and to access all areas to fight Ebola for the good of all," the bishop said.
"I say thank you to God and I continue to pray for the entire population of the area affected by the Ebola virus."
Mathe said Beni in particular has become a pocket of resistance for the Ebola virus, with large numbers of people on the move due to insecurity in their villages. He said people are resisting vaccinations and fleeing to avoid follow-up medical visits, which has led to the deaths of several children.
Congo's health ministry said children in eastern Congo are dying from Ebola at an unprecedented rate, according to Reuters. The increase is blamed on poor sanitary practices at clinics run by traditional healers.
"There is an abnormally high number of children who have contracted and died of Ebola in Beni. Normally, in every Ebola epidemic, children are not as affected," Jessica Ilunga, a spokeswoman for the health ministry, told Reuters.
"Traditional healers use the same tools to treat everyone. And the child who has entered a traditional healer's clinic with malaria comes out with Ebola and dies several days later," she said.
Mathe said some of the displaced populations in Beni also are refusing the intervention teams set up by the ministry of public health to bury those who have died from Ebola, making the need for public awareness campaigns even more important.
He said the church continues to work day and night with congregations on raising awareness of Ebola in the district.
"We have already put sanitary devices in some local churches so the faithful wash hands before entering in the church," he said.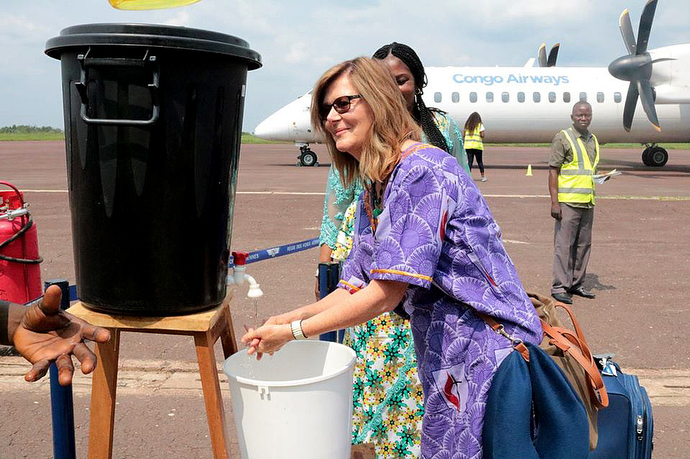 Pastors of local churches also speak regularly about the importance of observing proper hygiene measures.
Dr. Claude Watukalusu, supervisor of health for the Kivu Conference, said that community health workers, nurses and local leaders, trained with funding from the United Methodist Board of Global Ministries, continue to play a big role in raising awareness and promoting proper hygiene measures.
In neighboring North Kivu, handwashing stations were installed at Kindu National Airport and at other points of entry in the Maniema Province. The stations also have thermometers to measure people's temperature upon arrival.
Song and educational spots also are being broadcast on local radio stations to fight against Ebola. The radio programs were produced by the communications department of The United Methodist Church in Congo in partnership with Harper Hill Global.
A new song, "Lavage Des Mains," written by the church's local communications team, promotes handwashing. Gabriel Losoma, one of the young artists who participated in the recording in Kindu, said he is happy to have put his voice to the health education song.
"Since I've been an artist, I have never thought of making a song about handwashing that is so important for our health," he said.
Judith Osongo, director of communications, Eastern Congo Episcopal Area, said the church continues to educate and uplift the community through its UMCONNECT messaging platform, an initiative of United Methodist Communications.
"More than 1,000 people have received text messages on their phones about prevention measures against the Ebola virus disease," Osongo said.
"We sent messages for the adoption of the handwashing culture. … We also assure communities that the Ebola outbreak is not a hopeless situation. Ebola is treatable. Many patients survive if they receive the appropriate care as soon as possible," she said.

Lushima said he plans to make a plea to Global Ministries for financial assistance so that handwashing stations can be installed at more churches, hospitals and schools.
Unda also continues to send messages of hope to the communities affected by the outbreak. "Our God will not leave us having hope in him."
Kituka Lolonga is a communicator for the Kivu Annual Conference, and Londe is a communicator for the East Congo Conference.
News media contact: Vicki Brown at (615) 742-5470 or [email protected]
To read more United Methodist news, subscribe to the
free Daily or Weekly Digests