---
Key points:
• While officials say they are applying what they learned from fighting Ebola, the more contagious delta variant, skepticism and lack of vaccines have made this battle more difficult.
• Unlike the West African Ebola outbreak in 2014 and 2015, when synergy existed between government and faith leaders, the fight against COVID-19 has been mainly government-centered.
---
Health officials across Africa are struggling to contain the COVID-19 pandemic, despite lessons learned in the fight against Ebola.
As with the 2014 Ebola outbreak in West Africa, they are striving to overcome public skepticism and other barriers, but they are also wiser.
"Our experience with Ebola has prepared us to handle the coronavirus pandemic," said Dr. Francis Kateh, chief medical officer of Liberia and a United Methodist. Although government efforts to warn citizens are disputed by COVID-19 skeptics, he said, most people take lessons learned from Ebola as a warning.
However, Liberia and other countries have not received the level of support that they did during the Ebola outbreak of 2014 and 2015.
"International support to fight COVID-19 is very thin," he said. "Citizens have to be very careful to avoid the deaths that come as a result of this pandemic."
Liberia and Sierra Leone were among the hardest-hit countries during the Ebola epidemic, and Congo continues to struggle with outbreaks. While officials say they are applying what they learned from fighting Ebola, their countries — and the continent — are overwhelmed. The more contagious delta variant and lack of vaccines have made this battle more difficult.
"This strain is serious and is killing more people," said Dr. Austin Demby, Sierra Leone health minister. "The combination of a highly transmissible virus, more people hospitalized and more dying is extremely concerning."
Initially, Africa appeared unscathed by COVID-19, recording fewer infections and deaths than China, Europe and the Americas. But in mid-July, the World Health Organization reported a sharp rise in COVID-19 deaths in Africa. With an unstable health infrastructure, no vaccines yet produced on the continent and limited pandemic experts, Africans are challenged with garnering adequate resources to contain the disease.
"Deaths have climbed steeply for the past five weeks. This is a clear warning sign that hospitals in the most impacted countries are reaching a breaking point," said Dr. Matshidiso Moeti, WHO Regional Director for Africa, in a July 15 release.
"Under-resourced health systems in countries are facing dire shortages of the health workers, supplies, equipment and infrastructure needed to provide care to severely ill COVID-19 patients," he said.
Unlike the West African Ebola outbreak, when synergy existed between government and faith leaders, the fight against COVID-19 in Sierra Leone has been mainly government-centered.
In a July 6 press statement, the Council of Churches in Sierra Leone, of which The United Methodist Church is a member, expressed dissatisfaction over President Julius Maada Bio's July 1 nationwide broadcast in which he suspended congregational worship, among other measures, to contain the third wave of COVID-19, without conferring with faith leaders. On Aug. 16, the ban was lifted, but churches must adhere to guidelines, including the use of face masks, social distancing and limiting services to 90 minutes.
When Ebola broke out in 2014, governments were initially slow to respond. The delay, combined with skepticism in the public, led to a rapid spread from Guinea to Sierra Leone and Liberia. Governments turned to faith leaders for messaging help.
The bishops in Sierra Leone and Liberia worked with United Methodist Communications on developing SMS networks for pushing out information about healthy preventive practices and offering encouraging pastoral messages.
Now, the Sierra Leone Conference has no team or logistics in place to provide a robust COVID-19 response, especially with the 2020 death of Bishop John K. Yambasu, who led the Ebola response at conference and church-wide levels, said the Rev. Solomon Rogers, administrative assistant to interim Bishop Warner Brown. Yambasu also was a key figure in the national campaign against Ebola.
"A few departments and units are responding in some way. But there is no annual conference COVID-19 response team as we had in Ebola," Rogers said.
According to the Africa Centres for Disease Control, only 1.7% of the population in Africa — about 24 million people —have been fully vaccinated, the BBC reports.
Demby urged all Sierra Leoneans to take available vaccines. He noted that Sierra Leone vaccine intake was among the lowest in West Africa — only 225,380 vaccine doses administered as of Aug. 16, according to data gathered by Reuters. That represents about 1.4% of the country's population of 7 million.
The quantities of AstraZeneca and Sinopharm vaccines that were donated to the government are limited.
"Sierra Leone does not have the luxury to choose among several available vaccines," Demby said. "We have only two, so we must take them."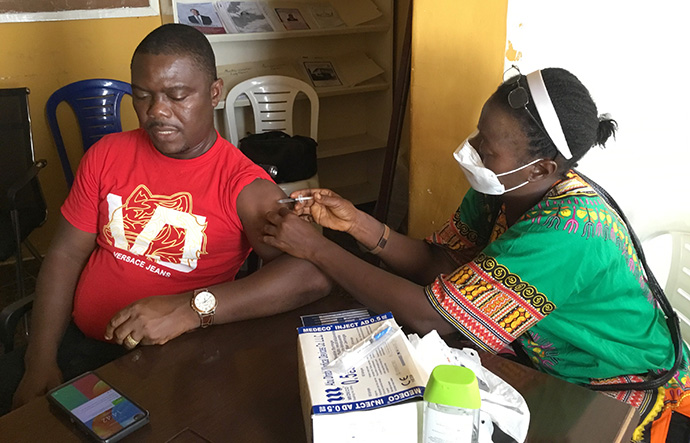 Conspiracy theories, especially on social media, have inhibited efforts to roll out the vaccines. Even with free vaccination centers and government assurance that vaccines are safe, few people trickle into the centers.
The Sierra Leone Conference's acting director of Youth and Young Adult Ministries, Sylvanette Tawah, said she has reservations about COVID-19 vaccines.
"We've had so many other deadly diseases in Africa before for which there were no compulsory, free vaccines. Why is the vaccine for COVID-19 almost compulsory with work places making the vaccine intake compulsory for staff? … It is the compulsory bit that leaves me in doubt," she said.
Tawah added that her doubts are reinforced by social media posts by "medical experts overseas" warning against the vaccine.
In Liberia, Kateh said he has seen the same skepticism but remains optimistic that the country is prepared.
To date, Liberia has had nearly 5,540 recorded cases of COVID-19 and 245 deaths.
Improved government health facilities and frontline workers trained during Ebola are available to handle any threat posed by COVID-19, added Kateh, who also is former administrator of Ganta United Methodist Hospital.
The United Methodist Church in Liberia is still using its Ebola information-sharing strategies, including the distribution of flyers in communities through local churches and sensitization teams trained during the Ebola outbreak.
The Africa Centres for Disease Control reports that 7.81% of the country has been fully vaccinated.
In Congo — which has a 45-year history of fighting epidemics, including Ebola — new restrictions have been put in place.
The coronavirus was officially declared in March 2020, while the country was fighting its 10th Ebola outbreak. COVID-19 is in 24 of the 26 provinces.
As of Aug. 26, 54,137 people were infected and 1,055 had died, according to data from Johns Hopkins University. New cases are rising, however, with Kinshasha, the capital, as the epicenter.
Confinement and detection centers have been reactivated to accommodate coronavirus cases, said Damas Lushima, health coordinator for the church in East Congo.
"A lot of caregivers had already been trained … (and) significant progress has been made in the (regions) facing Ebola, where handwashing stations have multiplied," he said.
Dieudonné Okende, deputy secretary-rapporteur of the East Congo Conference, said the church must double its efforts in the fight against the coronavirus.
"Since the onset of the coronavirus disease, The United Methodist Church has carried out a lot of awareness-raising activity. But this is not yet enough; it takes a lot more to convince local communities of the danger of the disease. Leaders must continue to develop strategies and activities to tell people that the coronavirus is a reality," he said.
Okende said he has found that many are still skeptical about the existence of the coronavirus.
"Many people neglect the observance of barrier measures, despite the awareness already received," he said.
Health care workers and other vulnerable groups began receiving vaccinations in eight provinces in Congo in April, but only .028% of the population of 89.6 million has been fully vaccinated, according to the Africa Centres for Disease Control.
"Vaccination is based on a voluntary basis for any Congolese or any resident in DRC aged over 55 and people involved in the factors of comorbidity (diabetes, high blood pressure, obesity or any other chronic disease)," said Dr. Eteni Longondo, minister of public health.
"New vaccination sites are being deployed," he said, noting 268 sites are functional with nearly 500 planned in the coming weeks.
Jusu is director of communications for The United Methodist Church in Sierra Leone. E Julu Swen of Liberia and Chadrack Londe of Congo contributed to this report.
News media contact: Julie Dwyer at [email protected]. To read more United Methodist news, subscribe to the free Daily or Friday Digests.
---
Like what you're reading? Support the ministry of UM News! Your support ensures the latest denominational news, dynamic stories and informative articles will continue to connect our global community. Make a tax-deductible donation at ResourceUMC.org/GiveUMCom.