The Rev. Kathy Chesney lives in tiny Philip, South Dakota, where COVID-19 didn't have much of a foothold until about four months ago.
The virus is now widespread across South and North Dakota, and United Church of Philip — the joint United Methodist, Presbyterian church Chesney leads — has had two members die from it.
Chesney officiates at funerals and memorial services beyond her small congregation, and the pandemic has kept her all too busy.
"I've done seven COVID-related services, including my sister-in-law," she said.
Chesney and other clergy of the Dakotas Conference of The United Methodist Church are expert witnesses to just how difficult COVID-19 has become for their states — and to how congregations have stepped up their ministry in response.
Everybody remarks on how quickly North and South Dakota ascended to join the top states in per-capita cases of the disease.
"About August, all of a sudden you knew somebody who had it," said the Rev. Charlie Moore, pastor of Sunnycrest United Methodist Church in Sioux Falls, South Dakota. "In two or three weeks, you knew a whole pile of people. And then you knew somebody who died."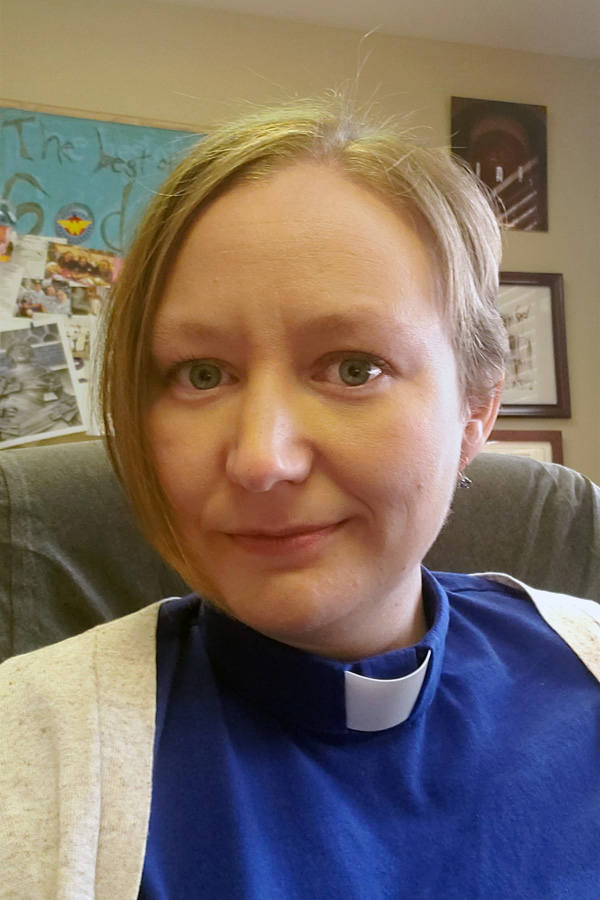 The Rev. Sara McManus, pastor of Flame of Faith United Methodist Church in Wells Fargo, N.D. is among the Dakotas Conference clergy who have had COVID-19. Photo courtesy of the Rev. Sara McManus.
Moore himself contracted COVID-19 in October.
"Mine was unbelievable body aches and exhaustion that I'm still dealing with," he said.
About 15 of 198 active clergy members of the Dakotas Conference have had COVID-19, and others have had to quarantine.
"We've had a couple that were hospitalized, but nobody has died, thanks be to God," said Bishop Bruce R. Ough, who leads the Dakotas and Minnesota conferences.
Congregations have reflected the extent of illness in the state. Sunnycrest is a congregation of about 1,000 that has seen two deaths and more than 100 cases in the past few months, Moore said.
The Rev. Sara McManus, pastor of Flame of Faith United Methodist Church in West Fargo, North Dakota, is coming off her own three-week recuperation from COVID-19, knowing she'll resume providing pastoral support for congregation members with the virus.
"At this point, one in 10 in North Dakota have tested positive," McManus said. "It's everywhere here."
Early in the pandemic, North and South Dakota did have cases, particularly in urban areas. The Dakotas Conference sweated out the July COVID-19-related hospitalization of the Rev. Dayne Zachrison, pastor of Epworth United Methodist Church in Valley City, North Dakota.
"I don't have any lingering effects, but it probably took me two months to recover," he said.
In general, and especially in rural areas, the pandemic was lightly felt in North and South Dakota through late summer. That was true for the Dakotas Conference, with its 248 worshipping communities and 36,500 members.
"When I was sending out missives recommending our churches go online, it seemed incongruent with their experience," Ough said.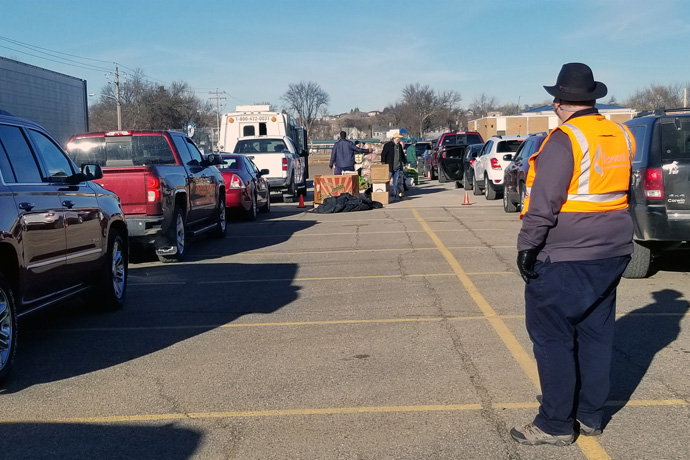 After the initial lockdown in March and April, many Dakotas Conference churches began to meet again in person — either outdoors or inside with masks and social distancing.
But autumn brought cooler temperatures and COVID-19 hotspot status to North and South Dakota. In each, roughly 10% of residents have been infected and the death toll per state exceeds 1,000. Though new case numbers have declined in recent days, they remain several times higher than in summer.
Hospitalizations are high, too.
"The health care people are just kind of overrun," said the Rev. Bob Ruedebusch, superintendent of the Southwest District of the Dakotas Conference.
North and South Dakota are politically conservative, and South Dakota Gov. Kristi Noem has opposed mask mandates.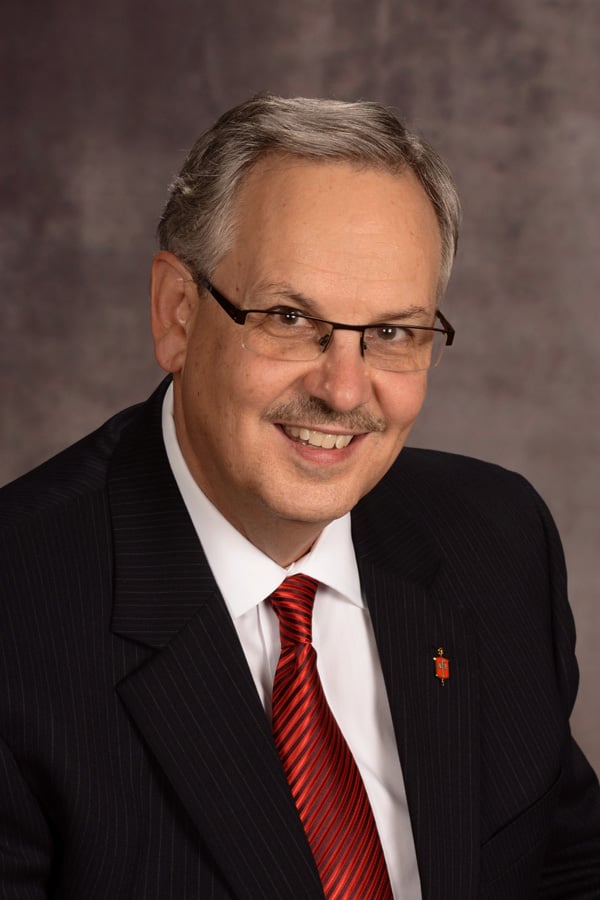 Bishop Bruce Ough, resident bishop of the Dakotas-Minnesota Area of The United Methodist Church. Photo courtesy of the Council of Bishops.
Ruedebusch said division over masks and other public health requirements can be seen in his district's churches. The Rev. Rick Craig has experienced that in the three-point charge he leads from Cando, North Dakota.
"We have the whole spectrum of opinion," said Craig, who had a mild bout with COVID-19. (His wife, Cindy, was hospitalized after she contracted the virus.) "It's sad that the coronavirus outbreak has been politicized."
Ough believes the large majority of Dakotas Conference churches have communicated that safety protocols demonstrate the Christian value of caring for one another. He noted that churches have reacted well to his recent urgent request that they have online-worship only through Advent and Christmas.
"Pastors, in particular, have responded by saying, 'Thank you for giving direction and having our back,'" Ough said.
Throughout the pandemic, Dakotas Conference churches have joined others in the denomination in adding or bolstering online worship and online study group options.
The Missouri Valley Parish consists of three small United Methodist churches in North Dakota, and even before the virus outbreak was gathering people on Facebook for "Thursday Night Live" Bible study.
In recent weeks, the Rev. Cory Thrall and Annie Carlson, a lay minister and parish co-pastor, have added a Monday night Facebook meeting and changed the growing group's name to "Missouri Valley Community."
"We're basically treating it as a fourth campus," Carlson said of the online community, noting that its attendance exceeds normal in-person worship for the parish and includes people from out of state.
Dakotas Conference churches also are trying to meet the extra needs caused by job losses and other pandemic-related economic distress.
First United Methodist Church in Sioux Falls last month became a partner of Feeding South Dakota, lending the church parking lot as a distribution center, and providing volunteers. More than 350 families got food one recent weeknight.
"That's been a wonderful way for us to serve together and make a difference for Christ," said the Rev. Sara Nelson, pastor.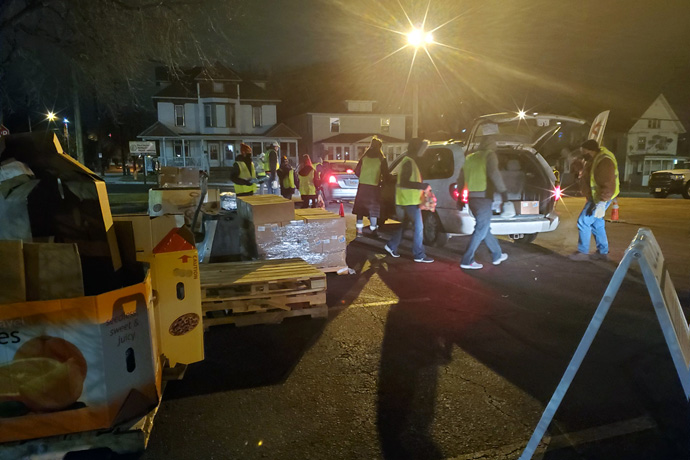 Epworth United Methodist in Valley City is host to a pop-up food pantry focused on fresh produce. The ministry is not new, but the level of service is.
In an event about two years ago, the church served some 150 households. The number on Dec. 3 was 623, Zachrison said by email.
Conference-affiliated ministries also have stepped-up food distribution, and chaplains have seen their workload increase because of the pandemic.
Subscribe to our
e-newsletter
Like what you're reading and want to see more? Sign up for our free daily and weekly digests of important news and events in the life of The United Methodist Church.
But the season also has had some nice surprises for the Dakotas Conference.
The Rev. Chris Chase was chosen to flick the switch for the lighting of North Dakota's state Christmas tree in a ceremony hosted by Gov. Doug Burgum and his wife, Kathryn Burgum.
The "creating connections" theme of the event emphasized reaching out to those in addiction recovery, who may be feeling more isolated because of the pandemic.
Chase, in his 14th year of sobriety, is a church planter who leads Celebration Grace, a recovery ministry and worship community in Bismarck, North Dakota.
"Very cool," he said of his experience lighting the state tree.
Meanwhile, churches across the conference are observing Advent online. Ough noted the resilience of Dakotans, evidenced by some conference churches planning to supplement online services with a social-distanced gathering outside on or around Christmas.
Moore and Sunnycrest United Methodist will be among them.
"We pray it's not 10 below," the pastor said.
Hodges is a Dallas-based writer for United Methodist News. Doreen Gosmire, Dakotas Conference director of communications, contributed. Contact Hodges at 615-742-5470 or [email protected]. To read more United Methodist news, subscribe to the free Daily or Weekly Digests.
---
Like what you're reading? Support the ministry of UM News! Your support ensures the latest denominational news, dynamic stories and informative articles will continue to connect our global community. Make a tax-deductible donation at ResourceUMC.org/GiveUMCom.