"Every building is out of the ground into the light — a child of the sun. Buildings should seem to grow from the earth and belong as a tree belongs." — Architect Frank Lloyd Wright on the landscape at United Methodist-related Florida Southern College.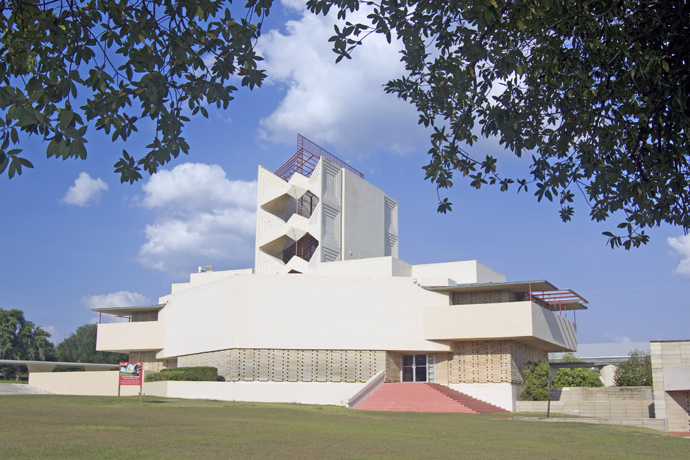 Florida Southern: A Frank Lloyd Wright treasure trove
LAKELAND, Fla. (UMNS) — Florida Southern College, with the most Frank Lloyd Wright-designed buildings of any single site, was named a United Methodist Historic Site this year. Suzanne McGovern has the story. 
Read story 
Collegiate ministers make pilgrimage in Spain
NASHVILLE, Tenn. — This year, seven collegiate ministers from across The United Methodist Church joined together for Sojourn 2017. This group made the iconic pilgrimage across France and northern Spain on the Camino de Santiago, ending at the legendary burial place of St. James. Sojourn 2017 was a joint effort of the United Methodist Board of Higher Education and Ministry and The Upper Room. 
Read press release
See church history this summer
MADISON, N.J. — The United Methodist Commission on Archives and History has put together a traveler's guide for United Methodists hoping to take in a bit of the denomination's history while on vacation.
See guide  
Conference offers history portrayed in glass
ATLANTA — The North Georgia Conference has an art treasure to share — 11 historic stained glass windows that depict important events in Christian and Methodist history. The conference is offering these windows, which were in the United Methodist Center at Simpsonwood, for use by a United Methodist church or agency that is undergoing a building project that would appropriately accommodate the windows. The conference requires that the windows remain as a set. 
Read North Georgia story 
Town with no school serves 66 at VBS
TUTTLE, N.D. — There is no school in the town, but Tuttle United Methodist Church still served 66 children at vacation Bible school this year. "What better way to share the love of Jesus with these kids? Many do not get to go to church any other time," said Susie Heidt, coordinator for VBS at Tuttle and 2017 Dakotas Conference recipient of the Harry Denman Evangelism Award.
Read conference story 
Commentary: Four marks of the next Methodism
DAYTON, Ohio — The Rev. David F. Watson predicts there will be revival of the Methodist tradition in the United States. The dean and New Testament professor at United Methodist United Theological Seminary writes about the four qualities he believes will characterize that revival.
Read commentary 
Looking ahead
Here are some of the activities ahead for United Methodists across the connection. If you have a United Methodist event to share, you can add it to the calendar with this submission form.
Wednesday, June 28
Sermons That Communicate Good News — 9-10 a.m. CDT. In this webinar, Sam Parkes and Dawn Chesser discuss "The Four Pages" method of preaching, by which preachers can build a sermon that is clear, memorable and preachable without notes. The webinar, sponsored by Discipleship Ministries, addresses how clergy can let the sermon be more about God than about what people need to do. Details
See more United Methodist events