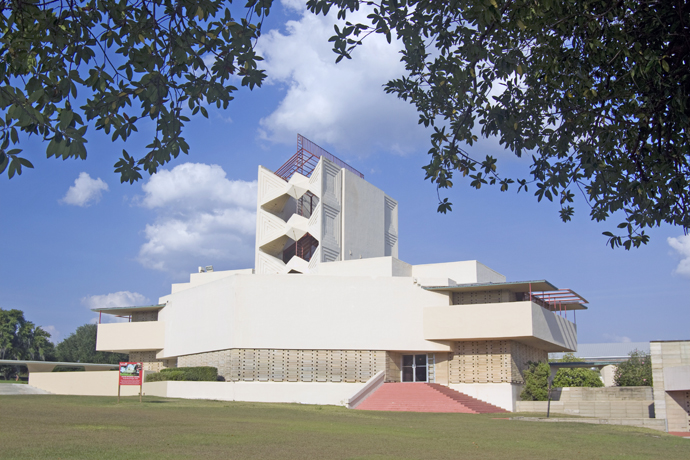 This college town of 200,000 is home to both a national and United Methodist treasure — a campus that has the most Frank Lloyd Wright-designed buildings of any single site in the world.
Florida Southern College, founded in 1883 by the Florida Conference of the Methodist Episcopal Church South, is on the National Register of Historic Places and was named a National Historic Landmark of the United States. This year, the 113-acre campus also became a United Methodist Historic Site. 
The recognition harks back to a collaboration begun in the 1930s between one of the college's most beloved presidents and Wright, the preeminent American architect of the 20th century. This year is the 150th anniversary of Wright's birth on June 8, 1867.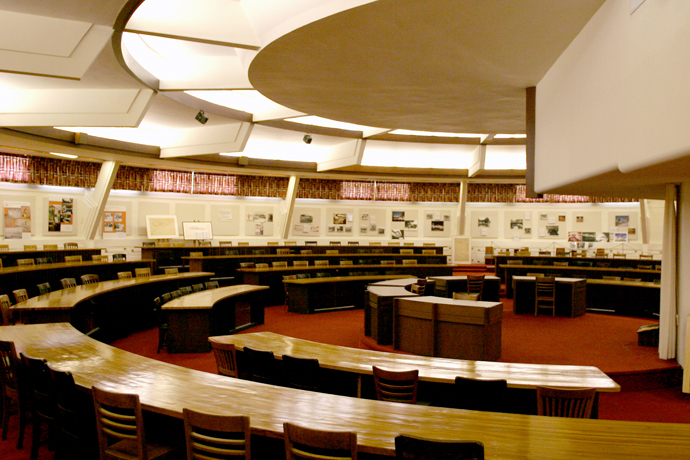 The Rev. Ludd M. Spivey, a United Methodist pastor who served as president of Florida Southern from 1925 to 1957, initiated the collaboration because he wanted to create an internationally renowned college. According to current President Anne Kerr: "He wanted to do something bold."
Spivey went on an international search for an architect, but was unhappy with the ideas of anyone he found, according to a video interview with him shown in the college visitor's center.
So, on April 11, 1938, he sent a telegram to Frank Lloyd Wright. "Desire conference with you concerning plans for great education temple in Florida," the telegram said.
According to Architectural Historian Dale Allen Gyure, the college became the longest-lasting commission of Wright's life, stretching from 1938 until his death in 1959. He was in his 70s when he started the work.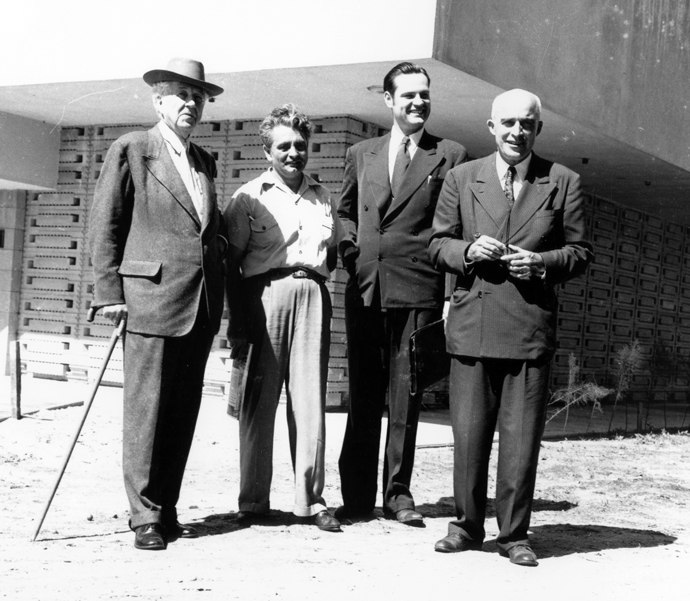 Wright agreed to create a masterplan for the campus and to design 18 buildings. Ultimately, the college completed 12 structures during that 20-year expansion period. The college still owns all the designs.
Kerr describes them as "learning spaces, working spaces and gathering spaces." Both Kerr and Architectural Preservationist Jeff Baker of Mesick, Cohen, Wilson, Baker Architects of Albany, New York, call the campus "Wright's Village." The nickname is both for the sheer number of Wright-designed buildings and because the campus is the finest example of Wright's style of "organic architecture" anywhere in the world, Baker said.
Baker is assisting the college in fulfilling what Kerr calls its "public mission to preserve and restore, as much as possible, the original design of Frank Lloyd's Wright's masterplan."  
Clean lines, natural design elements and locally sourced construction materials are hallmarks of Wright's work. No building could be described as "grandiose" or "overly large." All are meant to convey what Gyure calls Wright's belief in "the unity of all things." All are built to a human scale, with similar construction materials. With the exception of one building, all are linked together by a series of covered walkways that Wright called "esplanades."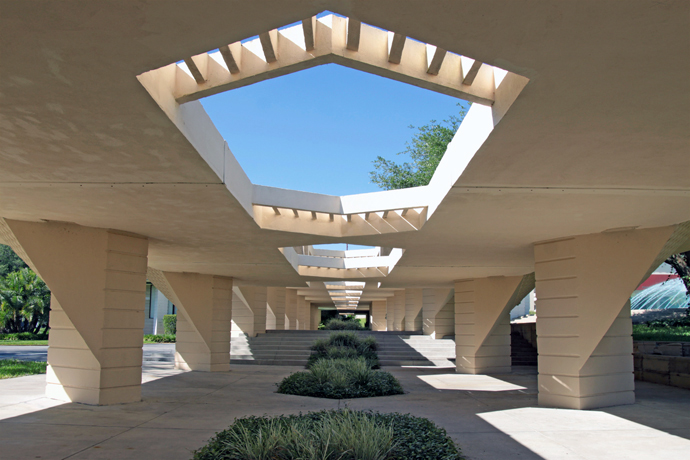 In some areas, such as the courtyards of the Watson-Fine Administration Buildings, Baker notes, "it is difficult to tell where the buildings end and the walkways begin." And because Wright incorporated lush Florida landscaping into the designs, he adds, it also is difficult to tell where "the buildings end and nature begins."
The college's ties to The United Methodist Church run deep. College alumni trustee and "bishop-in-residence" Robert E. Fannin noted those ties during his address at the dedication of the college as a United Methodist Historic Site on March 31, 2017:
Ten of the college's 17 presidents have been Methodist clergy.
Four graduates have become bishops of the church and countless others have gone on to ministerial careers.
Florida Conference members have served as chaplains since the 1920s.
The conference headquarters, the bishop's office and the episcopal residence at one time were all located on property owned by the college. 
The conference archives have been housed at the college since 1942.
Florida Southern has frequently hosted sessions of the Florida Annual Conference and will do so again in 2018.   
"Through seven name changes in five locations, the college has emerged as one of the shining stars of Methodist higher education, as well as one of Florida's oldest and most distinguished institutions of higher learning," Fannin said in his address.   
"The support of the Florida Annual Conference and United Methodists across Florida has provided the moral and spiritual direction for the college and undergirded its financial base for more than a century," he said.
Wright's campus design was different from the typical design of an American college campus at that time. In fact, Wright can be seen on a college video that is shown at the campus' new Sharp Family Tourism and Education Center, talking about his feeling that American art and culture is a series of "borrowed ideas." He said Americans needed to create their own culture that was not based on "classical" or "European" design.
In his book "Frank Lloyd Wright's Florida Southern College," Gyure notes that most campuses at the time were built in gothic or classical styles, some with ivy-laden walls. The Florida Southern campus was the first American college campus to be designed in the "modernist" architectural style.
Geometric shapes and patterns are seen throughout the campus. According to architect Baker, the design for the original Roux Library built in the 1940s is a circle bisecting a rectangle. The Danforth Chapel incorporates triangular patterns and has a triangular-shaped roofline that extends out into a point more than 15 feet from the building.
In early meetings with Wright, Spivey told the architect he would have complete control of the design of the West Campus, according to Bill Stephens, a former college administrator who now volunteers as a docent at the Sharp Family Tourism and Education Center. While there is no official record of the conversation, college legend claims that the president told Wright: "I will not question what you design, and you will not question how I pay for it." 
In the Education Center video, Kerr and Baker imply that both men were "on a mission" —Spivey to create an institution of national and international stature and Wright to leave a cultural heritage for future generations of Americans.
On his first visit in 1938, Wright spent three days walking through the orange groves, assessing the land and letting it inspire him. The site was somewhat unusual for Florida in that it was on rolling terrain that sloped downward to the north shore of Lake Hollingsworth, one of 13 lakes within the Lakeland city limits.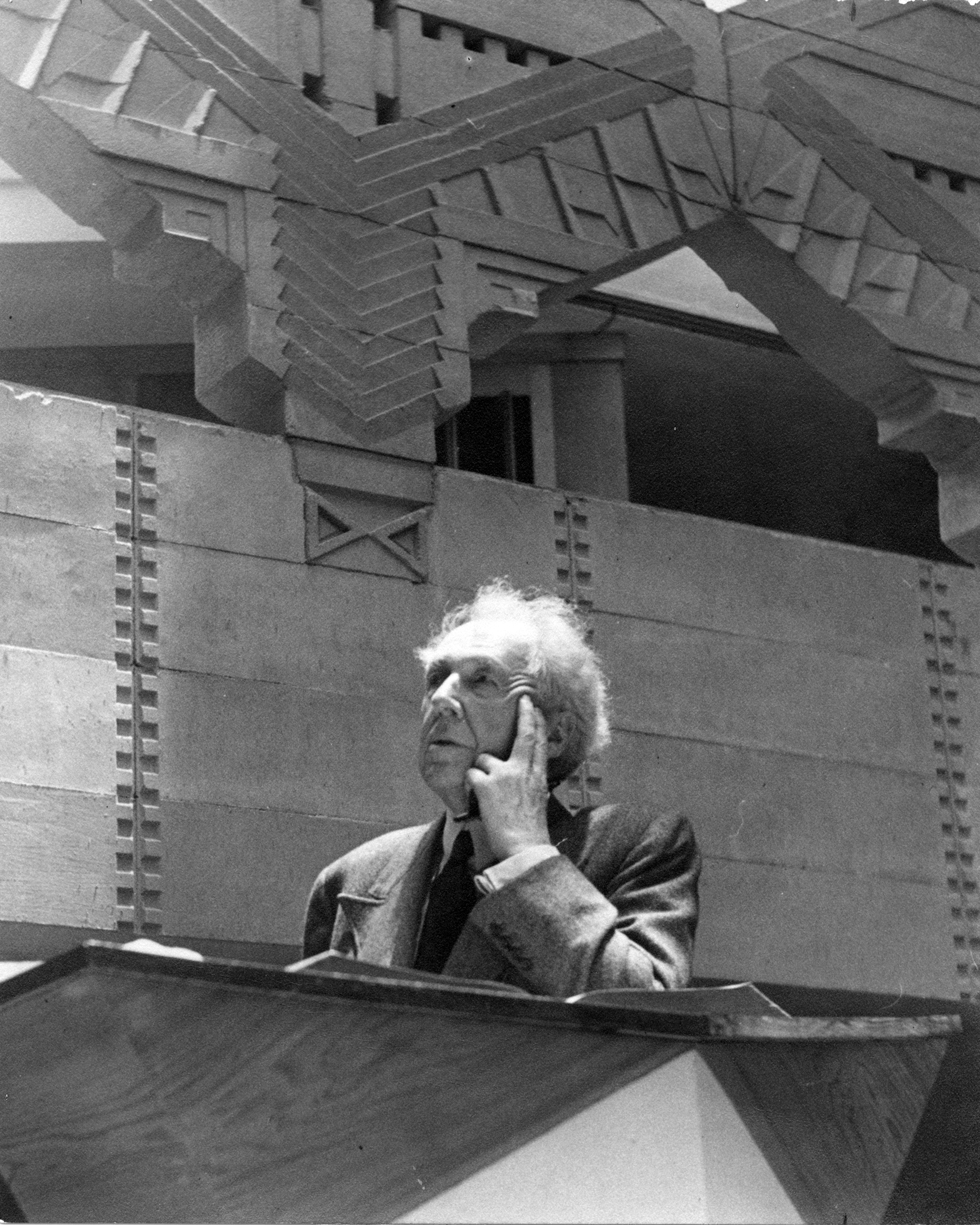 Wright seemed to grasp the potential of the Florida landscape, according to Gyure. He said Wright proclaimed: "Every building is out of the ground into the light — a child of the sun.  Buildings should seem to grow from the earth and belong as a tree belongs."
At Spivey's insistence, the first building to be built was the Annie Pfeiffer Chapel, the spiritual centerpiece of the campus. The design features a three-level concrete tower that rises to 65 feet.  Each level of the concrete tower has a cutout geometric shape that resembles a "bowtie." That geometric symbol is now incorporated into the design of the official college logo.
One of Wright's most impressive designs is not a building at all, but a water feature called the Water Dome. Wright thought of it as a gigantic circular "fountain of knowledge," 160 feet in diameter. His plan was to have water jets pump water up to 60 feet in the air, aiming toward the center to create a dome-like effect. The technology for Wright's Water Dome was not highly refined in 1948, so it was seldom used as intended until its restoration in 2007. Now, it runs at set intervals throughout the day, but at reduced power in order to conserve water.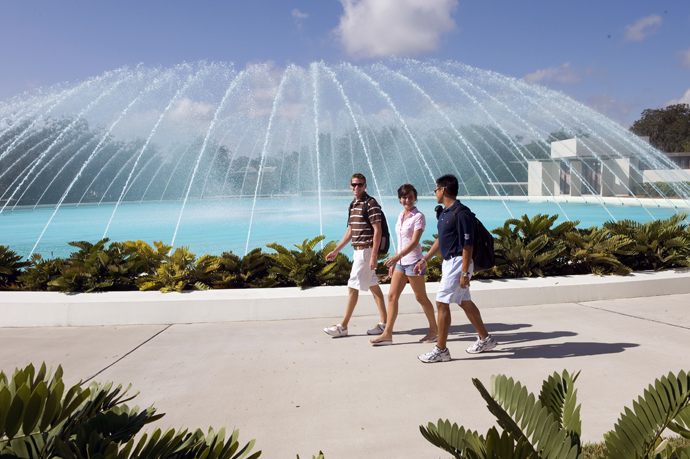 In 2012-13, Kerr and Baker collaborated to build a house on campus using one of Wright's designs. It is the first Wright-designed building constructed on campus since the architect's death, having received pre-construction approval from the Frank Lloyd Wright Foundation in Scottsdale, Arizona.
Known as a "Usonian" house, it gives modern-day Americans a glimpse of Wright's vision of affordable housing for middle-class Americans. Spivey had hoped to use Usonian houses as affordable faculty housing, and planned to have them constructed along the campus perimeter. Financial considerations, however, limited what the small private college was able to do.
The term "Usonian" loosely means "United States of North America," and was frequently used by Wright in place of the word "American." The house was designed in 1939.
By today's standards, it is a "minimalist" design, with very little closet space, and no basement, attic or garage. However, with natural cypress woodwork and an open "gathering space," it is a masterful work of art, as Wright thought a home should be.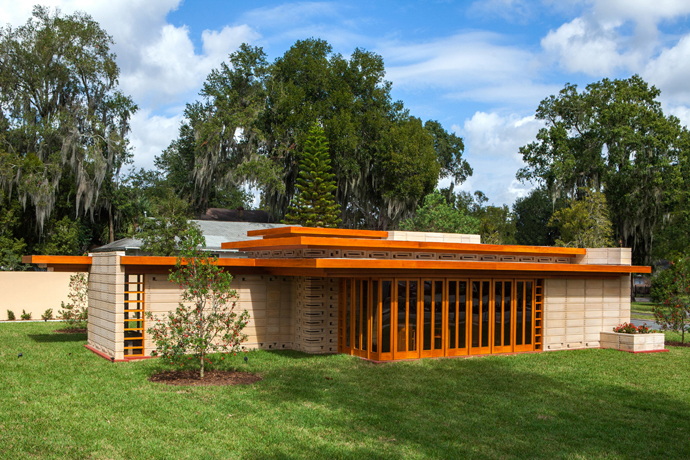 McGovern is a writer and consultant based in Casselberry, Florida.
News media contact: Vicki Brown at 615-742-5470 or [email protected]. To read more United Methodist news, subscribe to the free Daily or Weekly Digests. 
---
Like what you're reading? Support the ministry of UM News! Your support ensures the latest denominational news, dynamic stories and informative articles will continue to connect our global community. Make a tax-deductible donation at ResourceUMC.org/GiveUMCom.