Angeline, 12, looked at the computer screen in front of her and saw the world opening up.
"I want to use it for research. I would like to know a lot of things," she said. She was one of the first students at the Thomas Food Project to sit in front of a monitor in her school's solar-powered computer lab.
For one man, even more exciting than seeing the children learning to use computers was seeing them give thanks and sit down to a hot lunch after the class.
Haiti: Healing, rebuilding
"This is what it is all about," said Warren McGuffin, director of sustainability for the Thomas Food Project, which is supported by the California-Nevada Annual (regional) Conference in the United States. The Thomas Food Project was started when McGuffin and other members of a United Methodist Volunteers in Mission team came to Haiti after the 2010 earthquake.
"We saw kids eating mud pies and it broke our hearts," he said. The first thing the volunteers did was buy food for the children, but McGuffin started looking beyond that one meal and knew the people needed a way to earn their own money to buy hot lunches for their children.
The idea for a computer lab that could operate as a cybercafe and a "mini Kinko's" after school hours while educating the whole community made sense to him. That's when he connected with United Methodist Communications.
United Methodist Communications has a partnership with Inveneo, a business with a social purpose to provide a network of local IT partners in Haiti and throughout Africa.
Inveneo set up computers powered by solar energy and equipped for operating in harsh environments. The company is partnering with United Methodist Communications and United Methodist volunteers to bring sustainable income and education to Haitians.
United Methodist Communications' partnership with Inveneo led to a partnership with Haiti Connected Schools program supported by the Clinton Bush Haiti Fund, HP, Microsoft, Voila Foundation and World Vision. The Methodist school in Thomas is one of the first to receive funding from the program and a second Methodist school in LeVeque is on its way to having the same system.
"Across Haiti, community-based information communication technology centers are being installed," said the Rev. Larry Hollon, top executive for United Methodist Communications and a member of a team that recently visited Haiti.
"Widespread access to Wi-Fi across the country, as in many other parts of the world, hasn't happened yet. But it's no longer something in the distant future. Low-cost, low-wattage computers powered by solar energy, impervious to sand, salt and humidity, along with durable 'ruggedized' tablets are being manufactured now for global markets.
"The digital future is becoming the digital present."
Food and water
Phase One of the project is to improve the infrastructure. "Toilets before technology," said Inveneo executive Bruce Baikie.
Rain barrels were set up and a water-purification system installed. Gardens were started and propane tanks replaced charcoal pots for cooking. Toilets were constructed.
Everything has been done after consulting the community about what their needs are, McGuffin said.
James Lazarre, a Haitian and manager of the Thomas Food Project, said it is important to make the diet nutritional but also make it culturally based. The Haitian team also includes a 24-hour security guard, drivers and interpreters that work with United Methodist volunteer teams.
Part of the vision for the school will include after-school classes such as cooking and music lessons.
Towering metal poles are anchored in concrete to support the large solar panels. Safety and security were part of the design, Baikie said. The panels power a bank of batteries and an inverter to make AC power. The batteries can provide power for up to three days without sunlight.
Inveneo also trained two local firms to install the system and keep it running.
"A highly reliable solar-sustaining computer lab with teacher training costs $45,000," Baikie said. "That includes coming back five times for additional training." He added the cost for the system will vary from place to place.
Investing in teachers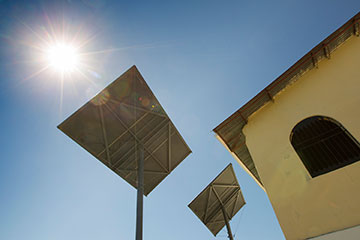 French-language content done in consultation with the teachers, access to the Internet and teacher training is provided by Inveneo-trained technicians.
Investing in the teachers is a key component to the success of the project, McGuffin said. "Most teachers don't receive a regular salary and most don't have any formal training."
Decilien Lazarre, who has been principal of the school in Thomas for more than 15 years, was all smiles as he watched the children's reaction to the computers.
"This is a very great thing," he said. "It gives our school a higher level of education, gives us advanced knowledge that is not currently available in the community."
Lazarre said the school has 143 students ranging in age from 5 to 18. Six teachers are in the computer-training program.
Syln Guerdy, one of the teachers, said the first thing students will learn is how to write their names using a keyboard.
Cesarion Wilson, 15, and Stocklin Bima, 14, are interested in mathematics and science.
But just learning to open the computers "makes kids' dreams come true," Wilson said.
*Gilbert is a multimedia reporter for the young adult content team at United Methodist Communications, Nashville, Tenn.
News media contact: Kathy L. Gilbert, Nashville, Tenn., (615) 742-5470 or [email protected].
---
Like what you're reading? Support the ministry of UM News! Your support ensures the latest denominational news, dynamic stories and informative articles will continue to connect our global community. Make a tax-deductible donation at ResourceUMC.org/GiveUMCom.