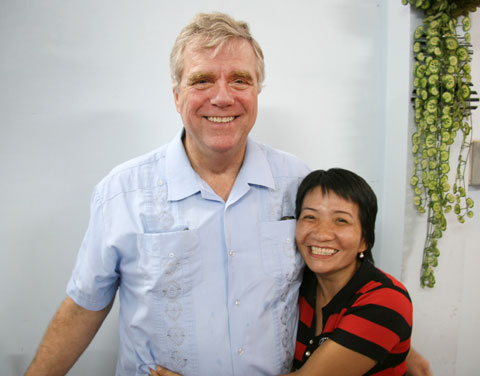 A guitar is perched in the corner of the sun-drenched living room. The piano, a covering pulled over its keys, sits against the wall. Thick songbooks are stacked in a basket on the floor. Somewhere stashed behind closed doors are an old trombone and a banjo that are likely out of tune.
The only instrument missing is Clinton Rabb's voice.
It is a voice silenced after the director of mission volunteers for the United Methodist Board of Global Ministries died from injuries received when he was trapped under a mountain of concrete rubble at the fallen Hotel Montana in Port-au-Prince. He was in Haiti to advocate for the poorest of the poor when the earthquake hit. The trip was part of a ministry in which he helped build and grow United Methodist churches in countless countries and inspired thousands of missionary volunteers to do God's good work.
However, his intense travel schedule was beginning to take a toll on his personal life. He longed for more time at home with his wife, Suzanne, and for more opportunities to be with his eight children and three grandchildren.
It's fitting that his picture sits on the piano which Clint played boisterously. On recent rare occasions when all eight children were in one house at the same time, family jams were a staple. Clint, of course, tickled the ivories. Matthew, Daniel and Andrew picked guitar. Claire played violin. Travis, tambourine. Suzanne, the family drummer, played bongos. The others Jenny, Maury and Tyler provided background music of laughter and applause.
Theirs was a home where music was made. A home where the 6'2" plus-sized musician belted out Broadway tunes and jazz classics that entertained an audience of one or an assembly of many.
"He sang everything like Louis Armstrong . . . even, 'Singin' in the Rain,'" Suzanne laughed. "When he would sing in church, people would turn to us with thumbs up because they loved his voice. It was a wonderful sound."
'He wasn't a pretender'
Described as a "Texan through and through," Clint grew up in a little town in northeast Texas. However, he was born in Nyack, N.Y., which made him an interesting blend of two worlds. He loved beef and football, but he also loved art and fine music.
Death & Resurrection in Haiti
This series tells the dramatic stories of the mission workers trapped by the devastating quake that hit Haiti on Jan. 12, 2010.
Other articles in the series
Not the reality TV type, he opted instead for episodes of "Sherlock Holmes" on PBS. He listened to jazz on Sirius Radio, cheered for the Dallas Cowboys and the University of Texas Longhorns, and loved history, especially family history.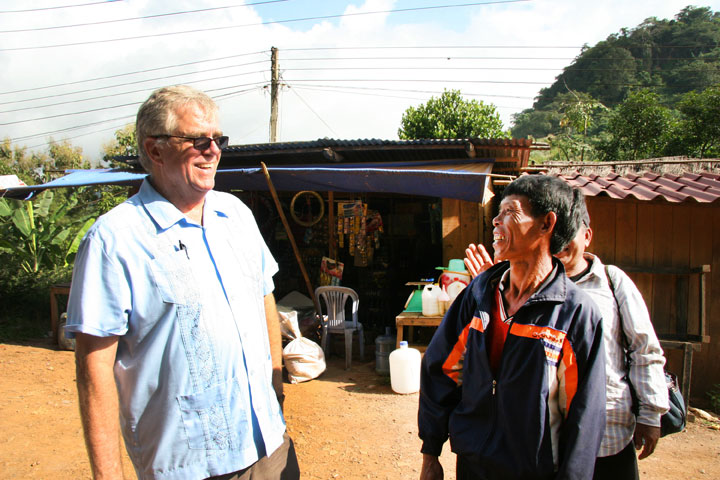 "Information," Suzanne said, "was candy for him."
"He was the kind of guy whose pants would be tattered," she said. "Those kinds of things just weren't important to Clint."
"It was impossible for Clint to pretend," she said." He wasn't a pretender. He was just Clint. And when he came to you and talked to you, what he did was all him. And you couldn't change him even if you wanted to. In time, I learned that the best gift I could give him was to not even want to change him because then he wouldn't be who he was."
When they married in 1998, Clint brought two children to the family and she brought six. She called the courtship "intense.'
"He saw me and he knew, this is the one," she said. "And he was very intentional about it so it was a little scary for me. I had been married and I had six kids and I was kind of freaking, but he was such a fascinating guy. And, he was very thoughtful. I think people might find it hard to believe, but he was a very romantic man.
"One of the things I thought about him was that he was like this big hacienda . . . with windows and doors wide open, and you went in and there was a wonderful buffet and you were invited to come and to feast. He had the most open, generous heart and he invited everyone he knew to feast on love."
Now, she is doing the hard work of grieving.
"One thing I've been thinking about a lot is what will I now allow to happen in my life? Will I allow Clint's dramatic death to teach me, transform me, gospel me? How do I move into it and listen to what God is saying to me?"
'You know I'll find you'
Even in death, Suzanne believes Clint has found ways to be there for her as she grieves.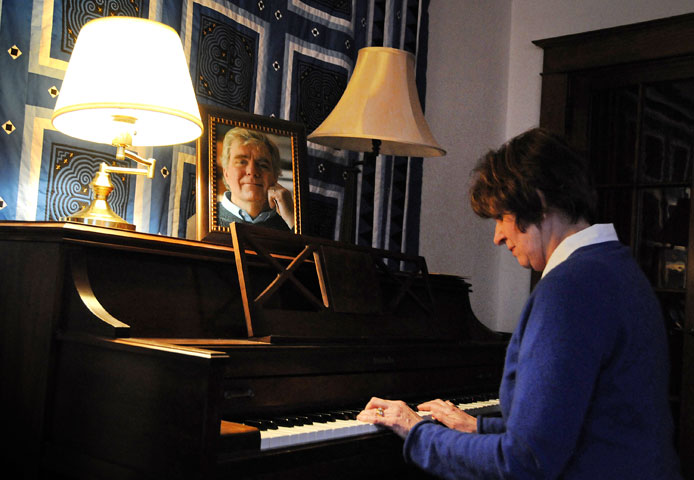 "Whether I go to bed at night and sleep not one wink, and I wake up in the day and just feed the dogs, I'm a grieving woman," she said. "But by allowing myself to really feel he's there, that's what gives me strength. I know he's saying to me, 'It's all right; you'll be fine. Keep your kids close. Do what you need to do and don't worry. You know I'll find you.'"
And at his funeral, it appeared Clint did indeed find Suzanne. Not surprisingly, he used music to reassure her.
Son Matthew Payne sang a song he says he "received from Clint."
"When you need me, you have me.
When you call, I am there.
When you search for me, you find me.
I am always here.

I can see you now.
I see the color in your eyes.
You are not forgotten,
And there are no last goodbyes.

(Chorus) I know it's cold when it rains,
But I won't let it keep me.
I won't let it separate.
I know it's cold when it rains,
But I'm gonna shine out.
I won't let you fade.
Cause honey, my love for you, it does not break."

--"My Love for You (It Does Not Break)"
By Matthew Payne
*Passi-Klaus is a Public Information specialist/writer for United Methodist Communications.
News media contact: David Briggs, Nashville, Tenn., (615) 742-5470 or [email protected]
Related Articles
Mission Leaders who Died in Haiti Remembered
Mission leader Rabb celebrated for making difference
Resources
The Clinton Clark Rabb Charity
---
Like what you're reading? Support the ministry of UM News! Your support ensures the latest denominational news, dynamic stories and informative articles will continue to connect our global community. Make a tax-deductible donation at ResourceUMC.org/GiveUMCom.