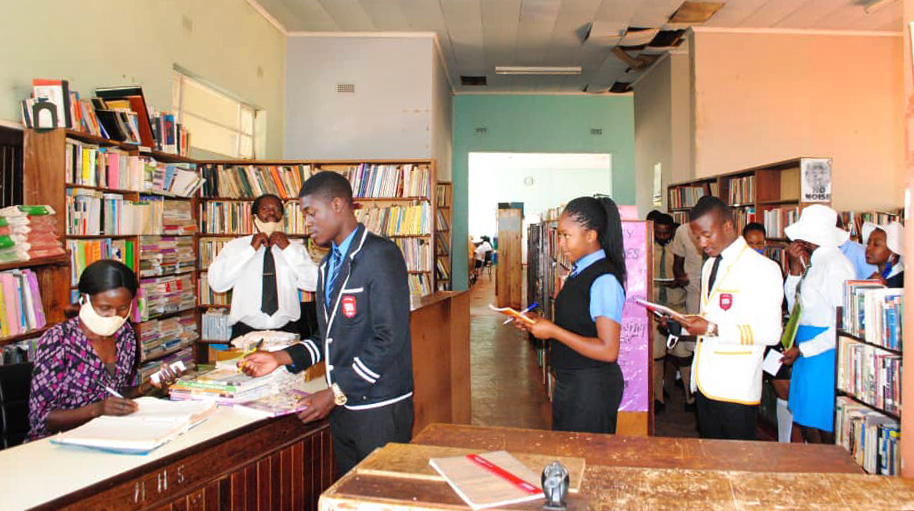 After fire gutted parts of United Methodist Hartzell High School last year, the school's former students wanted to help.
The Hartzell Old Student Association set their sights on restocking the library, which lost an estimated 40,000 books.
Luke Mushonga, Hartzell High School librarian since 1984, said millions of dollars' worth of books went up in flames in just a matter of minutes on April 6, 2019.
"It is disturbing that a decade (of) investment … is gone," said Mushonga.
The Hartzell Old Student Association started a "Buy a Book" crowdfunding campaign to raise money for the purchase of fiction and nonfiction books, textbooks and computers. The campaign ran from July 1 to Sept. 30 of this year. The group also set up a GoFundMe page, which has raised more than $800 to date.
How to help
To donate to the Hartzell Old Student Association's "Buy a Book" campaign, visit the
group's GoFundMe page
.
"We appreciate the efforts from (the alumni group) and other well-wishers, but it is just a drop in the ocean, and the door is still wide open for well-wishers to donate towards the book cause, because the school was left in dire need (because of) the textbook shortages," Mushonga said.
Dunmore Munowenyu, fundraising chairperson for the group, said the goal was to restock essential textbooks and improve technology.
"Our main objectives were to raise at least $22,000 (to) buy textbooks and ensure that the school has adequate books and learning materials (and) to equip the library with six desktop computers to access internet ... . (We wanted) to cultivate a culture of ploughing back to our school in the best way we can," he said.
The school, located at Old Mutare Mission, not far from Africa University, has alumni in many different parts of the world. Munowenyu said that so far, alumni have contributed to the purchase of 220 textbooks valued at more than $2,000.
The United Kingdom chapter bought four computers valued at $3,200 to facilitate online access, and the class of 1981 pledged to buy a printer, he said. Hartzell Old Student Association Canada raised $870 and bought 85 textbooks.
Shorwi Kawadza, headmaster at Hartzell High School, said the shortage of books has caused many challenges for students.
"After the fire, there was an unfavorable book-to-student ratio of 1 to 40, which led to ineffective learning and, eventually, negatively affected student performance and the overall results," he said.
He said there was huge competition for the textbooks that remained, leading to less reading time and limited access for homework, which resulted in sloppy work.
"Research and group discussions were terminated due to lack of reading and reference materials. The students' zeal for reading was almost killed," Kawadza said. "This initiative has definitely alleviated (those) challenges for the betterment of our school and students."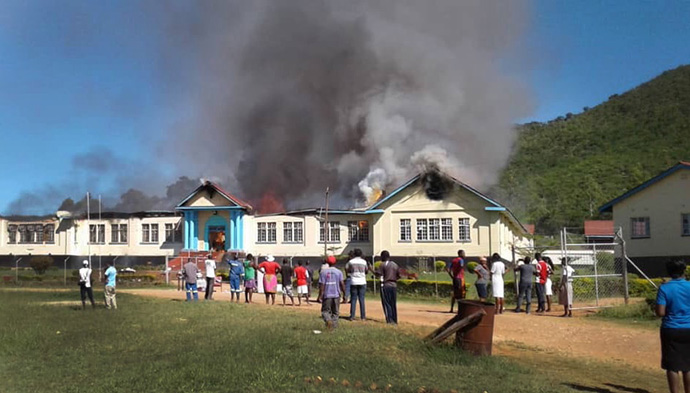 Hartzell head boy Kudakwashe Chitenderu said that the shortage of books was exacerbated by the COVID-19 pandemic protocols, which discouraged students from sharing books.
"As a way of protecting my life and of my colleagues, we are not allowed to sit close to each other and read from the same textbook," he said.
"This forced us to scramble for the few copies available. Therefore, if more books are purchased, it means everyone will get one, protect our health, improve our school work, student performance and pass rate," Chitenderu said.
The head girl at the school, Melissa Verenga, said the shortage of books compromised creative skills and affected the quality of education.
"Practical subjects like science were not spared, as students need to read instructions and procedures for the experiments," she said.
"It made life even difficult for teachers to complete the syllabi, as they were often forced to move at a slower pace. Guidance of the curriculum in particular subjects could not be executed since textbooks play a fundamental role in supplementing teacher's knowledge."
She said she hopes more computers will be purchased to increase access to online books.
The Rev. Alan Masimba Gurupira, administrative assistant to Bishop Eben K. Nhiwatiwa, shared the same wish. "While books of ink and paper are useful, it is noble to go the electronic way," he said.
The Rev. Munyaradzi Timire, Zimbabwe East Conference education secretary, said the donation has been a shot in the arm for the school.
Subscribe to our
e-newsletter
Like what you're reading and want to see more? Sign up for our free daily and weekly digests of important news and events in the life of The United Methodist Church.
"May God continue to give them more wisdom as they continue to look into the future of the school," Timire said of the alumni association.
He said Consultus Publishing Services, a textbook supplier, also donated more than 1,800 books.
Tatenda Katsidzira, a member of the Hartzell Old Student Association based in Canada, said her group has 13 members who graduated between 1987 and 2004.
"Because of our passion to plough back to the community, as well as our love of our school, we were inspired to create HOSA Canada and raise funds that go toward the needs for the school," she said.
"We would love to see a Hartzell that is among the best schools in Zimbabwe in terms of education as well as property upkeep. HOSA Canada plans to continue assisting Hartzell High School, where we can see this come to fruition."
Chingwe is a communicator for the Zimbabwe East Conference.
News media contact: Vicki Brown at (615) 742-5470 or [email protected]. To read more United Methodist news, subscribe to the free Daily or Weekly Digests.
---
Like what you're reading? Support the ministry of UM News! Your support ensures the latest denominational news, dynamic stories and informative articles will continue to connect our global community. Make a tax-deductible donation at ResourceUMC.org/GiveUMCom.