Tears stream down the faces of Congolese students who are refugees as they share war accounts of losing their parents, homes and belongings.

"There is a problem on my heart," Mugisha, a fifth grader, said. "I lost my family. After that, the people I lived with tortured me. When I remember it, I feel very hurt."

Mugisha's story is a typical one among the students at Dr. B.T. Cooper United Methodist School, where 200 of the 310 students are Congolese children with refugee status.

However, Reuben Replie Ososo, the school's head teacher and an Africa University graduate, said Mugisha's ability to talk about her experiences is a sign of healing.

"For the first time, the refugee students are learning how to grieve and process their stories," Ososo said.

Kenya is among the top refugee-hosting countries in Africa. There are more than 476,000 refugees and asylum-seekers in the country, with nearly 42,000 of them from Congo, according to UNHCR, the United Nations Refugee Agency.

The school also is mobilizing community leaders to lead trauma-healing sessions and extending the program into the community in conjunction with other schools and United Methodist churches around Nairobi County. The target is to reach out to 2,000 refugees in 2019, Ososo said.

He takes groups of 20 refugee students each week through the counseling sessions.

"We go through 10 topics," he said. "They learn that they are important to God, how sin enters the world, and why bad things happen. During the second lesson, they learn to take their pain to the cross. There is a lot of crying and pain, and the teachers comfort them. We also do follow-ups at their homes. Children write their laments. They ask, 'Why did God let my family die? Why am I a refugee?'"

Their sorrows begin to heal as they learn about forgiveness and about God's love for them, Ososo said.

"We are seeing change," he said. "Before, they didn't even cry. Now, they participate in class, smile and laugh."

Established in 1997 as a nursery school with one class operating inside Kayole St. John's United Methodist Church, Dr. B.T. Cooper United Methodist School has since grown into a full primary school.

In addition to the Congolese students, more than 100 orphans and vulnerable children from the surrounding community attend the school. Many students are from the Kayole-Soweto slums and live in abject poverty, with most people earning less than one dollar per day.

The school is named in honor of the late Dr. Bernard Trent Cooper of Sonrise United Methodist Church in Fort Wayne, Indiana, who helped raise funds for the school before his death in 2005. Cooper and Dr. Dan Odipo, both orthopedic surgeons, were instrumental in supporting the school.

Ososo said Cooper's son, Dr. Jerry Cooper, also has provided valuable support to the school since his father's death. "(Without him), we couldn't be where we are," he said.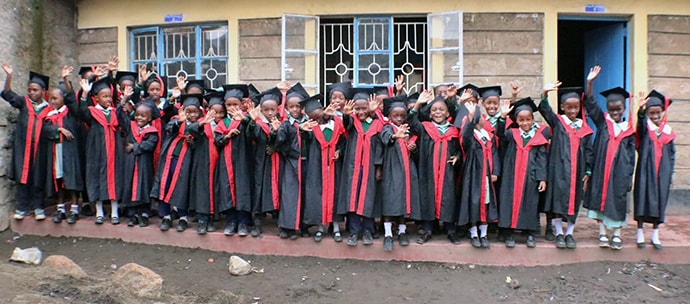 Dr. B.T. Cooper School works to meet the psychosocial and educational needs of students facing challenges associated with their forced migration, such as social isolation and linguistic and cultural shifts. Some of the children have disabilities, either from birth or because of violence in their home countries.

Teacher Winnie Nangila, a Grade 8 teacher at the school, said there are "uncommon gifts" among the refugees she has taught.

"At the point when you converse with them, you perceive that they are so anxious to learn," she said. "Our school is committed to giving these students a feeling of direction, a dream of the individual they can become, and the information that will one day assist them with reconstructing their homes."

Isaac Muhumure, 18, a Congolese refugee and alumnus of the school, said the opportunity to get an education after the hardships he faced was essential in pursuing his dreams of becoming a teacher "and being a voice for others" in his position, he said.

"The war makes many individuals endure. I had to stop school in light of the war. At the point when I discovered I was returning to class, it fulfilled me," he said, smiling.

Grace Namude, deputy head teacher, said the school is changing the lives of its refugee students.

"We have a feeding program for learners, as well as a provision of backpacks and learning materials," she said.

The scarcity of jobs makes it difficult for most parents to afford uniforms and supplies, so the school's support is a big relief to parents, especially refugees, Namude said.


Subscribe to our
e-newsletter
Like what you're reading and want to see more? Sign up for our free daily and weekly digests of important news and events in the life of The United Methodist Church.

"From the first lessons, education offered by the school helps refugees stand on their own feet, allowing them to prepare for the future, whether in Kenya or in their own country upon their return," she added.

"We provide education without discrimination to our brothers and sisters from the DRC," she said, noting that several alumni are attending universities and colleges in Kenya.

Despite the success stories, teacher Noel Khalayi noted continuing challenges.

"The classrooms are crowded, forcing the school to operate a double-shift system, with children from the host country rubbing shoulders with refugees," she said.

"These arrangements enable more children to attend school, but the long hours place an extra burden on teachers and other staff. Sometimes, lessons may be held in a language that the refugee children are only beginning to understand."

Despite the obstacles, these classrooms are transforming children, Khalayi said.

"Refugees are mothers, fathers, sisters, brothers, children, with indistinguishable expectations and aspirations from us — except that a twist of fate has bound their lives to a worldwide refugee crisis on an unprecedented scale.

"It is the obligation of each individual born in a safer room to open the door when somebody in danger knocks."

Maiga is a communicator for the Kenya-Ethiopia Conference.

News media contact: Vicki Brown at (615) 742-5470 or

[email protected]

. To read more United Methodist news, subscribe to the free Daily or Weekly Digests.