---
Key Points:
United Methodist churches held memorial services where people who lost loved ones during COVID-19 gathered to console one another and celebrate life — things they were unable to do during pandemic restrictions.
Each grieving family was encouraged to arrange for a memorial service to allow adequate time for relatives who had not made it to the funeral to attend.
Two sisters who died helped plant St. James Hwedza United Methodist Church.
---
A somber and emotional atmosphere engulfed St. James Hwedza United Methodist Church as the Muti and Marikasi families and friends gathered for a memorial service and tombstone unveiling of two sisters deemed heroes of faith.
During the height of the pandemic, Alice Marikasi, 87, and Ellah Muti, 90, succumbed to COVID-19 two days apart.
When the women died, only a handful managed to attend the funerals. However, no body viewing, sendoff celebrations, sanctuary services or gatherings were allowed. Burial was done by strangers in hazmat suits, while family and church members stood nearby. The tragic experience failed to bring closure for bereaved families.
Toendepi Samson Marikasi, Alice's husband, sobbed as he testified about how the sisters died. Amid heavy silence, many bowed heads and wept. Toendepi Marikasi's cracking voice and quivering lips betrayed his struggle to keep his composure.
"Alice died while I was holding her," he recalled. "I never moved out of our bedroom. I was with her throughout, despite the danger of contracting the disease. I announced the sad news to her big sister, Ellah, who was in the house and also not feeling well. Two days later, Ellah passed on."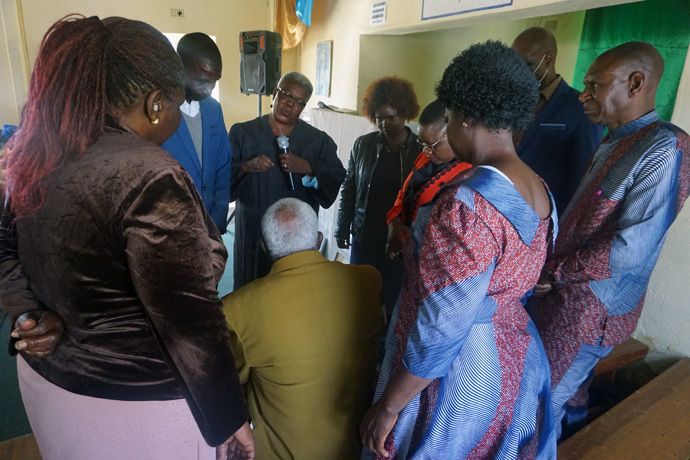 The sisters planted St. James Hwedza United Methodist Church, helped build the sanctuary in 1962 and contributed immensely toward the establishment of a parsonage, Marikasi said. "Due to COVID-19, their coffins were not allowed in the church that they helped to construct."
He told the congregants, "My life circle is toward completion. Do not let this church die."
Recognizing the women's contributions, members of St. Peters Seke North United Methodist Church, where Ellah worshipped, traveled to Wedza, their home area, for the tombstone unveiling and the memorial service.
Michael Dengwani, St. Peters Seke North lay leader, thanked the families for allowing the church to contribute toward the costs of the tombstones.
"These two were very precious to us," he added. "We celebrate the great work they did for the church. Let us encourage each other to maintain (their) legacy."
People celebrated, danced, testified, cried, prayed, consoled one another and ate together — all of which they could not do during pandemic restrictions.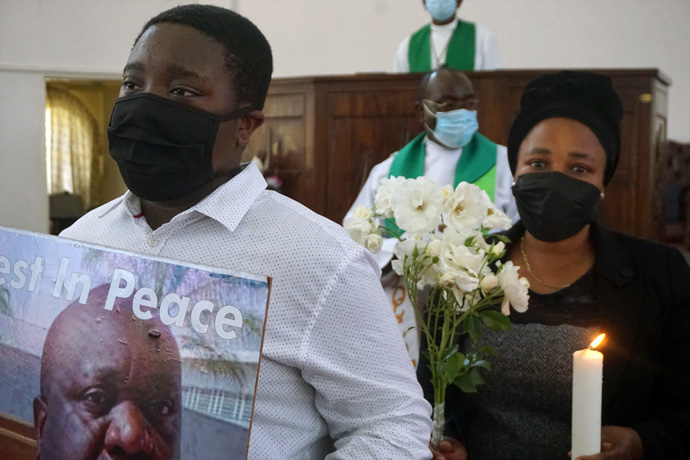 The Rev. Faith Nyagato, St. Peters Seke North United Methodist Church associate pastor, preached from 2 Timothy. She equated the faith of Alice and Ellah with that of the biblical Lois and Eunice.
She said the sisters' commitment and exceptional leadership made The United Methodist Church known as a spiritual epicenter, where the sick are prayed for and healed and strangers are accommodated and fed.
Innercity United Methodist Church also held a mass memorial service, said the Rev. Annie Zvingowanisei, Harare West District connectional ministries director. All families who lost loved ones during the pandemic were invited.
"Portraits of the deceased and flowers were arranged at the pulpit," Zvingowanisei said. "The message was about consoling each other. It was an emotional service, but it helped heal raw wounds."
The Rev. Osah Matengambiri, Innercity associate pastor, recounted the challenges of coping with COVID-19 deaths.
"Bodies were buried without conducting proper burial rituals," she said. "Pastors were asked to fast-track procedures in order to shorten the time of gathering. Very few close relatives were allowed. Many church members, friends and relatives were not allowed. Important procedures to bring closure such as body viewing were not done. This left many nursing wounds that the church felt indebted to heal.
"In our African tradition," Matengambiri continued, "the clothes of the deceased are disposed of soon after burial. This was not the case for people who died of COVID-19. It was not easy for family members to throw away their loved one's clothes."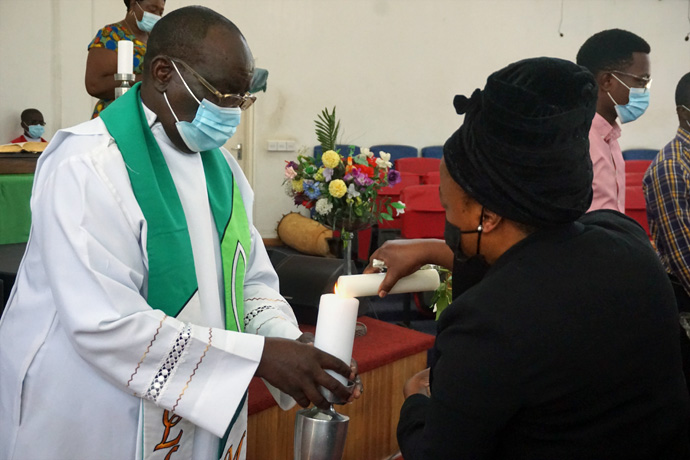 Pastors and health practitioners helped families to preserve traditions when their relatives died during the pandemic.
"Relatives, friends and church members," she said, "felt they did not do justice to their loved ones; hence, the need for closure." Pastors helped families to accept that the situation was not their fault.
"Each grieving family," Matengambiri explained, "was encouraged to arrange for a memorial service to allow adequate time for relatives who had not made it to the funeral to attend. The memorial service often turned into a funeral and was very emotional. Testimonies were not rushed. Sometimes a memorial service and tombstone unveiling service were combined."
The Rev. Daniel Mutidzawanda, Chisipiti United Methodist Church pastor-in-charge, created what he described as "a special grand memorial service for those who lost their loved ones. I requested family members to bring portraits," he said. The church furnished flowers and held a candle-lighting ceremony to symbolize "letting their light shine," he said.
More than 10 families held portraits, lit candles and placed flowers at the pulpit. "It was a heartrending and very emotional service," Mutidzawanda said. "After the service, people continued to console each other."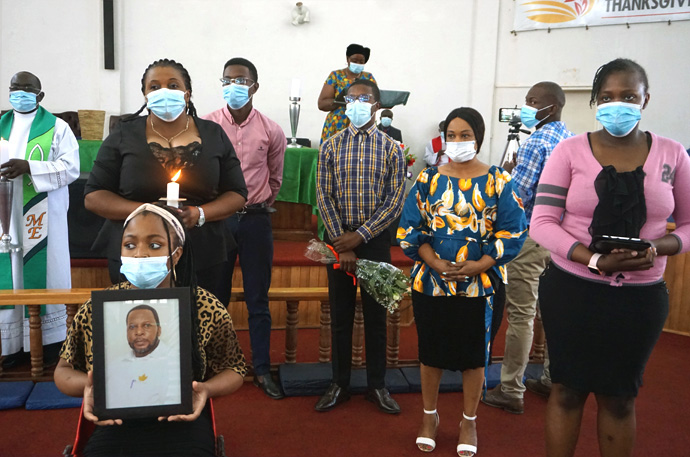 Gloria Benhura lost her husband, Garikai, during COVID-19.
"The message from the Rev. Alan Masimba Gurupira was quite encouraging," she said. "My husband liked attending church services, and we would always be together.
"There is no immediate closure when you lose a loved one," she added. "Closure is a process. I felt Garikai was honored. What the church did was very important."
Anne Buta also lost her husband. "On the day of the memorial service," she admitted, "I had mixed emotions of happiness, healing and sadness.
"I was happy because we got to remember the good memories we shared as a family. I felt healed because the pastors and the church prayed for us, and I felt sad because he is no longer with us," Buta said.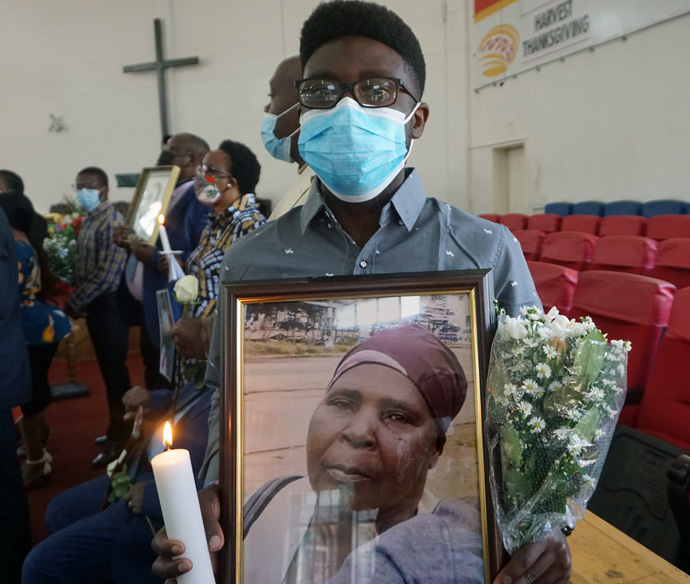 Ale White, 29, is the youngest of five adult children who lost their mother, Sarah Kaukonde. "I was speechless and felt loved despite the COVID-19 pandemic regulations," White said. "The church made an effort to reach out and comfort us. I still remember the sermon, and it helped me to believe that Mama was promoted to a better place. The memorial service was worth it."
Nyasha, the wife of Dr. Tererai Katema, died from COVID-19.
"I am thankful to the church for organizing a grand joint memorial service, which came early enough in the flow of events after we had just lost our beloved ones," he said. "We were comforted when our grieving and hurting were still fresh.
"This was a joint memorial service held in Chisipiti, with about 13 families," he added. "An element of shared grief … helped us accept God's will and allowed us to move toward closure.
"In that memorial service," he said, "one could clearly remember the others who had lost their loved ones. There was a sense of walking together. We had the feeling that our loss was shared and that we were not alone, but in the company of the church as a whole."
Chingwe is a communicator for the Zimbabwe East Conference.
News media contact: Julie Dwyer at [email protected]. To read more United Methodist news, subscribe to the free Daily or Weekly Digests.
---
Like what you're reading? Support the ministry of UM News! Your support ensures the latest denominational news, dynamic stories and informative articles will continue to connect our global community. Make a tax-deductible donation at ResourceUMC.org/GiveUMCom.