United Methodist Bishop John Yambasu said he had never been "so devastated" as he was when he led an interdenominational group of clergy to visit the two communities hardest hit by flooding and a mudslide.
"Nobody seeing that would want to fold their hands and sit back without doing something," Yambasu said. "The amount of homes that were buried in that rubble ... to know that I was really standing on top of human beings crushed by the landslide was most devastating for me."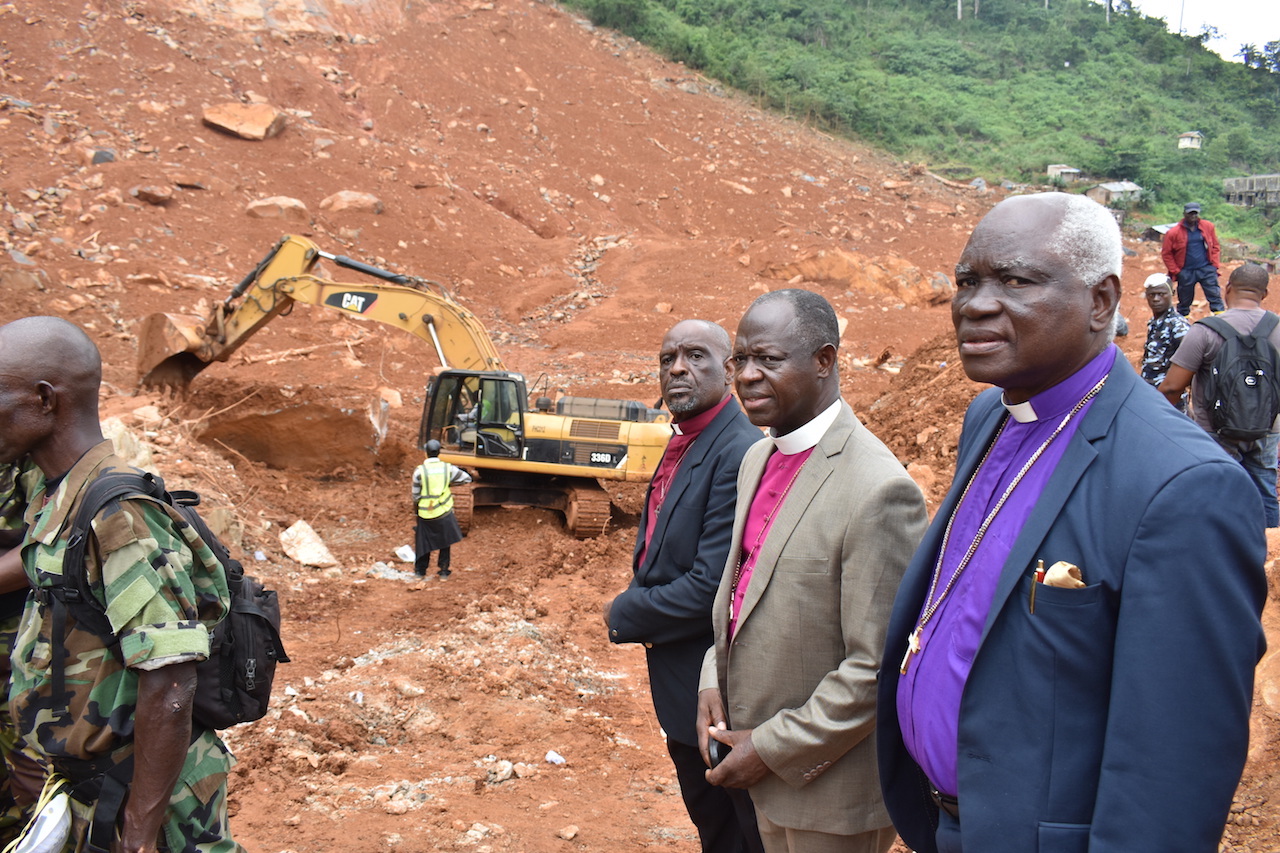 The Sierra Leone Area bishop is also president of the Council of Churches in Sierra Leone so he said he led the group of clergy on Aug. 16 to get "first-hand information and to ascertain the magnitude of the destruction that was done to both human life and property. That will position us to determine the right type of intervention."
The president of Sierra Leone declared a week of mourning for victims that began with a nationwide moment of silence Aug. 16 to honor those who lost their lives to the flood and landslide.
Yambasu and his team of clergy were asked to pray. Bishop Yambasu prayed for the dead and those who survived the landslide and flood that left thousands homeless.
He prayed for hope and strength and asked God to avert another disaster in Sierra Leone, which has survived disasters including a 10-year civil war, a 2014 Ebola outbreak that killed about 4,000 people and two serious floods.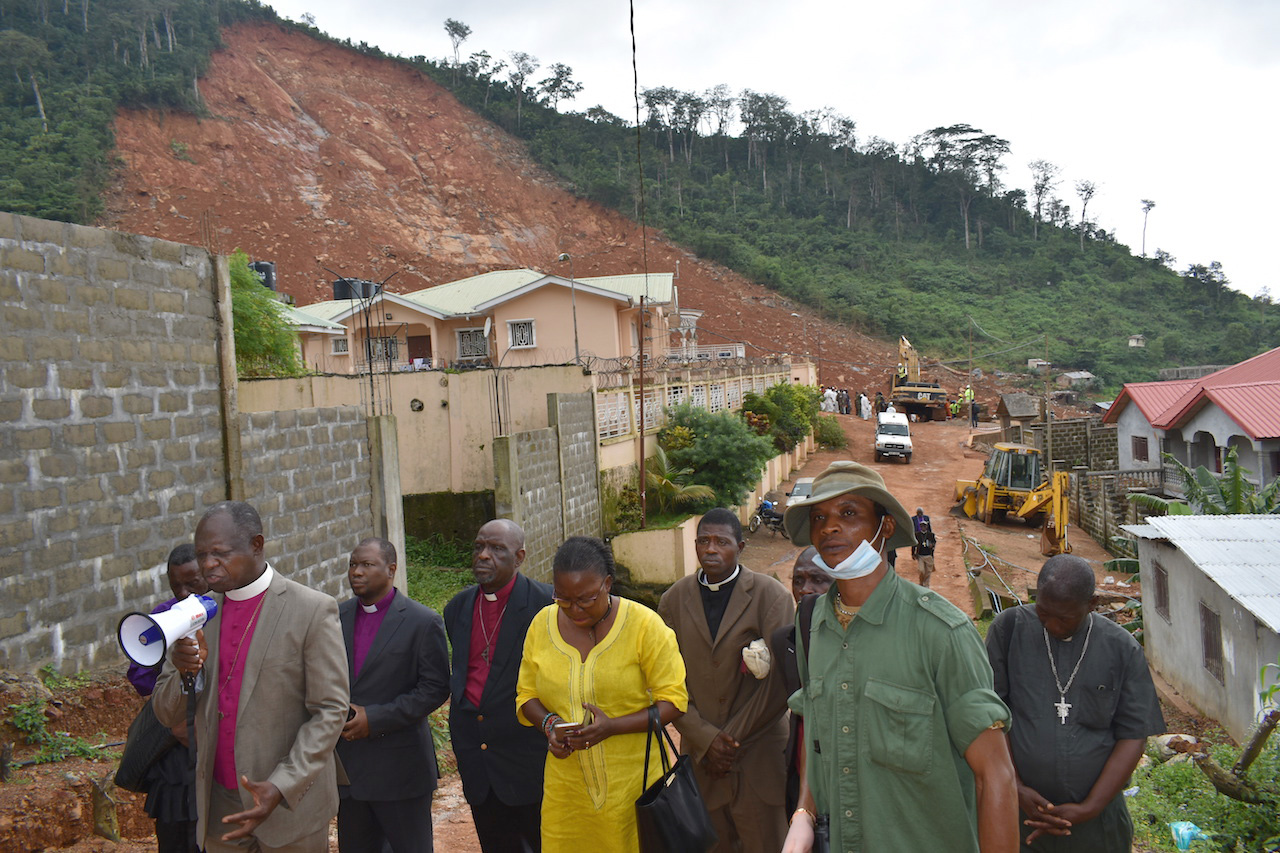 "Enough is enough," the bishop pleaded with God. "Have mercy Papa God; have mercy upon this nation."
Yambasu and his team of clergy left for Kamayama after the prayers.
At Kamayama, a small community of survivors met the team and shared their experiences with them. Pointing to a huge collection of boulders that were where her home used to be, Kadiatu Thoronka explained in tears how her neighbors died.
"I and a few people rushed out when we heard voices calling aloud. But we were already surrounded by the gushing and destructive force of tide that we could not withstand and so were set adrift in the tide until we reached the unfinished building," she said, pointing to a flat-top unfinished house.
Thoronka and a few others grabbed the steps and made their way upstairs where they stayed until a rescue team came. While they stood on the flat-top building waiting for help, Kadiatu related how they watched people struggling as the tide was sweeping them away.
She told the group of Council of Churches leaders of a mother who was still clinging to her baby as the tide rumbled her away.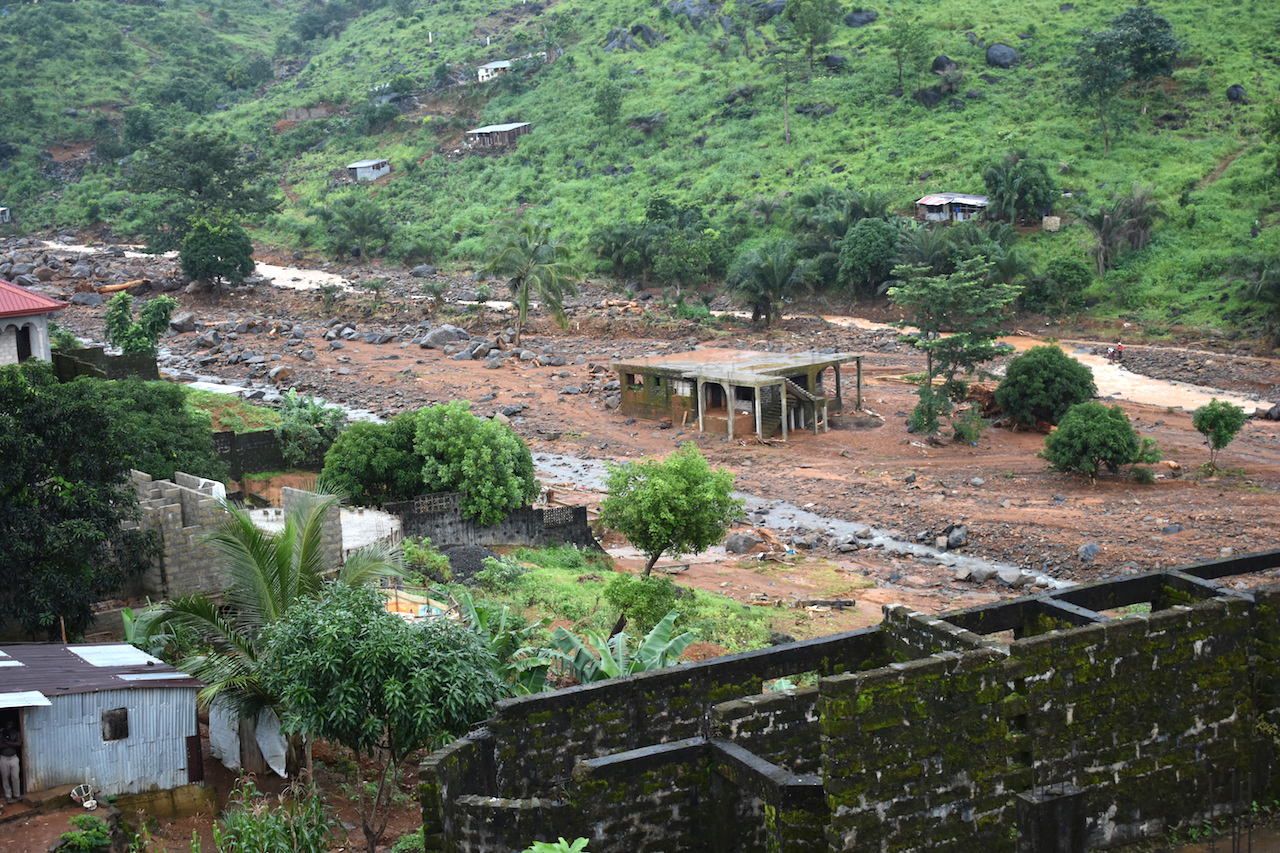 Meanwhile, the Office of National Security has warned all residents in the community to vacate the area around Mount Sugar Loaf where the landslide occurred because of a crack that has been spotted on another side of the crater where the landslide occurred. The agency warns that there is a possibility of another landslide given the weather forecast suggesting heavy rains in the coming days.
Information on affected United Methodists is becoming clearer as the nation counts the impact and loss from the disaster.
Sahr Kelly, a Charles Davies United Methodist Church member, who lost two of his children, says the two were university students. He said his 29-year-old son, also named Sahr, was a second-year student at the Njala University and his 25-year-old daughter, Sia Kelly, was in her final year at Fourah Bay College.
The two lived in the same home at the bottom of Mount Sugar Loaf where debris from the landslide buried several homes. He plans to organize a memorial service for his children at a later date. "I am still very confused," said Kelly, who had not been able to identify his children by the time the recovered bodies were being prepared for burial on Aug. 17.
The Rev. Georgiana Maligi, assistant pastor at Charles Davies, was downhearted as she related the story of her unemployed son whose home was swept by the flood, but she was grateful he had survived.
"He lost almost everything, but I thank God for his life," Maligi said, emphasizing that it was going to be even more difficult for him because he is unemployed.
Pastor David S. Dumbuya of Power of Praise Ministry had held an all night prayer vigil on the night before the landslide. He, his wife and children all perished together with their congregation when Mount Sugar Loaf caved in on Aug. 14.
More than 300 bodies of those who perished in the flood and landslide were buried on Aug. 17. Six truckloads conveyed the bodies from the Connaught Hospital to Waterloo in rural Freetown where they were laid to rest.
Jusu is director of communications for The United Methodist Church in Sierra Leone. News media contact: Vicki Brown at (615) 742-5470 or [email protected]. 
To read more United Methodist news, subscribe to the free Daily or Weekly Digests.
---
Like what you're reading? Support the ministry of UM News! Your support ensures the latest denominational news, dynamic stories and informative articles will continue to connect our global community. Make a tax-deductible donation at ResourceUMC.org/GiveUMCom.