Elderly patients are often excluded from receiving the same health care as young people in Zimbabwe, said the Rev. Farirayi Nyabote, Bulawayo-Midlands District superintendent.
The stereotypes, she said, are that poor health is an inherent part of aging, treatments aren't as effective and seniors have already "lived their time."
She said the church is hoping to change that thinking through several health initiatives across the country.
"As a church, let us not discriminate on our senior citizens regarding health investments as they are still an important asset of the society."
According to 2018 World Health Organization data, life expectancy in Zimbabwe is 59.6 for males and 63.1 for females. The country is 162nd in the World Life Expectancy ranking.
Nyabote spoke during a medical outreach program and Christmas party organized for 120 senior citizens in the district to commemorate the annual Elderly Day observed by the church.
The senior citizens received free health consultations and counseling and some were treated for ailments such as diabetes, asthma and hypertension. They also received gifts of scarves and ties.
Nyabote said although health investments in seniors can be a challenge, it is important to focus on what the elderly give back to the community.
"I urge societies to have greater investment in older patients, for successful aging will benefit all age groups from the altruism, wisdom and perspective of the most senior members of society," she said.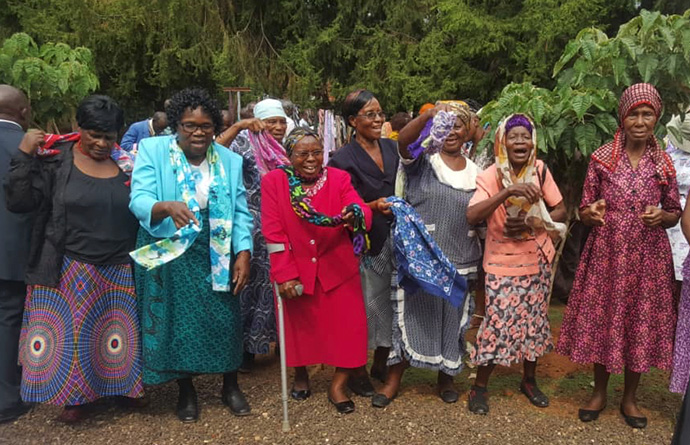 The Harare East District-Chisipiti Circuit has conducted similar medical outreach over the past two years in the Marange District.
Doctors have been treating members of the church and surrounding communities for free as the church works to assist seniors in gaining more regular access to health care.
A mobile clinic is conducted periodically at Muzokomba Rural Health Centre. Staffed by doctors, nurses and pharmacists, the clinic offers free consultations and treatment.
Dr. Brenda Zinyama, who leads the health team, said that seniors have needs beyond spiritual support.
"It is the role of the church to give spiritual solace to the sick as written in the book of Matthew 25:35-40, but as a society, we also have the duty to give material support to our people, especially the senior citizens who now require that service more often than not," she said.
Zinyama said the mobile clinics have been beneficial to elderly patients because most of them had been travelling up to 70 kilometers (about 43 miles) to access treatment at a hospital in the Murambinda District.
"The outreach program has helped the locals, especially the elders, as most of them had been struggling to access treatment as ageism bars older people from good health care," she said.
Beneficiaries to the programs expressed joy over the arrangement.
Aaron Kaseke, 90, a circuit lay leader from Bulawayo Inner-City Circuit, called the health initiative led by Nyabote noble, saying it does not discriminate based on age.
"I want to thank the organizers of this program as it has helped the people of Bulawayo, especially the senior citizens, who are easily neglected by our societies because of age," he said.
Judith Taguma, 85, an asthmatic patient from Marange District, said her condition has improved immensely since the beginning of the outreach program.
"I am excited with the arrangement as medication is now available at our doorstep. Not only that, but we also received blankets and clothes," she said.
Harare East District leaders routinely assist senior citizens at circuits or during events by distributing food and other essential items.
Hubert Chiwara, a lay leader from the district, handed out food hampers to seniors at a recent event at Greendale Circuit in Harare.
"Let the church be the light of the earth regardless of church affiliation," he said.
Chingwe is communications coordinator for the Zimbabwe East Annual Conference. News media contact: Vicki Brown at (615) 742-5470 or [email protected] To read more United Methodist news, subscribe to the free Daily or Weekly Digests.