Can you imagine being released from the hospital after surgery and having nowhere to go to recover but a park bench?
That question is what led Glencliff United Methodist Church to envision a micro home village where homeless residents could recover. The congregation is dedicating a section of its grounds to construct a mix of 200-square-foot single homes and 400-square-foot homes for two people. Twelve of the planned 22 homes are currently under construction.
"A lot of our folks have open-heart surgery, hip replacement, chemo or radiation they're going through, and they're just told to go back to their camp or wherever it is that they stay. That's not a good place for healing," said the Rev. Ingrid McIntyre, executive director of the project and one of the pastors at Glencliff.
"This will provide community for people as well as safe space to heal."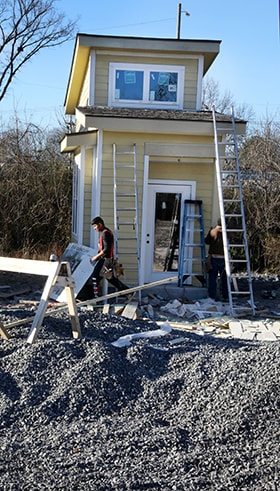 Carpenters work on details of one of the micro houses. Photo by Kathleen Barry, UM News.
McIntyre said the vision is almost a decade in the making. A massive flood that struck Nashville in 2010 displaced many of the city's homeless from a large encampment on the banks of the Cumberland River known as Tent City.
"We thought, what can we do?" she said. "We need a place where people can come and have community. These folks were getting pushed out of theirs."
McIntyre, whose appointment is quarter-time to Glencliff and "the rest of the time to the streets," helped found Open Table Nashville, a nonprofit advocating for the homeless. In 2016, the church voted to partner with Open Table Nashville to house the micro home village.
Valerie Stringer, Glencliff's chair of trustees, said the congregation was almost unanimous in its support.
"It's a super concept. What wouldn't you like about helping someone who really needs it?" she said.
The project has had a few challenges, like an expensive water system upgrade to comply with city regulations.
One unexpected challenge was a lawsuit filed by members of the surrounding neighborhood concerned about the church's plans. The church won the initial suit but had to continue defending it through several appeals. Ultimately, the Tennessee Supreme Court dismissed the suit on the grounds that housing the homeless falls under a federal law that protects a church's mission as a religious organization.
"Every faith community I know of, Christian or not, takes care of people in need," McIntyre said. "That's part of our creed — any faith tradition's creed. It's in our Social Principles, it's in Luke."
Even the lawsuit provided an opportunity for healing. When the woman who initiated the suit — whose stepfather is a Glencliff member — showed up at a church dinner, she and McIntyre were able to connect and forge a relationship.
"I guess she thought we were so mad at her that she wouldn't be welcome, but that's just not how church works for me," McIntyre said.
Though $400,000 of the projected $1.3 million budget still needs to be raised, McIntyre hopes to formally open the village by the end of May. Construction is on schedule, but staffing positions need to be filled and programming must be designed. The programs are intended to provide community and human connection — another important part of healing that the homeless often lack. She also hopes to convert part of the church grounds into a walking trail for exercise.
Residents will have access to medical teams for on-site care, and there are plans to contract with online medical practitioners so many of the residents' issues could be addressed without them having to travel in between on-site visits.
Since the project is considered "bridge" housing, there is no maximum length of stay. McIntyre and the church are committed to housing residents until they regain their health and have a permanent place to live.
"You're not stopping the cycle if you don't go all the way to permanent housing," she said.
Subscribe to our
e-newsletter
Like what you're reading and want to see more? Sign up for our free daily and weekly digests of important news and events in the life of The United Methodist Church.
McIntyre said other churches have expressed interest in doing their own micro home villages, citing a recent partnership with a United Methodist church in Pensacola, Florida, that wants to build 12 micro homes.
"We're figuring it out step by step, but I'd love to be able to share it with other people around the country — any church that has an extra acre," she said.
"We know we're putting our faith into action, standing up for issues of injustice. We have seen people live through the most inconceivable experiences and want to be part of the healing."
Butler is a multimedia producer/editor for United Methodist News Service. Contact him at (615) 742-5470 or [email protected]g. To read more United Methodist news, subscribe to the free Daily or Weekly Digests.
---
Like what you're reading? Support the ministry of UM News! Your support ensures the latest denominational news, dynamic stories and informative articles will continue to connect our global community. Make a tax-deductible donation at ResourceUMC.org/GiveUMCom.