Key points:
Crusade helps Marange District in Zimbabwe to regain some membership lost during the COVID-19 pandemic.
The three-day event brought the Gospel to villagers' homes as 238 were visited and United Methodists preached at the business center.
The inaugural crusade resulted in dozens of new members and the return of others.
Four similar events are planned for other remote parts of Marange District in 2023.
---
In a drive to bring more people to Christ after the devastating COVID-19 pandemic, the Marange District in the Zimbabwe East Conference organized a crusade after realizing membership had dropped by over 1,400 members.
The crusade in the Buhera West Mission Area at Muzokomba business center in November attracted a multitude of people, winning over dozens of new members and regaining some who had stepped away from the church.
The Rev. Pauline Nyamudzura, Marange District superintendent, said the district had 9,890 members, but due to COVID-19, the membership dropped by 14% to 8,450.
"The reduction in membership is worrying, but the results from the pilot crusade … gave us hope," she said. "The effects of COVID-19 were heartrending. Many died, transferred, backslid in their faith, or lost hope because of the many challenges and losses they encountered."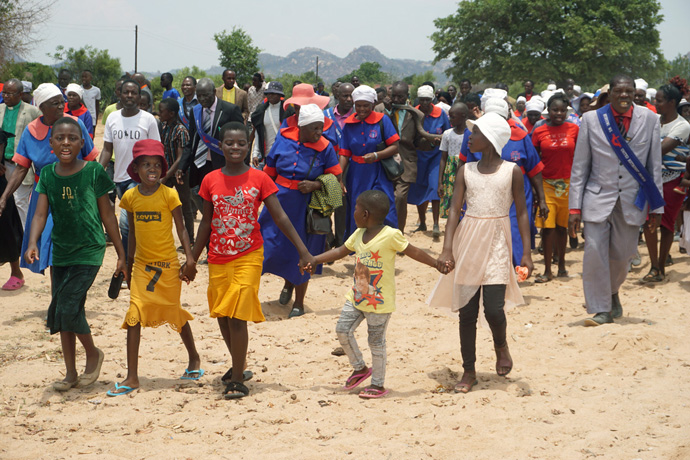 The Rev. Lloyd Rafemoyo, district connectional ministries director, said they chose crusades as the best way of winning back lost members and reaching out to church seekers while spreading the Gospel to surrounding communities.
"Crusades are effective and efficient because they are a combination of different modes of evangelism, that is: spontaneous evangelism (Acts 8:27-38); one-on-one evangelism (John 4:7-27); two-by-two lay visitation evangelism (Mark 6:7-13; Luke 10:1-11); healing and deliverance (Mark 6:13); and public proclamation," Rafemoyo said.
"We visited households and distributed crusade posters on perimeter walls, buildings and buses plying the area. We did not leave any stone unturned," he said. "Within the three days we visited 238 families, prayed, preached and invited them to join us at the local church for fellowship."
"The vhuserere (a crowd of people moving in the community) was exciting as United Methodists walked around the shopping center singing and dancing. They blended the music by using a trumpet, shakers, whistles and drums. Concurrently, the pastors and evangelists were spreading the Word to the community and inviting them to come to church for an all-night prayer," he said.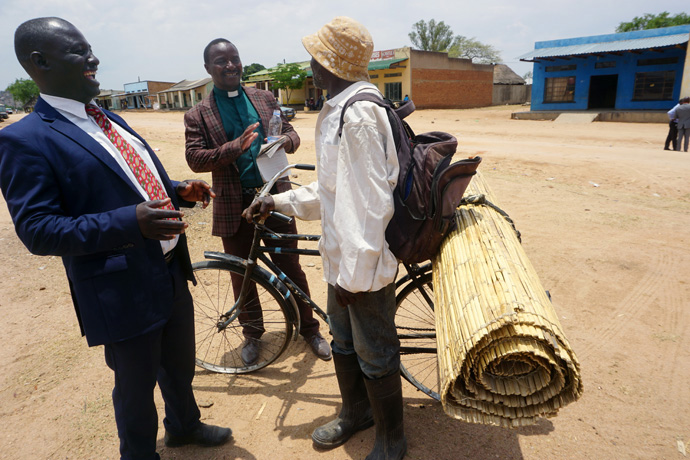 Rafemoyo and Eliah Chitakure, pastor-in-charge of the Buhera West Mission Area, met Abot Matenga, who was cycling while selling mats. They preached to him and he shared his plight of worn-out bicycle tires overdue for replacement.
"After they preached to me about the goodness of the Lord, I felt free to share my challenges," Matenga said.
"I was surprised when one of the members bought what I needed most to enhance my business for my family's survival. The UMC is a good church. You pray to the living God and I will join you," Matenga said as he received the tires.
Chitakure said the Buhera West Mission Area has two local churches — Mutepfe and Muzokomba — which are 40 kilometers apart. "Since the crusade we have managed to bring 79 new members and regained 44 backsliders," Chitakure said.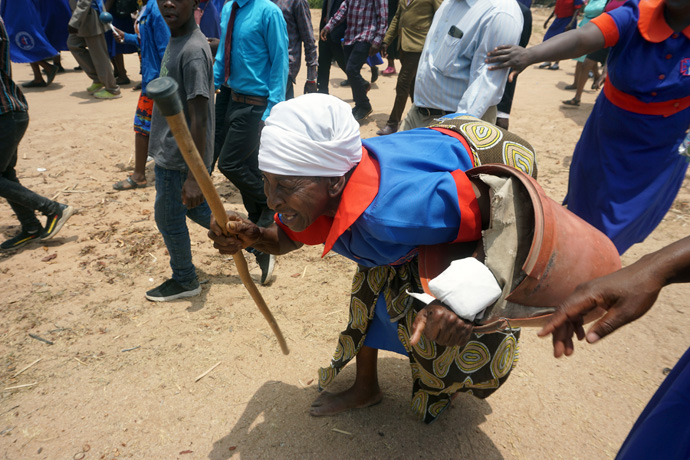 Ratidzai Makwenzi, an expectant mother who was accompanied by her mother, Fadzai Majengeta, was happy when the Rev. Marian Sigauke prayed with her during the crusade.
"When you are sick, you always need a word of encouragement and a prayer. The pastor shared with me from Hebrews and encouraged me to believe in what I have not seen. I now have the faith that all will be well," said Makwenzi.
The Rev. Ruth Saburi preached at the business complex.
"I want to invite you all to Christ. Let us remember that there is life after death. That life needs us to be prepared. Therefore, come and worship together."
Rafemoyo said the district faced some challenges during the crusade.
"Buhera West UMC has no sanctuary yet, our tent was too small to accommodate the gathering and was leaking. We received heavy rains accompanied by strong winds and it was a terrifying experience."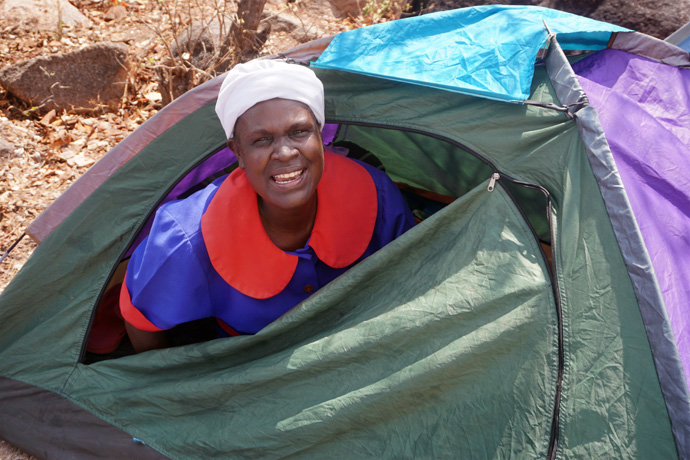 Still, Edith Mushunje, a member of the organizing team, said there was power in prayer and hard work.
"We came to Muzokomba three days before the crusade. We visited up to 30 households daily on foot. It was very hot and the houses were far apart, but that did not deter us because we had an objective of bringing souls to Christ," Mushunje said.
"In the future, we would be grateful if we could have some megaphones, a vehicle and branded shirts to draw people's attention and for visibility," she added. "We are prepared to work, despite limited resources. We are happy we achieved our objectives. To God be the glory."
Beauty Mukwekwezeke, lay leader for the Marange District, said she was impressed by the high attendance. "Indeed, the scorching sun can burn the crops, but not our hearts. The church is alive. Because of these encouraging results, we have lined up four more crusades in 2023."
Nyamudzura said the lessons learned from this maiden crusade will help perfect the planned crusades, which are estimated to cost about $30,000.
"Weare mobilizing funding for the crusades to be held at Marange Central, Marange West, Marange East and Mukuni North circuits. We are hopeful that we will find partners, and God willing, we are going to achieve that," she said.
Chingwe is a communicator for the Zimbabwe East Conference.
News media contact: Julie Dwyer at [email protected]. To read more United Methodist news, subscribe to the free Daily or Weekly Digests.
---
Like what you're reading? Support the ministry of UM News! Your support ensures the latest denominational news, dynamic stories and informative articles will continue to connect our global community. Make a tax-deductible donation at ResourceUMC.org/GiveUMCom.