The Chabadza Community Development Program, a partnership between The United Methodist Church in Norway and Zimbabwe, has helped resuscitate an ailing primary school.
The dilapidated, council-owned Ngundu Primary School was on the verge of closing for failing to meet required government standards. Two weeks before the deadline, the Chabadza program came to the rescue, beginning construction of five classrooms, two teachers' quarters and offices.
Bishop Eben K. Nhiwatiwa helped celebrate the completion of the $90,000 project during a commissioning ceremony on April 25.
"As communities, let us have a window for development for the betterment of the future generation. … Let us all know that every beneficiary is part of Chabadza regardless of (their) position in society."
Elisha Mushayavanhu, acting district administrator for the school, said Ngundu Primary School was is desperate need of repairs before the church's intervention.
"It was pathetic and a laughingstock in the community because of its degree of dilapidation, but now it has outshined many," he said.
Teacher-in-charge Gilbert Sengu said Ngundu is now the talk of the district.
"Since 2017, when the project commenced, school enrollment has increased gradually by an overall 7.14 %," he said.
In addition to the increase in students, Sengu said, there also has been a remarkable improvement in academic performance during the 2018 school year.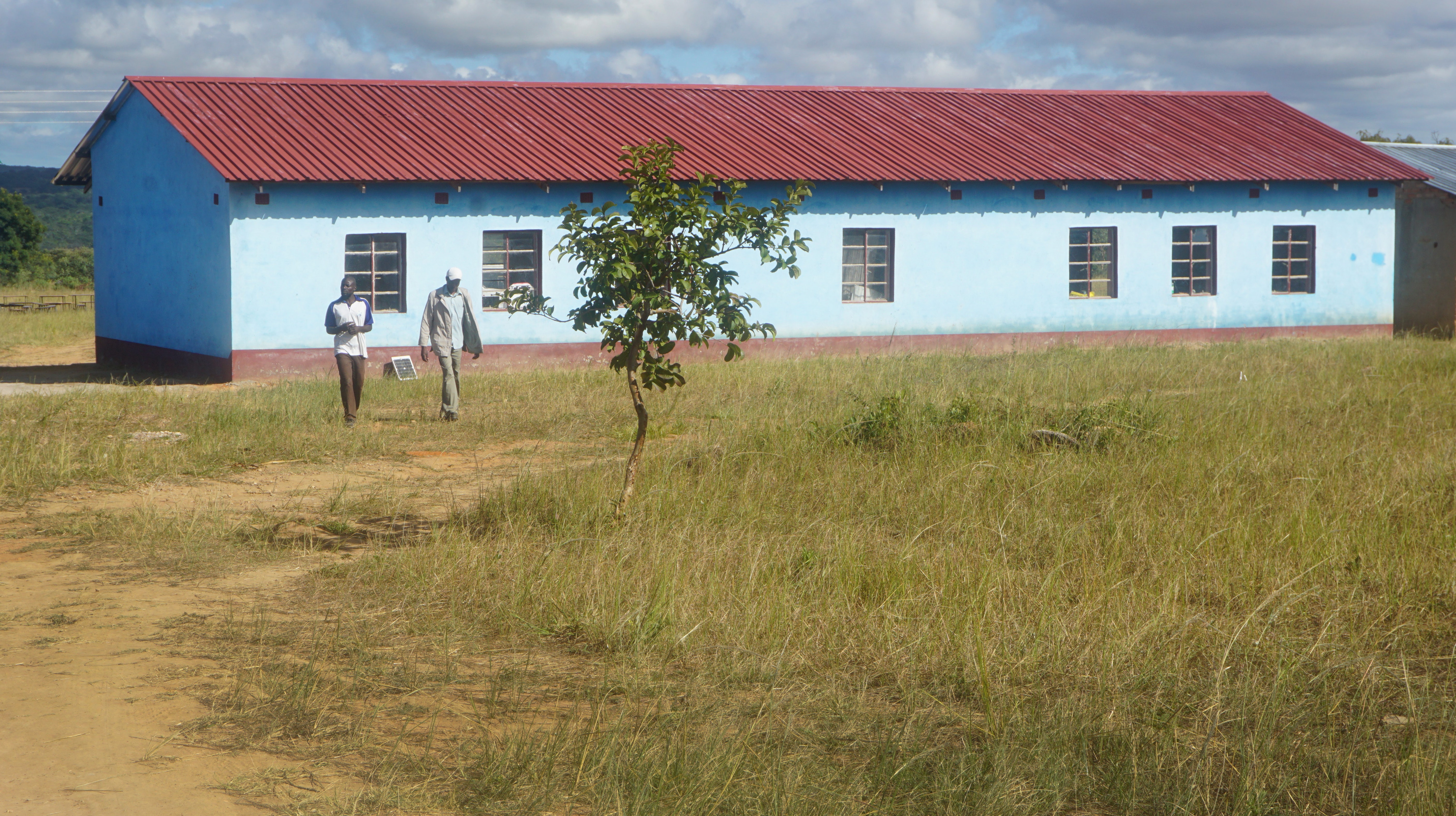 View of new construction at Ngundu Primary School in Buhera, Zimbabwe. The school, which was on the verge of closing, now has five new classrooms, teachers' quarters and offices. Photo by Kudzai Chingwe, UMNS.
"As though it was not enough, the pass rate (for Grade 7), which used to be at 33.33 as of 2017, through hard work and a conducive teaching environment, the performance shot to 100% in 2018, elevating the school to position one in Buhera District."
Gelly Miti, coordinator for the Chabadza Community Development Program in Zimbabwe, said when they first came to evangelize and talk about development, the community was reluctant. However, after the Chabadza program adopted the project, everyone quickly got on board.
"The community, traditional leaders and the school authorities had no time to rest because development had incarnated into their blood — spiritually, physically and psychologically," she said.
The Rev. Øyvind Aske, who leads The United Methodist Church in Norway's board of Global Ministries, is pleased with Chabadza and the Ngundu school project.
"It is good that Chabadza is around to partner with local communities that are seriously looking for help. 'Chabadza' means voluntary work or assistance and they were willing to make their contribution to the school in this village. In this way, UMC Zimbabwe has clearly demonstrated God's love for the people in Ngundu."
He said the partnership program pairs local communities in Zimbabwe with Norwegian Methodist churches.
"The close contact and shared spirituality improve understanding, dignity and a deep experience of participating in changing the world, one community at a time," Aske said.
It took about three years to complete the construction. Miti said the community provided locally available materials while the Chabadza Community Development Program provided the financing and spiritual guidance.
"Through evangelism," said Miti, "many souls were brought to Christ. This is because as we do the work, we will be preaching and evangelizing about the goodness of the Lord.
"Today there are many people who are eager to join (The United Methodist Church) because of the development in the community by Chabadza."
The village's traditional leader, Chief Eng Shepherd Makumbe, invited the Chabadza group to his area, but he didn't expect his people to be changed spiritually.
"The United Methodist Church has killed two birds with one stone," said Makumbe. "There is development in my area and at the same time more souls have been brought to Christ. This means my area has been transformed spiritually and physically."
He said in addition to helping to provide materials for the project and motivating the community during construction, he also offered the church "a vast parcel of land for the construction of a sanctuary so that more souls can be converted to Christ."
"What was more encouraging was that soon after the dedication, a preaching point was opened at Ngundu Primary School and 11 members have started to attend services, and I am part of them," Makumbe said.
Tirivanhu Mutomba, district school inspector for the Ministry of Primary and Secondary Education, said the school now meets the required standards and can be registered as an examination center. In the past, Ngundu students had to travel to other schools to take their exams, walking anywhere from 5 to 18 miles.
Class president Gladys Chadomunhu, 13, said traveling long distances to take exams was challenging for students.
"Today, it is a dream come true … and we can't imagine where we came from and where we are now," the Grade 7 student said. "As a leader of this school, I am obliged to motivate other students so that we can work hard and take over from where our parents have left (off) in the future."
Mutomba applauded the beauty of the Chabadza program, which emphasizes and promotes community participation that develops into ownership.
Chief Makumbe said the lack of development at the school had been "a thorn in the flesh for many." He said now that this dream has been realized, the community is aiming to have a boarding school and even a university.
"It has been my dream to have an outshining Ngundu Primary School," said Makumbe, whose grandfather pioneered Makumbe High School nearby. "Now, it is my turn to develop Ngundu to a boarding school and then a university. I am well prepared to spearhead these initiatives and I believe nothing is impossible before God."
Bishop Nhiwatiwa agreed and urged the community to pursue its dreams.
"Development is not about planning what you will enjoy, but for the future generation. And, remember, there is no full stop to development. Continue to pursue the dream for a boarding school and university because, indeed, in God, there is nothing impossible.
"It may not happen during our time, but it will happen one day."
Chingwe is communications coordinator for the Zimbabwe East Conference.
News media contact: Vicki Brown at (615) 742-5470 or

[email protected]

. To read more United Methodist news, subscribe to the free Daily or Weekly Digests.
---
Like what you're reading? Support the ministry of UM News! Your support ensures the latest denominational news, dynamic stories and informative articles will continue to connect our global community. Make a tax-deductible donation at ResourceUMC.org/GiveUMCom.