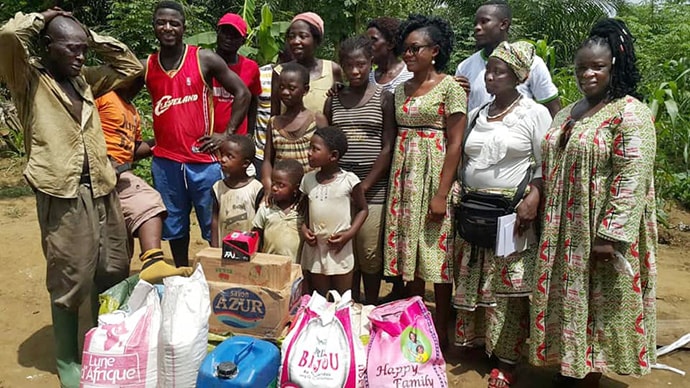 A three-year crisis in southern Cameroon has forced people from their homes, separating husbands and fathers from their families and leaving women and children in dangerous conditions. The United Methodist Women Association Cameroon is reaching out to internally displaced people, offering food and helping with other basic needs.
The conflict began in October 2016 in Bamenda, the capital of the Northwest Region, with a strike by Anglophone (English-speaking) lawyers demanding respect of the Common Law and the translation into English of the Code of the Organization for the Harmonization of Business Law in Africa and other laws. Trust between the administration and the English-speaking activists has continued to erode, according to the United Nations Office for the Coordination of Humanitarian Affairs.
According to United Nations estimates, more than 437,000 displaced people fled from Cameroon to Nigeria; others moved to French-speaking regions. Most internally displaced families abandoned their homes, seeking shelter in nearby bushland or in safer areas with friends and relatives. Most of the refugees are women and children.
Since the end of 2017, security incidents have increased and helpless villagers are often caught in the middle of such confrontations, frequently resulting in heavy casualties on their part, according to human rights organizations.
Prisca Bessong Tataw, a mother of five, said she and her family were living in the bush because of serious confrontations between the military and "Amba" (separatists) youth in Mbalangi. After the military sustained three casualties, houses were torched and bullets fired aimlessly at homes. "Everyone's life was at risk," she said. "We had to run."
The U.N. High Commissioner for Human Rights said that as the crisis worsens, displaced people are exposed to unhealthy, sometimes deadly, conditions because of poor sanitation and exposure. Many babies are born in deserted rural communities, without trained medical personnel, which puts pregnant women and their babies at high risk for maternal and infant death.
Feminine hygiene needs have become a major concern, although aid organizations have provided some assistance.
Synthia Ashu, a United Methodist woman, described the situation as "despicable and pitiful." Girls who cannot attend school are particularly at risk, as they become prone to early pregnancy, difficult deliveries due to their young age and obstetric fistula, she said.
According to Amindeh Blaise Atabong of Equal Times, pregnant and lactating women cannot access basic health services and are at significant risk of water-borne diseases because they are forced to drink from contaminated sources. Others have reported armed separatist groups forcing young girls to leave their families and join their ranks to help with cooking and other chores.
In response, United Methodist Women Association Cameroon is distributing basic commodities such as clothing, gas lighters, toiletries and food to internally displaced families living in the bush in Mbalangi villages in Cameroon's Southwest Province.
One family told of running into the forest after the war started in Mbalangi. They lived on bananas, raw yams and dry corn and slept on mats on the often rain-soaked ground. The only stream was used as a water source for drinking and cooking and as a place to relieve themselves. "We had no other choice than to use the water," family member Patricia Ebeh Bate said. "We were in the forest with my five children and eight grandchildren."
Most displaced people live in rural areas and depend on farming for sustenance and income. Women cannot work safely in their fields because of the violence, which has had a devastating impact on local communities.
"I was not able to harvest the maize I planted on a large parcel of land during the last planting season due to the fighting," said Ako Gladys, a rural woman in Bole village.
The United Methodist Women Association team, led by the Douala Circuit president, Beatrice Diffang Ntube, also donated Bibles and prayed with the displaced people. Diffang encouraged them to trust in God and to promote peace, love and unity. She reminded them, above all, to forgive one another the same way God forgives us. "A heart that loves," she said, "bears no grudges."
Diffang said the hope for peace lies with the country's women. She urged other women's organizations to hold regular strategy meetings, marches and protests to "restore peace to our land."
"This is what is being done by women of the civil society organizations who have mobilized themselves. We are tired of losing our children and burying our husbands."
Collette Ndobe is a communicator for the United Methodist Women Association Cameroon. Follow the group on Facebook at www.facebook.com/umwac.
News media contact: Vicki Brown, news editor, [email protected] or 615-742-5469. To read more United Methodist news, subscribe to the free Daily or Weekly Digests.
---
Like what you're reading? Support the ministry of UM News! Your support ensures the latest denominational news, dynamic stories and informative articles will continue to connect our global community. Make a tax-deductible donation at ResourceUMC.org/GiveUMCom.