When the Rev. Alcibiades Negret first moved to Mayabeque, the newest province in Cuba, he gathered people for worship under an almond tree.
Three years later, the 43-year-old pastor sits in the Methodist church parsonage, near that tree, in San José de las Lajas. The back of the house opens into a 100-seat sanctuary.
"We not only had the task of building this place physically, but of raising a congregation here because there wasn't any," Negret says. "As a superintendent, I also had to organize a new district."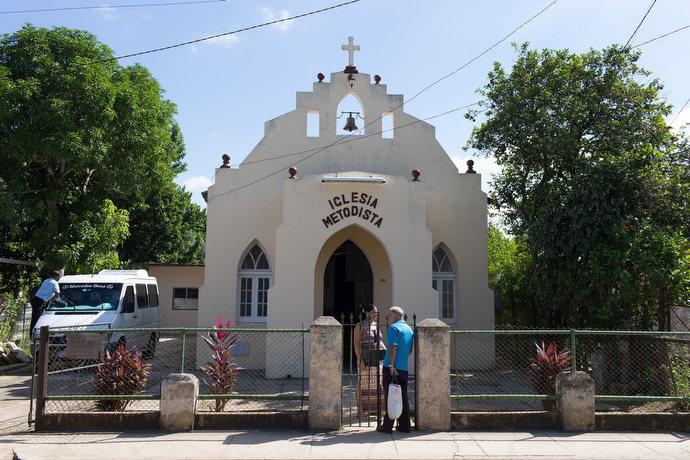 Superintendents of the Methodist Church's 17 districts oversee evangelism work, employing strategies for church growth. Together, with Bishop Ricardo Pereira serving as president, the superintendents form the church cabinet. The church's administration also includes a "general board," formed by lay leaders of all the districts.
Within the denomination's evangelistic structure, when a cell group grows to 15 people, it becomes a mission, Negret explains. When a mission has baptized 25 members, along with demonstrating the needed leadership and financial means, it becomes a church.
Since Negret's arrival, the Mayabeque district has grown from three to eight churches as of November 2016, with three more expected to open by next June. The province also has 21 Methodist missions and 32 cell groups.
"Most of the churches in Cuba work from houses because the government will not allow us to build sanctuaries," he says. "So here, what we do is, we remodel houses. We break walls and we make room for the congregation."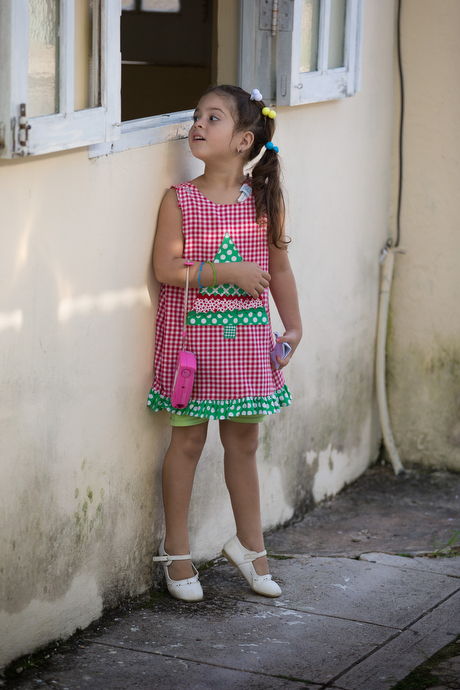 Growing a church
San José's members include Secundino Montalvo, 52, and Darielis Gonzalez, 21, who joined after their own congregation, the Evangelistic League of Cuba, split up when the pastor moved to the United States. But their former pastor reached out to a United Methodist pastor in the U.S., who contacted Pereira.
"The bishop came to visit us…and sent a pastor to us to get us acquainted with the Methodist church because we didn't know anything about Methodism," Montalvo recalls. "We are serving God now here."
Singing the spirit in Cuba
Special report on the Methodist Church in Cuba.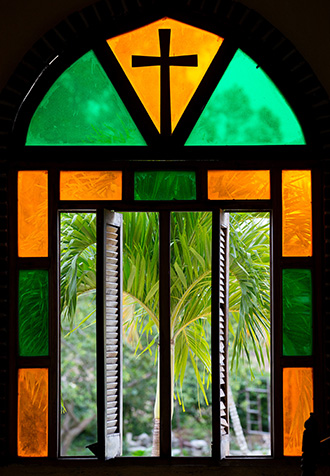 Gonzalez is president of the youth and the leader of the worship team, which she considers a great responsibility. "It's a ministry that helps people to approach the throne of God," she says.
Although Negret and his wife, Yoslaine Talavera, are experienced leaders, establishing the new church in San José "was very hard, but the bishop was always looking after us," he says. "He sought a way to help us. When you have a man of God like him to help you, you feel supported."
The superintendent believes the cell groups, hosted in homes, are the key to growth. The groups meet for an hour to worship and study the Bible. "Even though some of the people who participate already come to the church, their main work is to reach those who are not Christian," Negret says.
Tour of Mayabeque
A road tour in the Mayabeque Province offered a snapshot of Methodist evangelistic efforts:
Behind some bushes and a makeshift fence of corrugated tin, the future site of the San Jose church offers a central location and an opportunity to have more impact on society. An existing building will serve as a parsonage and office and Negret intends to ask the government for permission to build a sanctuary.
At a pre-revolutionary, traditional church building in San Antonio, founded in 1942, the Rev. Alexei Velazquez, 36, offers three Sunday services and plans community outreach events, such as a New Year's Eve dinner and worship service for non-Christian relatives of church members.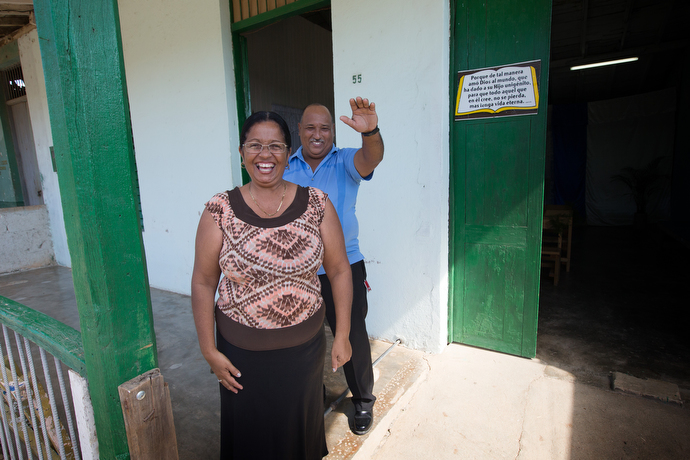 As with all pastoral families, this work is a group effort for Velazquez, his wife, Iliansis Rodriguez, and their two young daughters, who live next to the church.
With 93 members, and a group of 25 about to be baptized, the San Antonio church sponsors seven missions. "As a pastor, you need to have the vision, the spiritual discernment to know the needs of the people who come," Velazquez says. Then the real work starts, he adds, by giving the word of God.
'Lord, I'm here'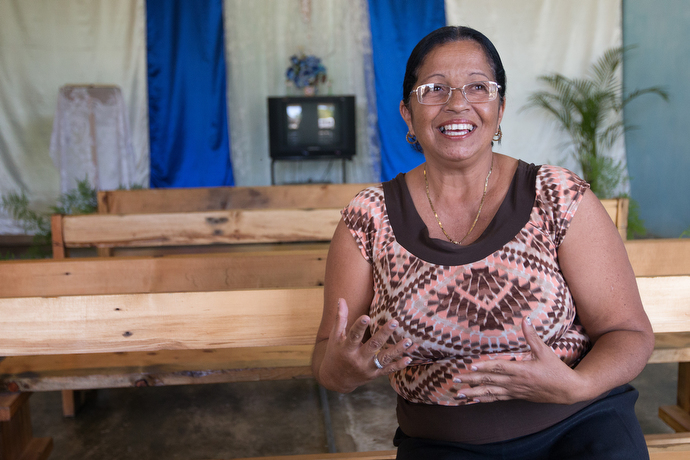 Lourdes Vazquez worked for 20 years in Cuba's renowned health system but gave up her job, her home and proximity to her children and grandchildren to serve God.
One of the San Antonio missions is at a house in nearby Caraballo, where Roberto Pozo, 52, and Lourdes Vazquez, 50, created a worship space from scratch. The husband-and-wife team has decorated with flowers and cakes to honor two couples from the congregation who married recently.
The celebration is important. It is very common for couples in Cuba to live together without marrying, Vazquez notes, but the church is encouraging that commitment.
Among the one-story concrete homes in San Nicolás is a converted house where Jesus Miguel Hondal, 26, and his wife, Yilianna Frabregat, 25, lead a young congregation of about 50 and offer counseling and discussions about sexuality, relationships and marriage as well as worship and prayer.
"We believe that when a young person is filled with the Holy Spirit … there is change," the pastor says. "Those young people will bring others to the church."
In the town of Vegas, the Rev. Javier Blanco, 30, and his wife, Maite Bastar, 27, also have focused on young people while spending three years establishing the municipality's first Methodist presence. "When we started, we had to walk 7 kilometers (more than 4 miles) to visit all the missions," he says, adding that at times they walked in mud up to their knees.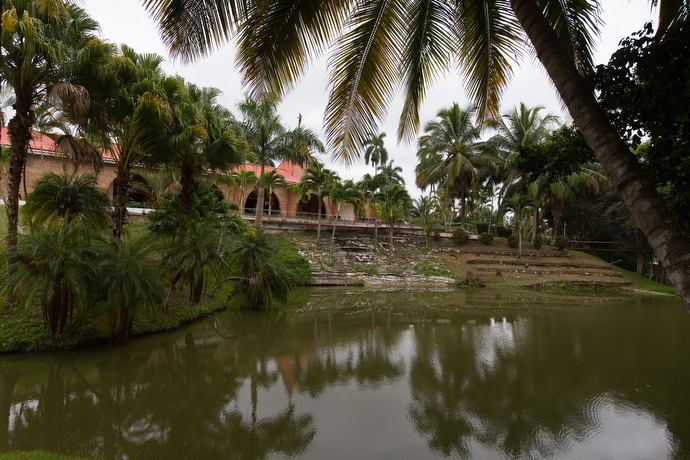 Villa Clara District
About 280 kilometers southeast of Havana, the Rev. Marcio Alcolea oversees the 26 churches of the denomination's Villa Clara District, also known as the Center District. His base is Santa Clara, which is Cuba's fifth largest city, with a population of about 235,000.
Methodists have had a presence in Santa Clara for 116 years, with the first church built on the corner of the city's main plaza. The current Santa Clara Methodist Church, where Alcolea serves as pastor, was built 70 years ago. Next to the church is a former Methodist school that now houses a headquarters for the Communist Party.
The juxtaposition is not lost on Alcolea, who would like to have the additional space for the church. "We are praying to the Lord that it is turned back to us," he says.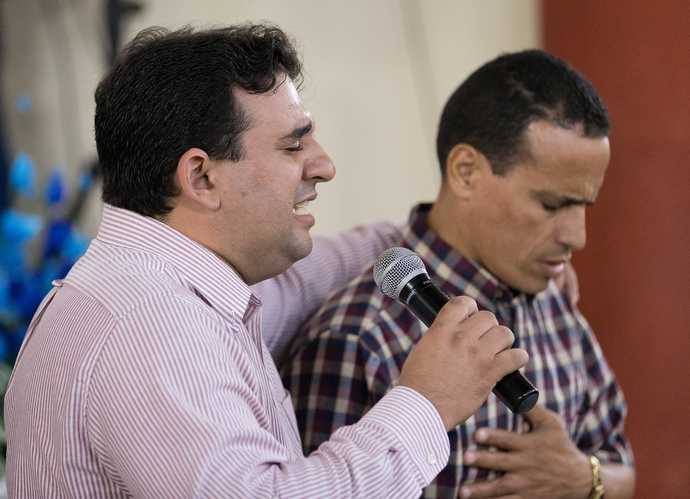 Outside Santa Clara, his district also includes Camp Canaan, a church facility that hosts many church-related events, both for Methodists and for other denominations.
A former principal of that camp founded a church in nearby Falcón called "The Embassy of the Holy Spirit." It's an apt name for a church that displays a Canadian flag and Syrian flag — donated upon request by their embassy — alongside the Cuban flag. "We pray for those countries at the same time," says Jose Luís Cruz, 39, the pastor.
He and his wife, Deisey Valenzuela, have their eye on a cement house within a walled compound, about a block away, which could serve as a new worship facility for their 50-some members. It would cost $20,000. "We are praying for that money," he says. "This is our big dream."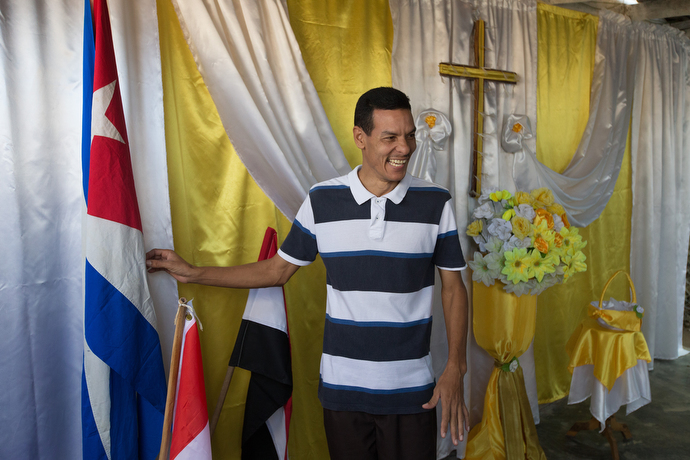 A small group in the district is praying for the Falcón church, too — and for every other Methodist church, mission, cell group and member in Cuba.
That is the mission of "The Tabernacle of Salvation," a small house staffed by Osides Proenza Hernandez and his wife, Odalis Compos, both 40, who came here three years ago from eastern Cuba at the superintendent's request.
The tabernacle is within walking distance of a town, Guaracabulla, where a tall tree and a large sign mark the geographic center of the island. For the church, it's special place to pray for Cuba as a whole.
And the rest of the Methodist Church in Cuba is appreciative of their presence. When the superintendent visited earlier this year during a celebration, the congregation prayed for a well for water. Twenty days later, those attending a women's event at Camp Canaan donated money for the well.
Bloom is the assistant news editor for United Methodist News Service and based in New York. She and UMNS Photographer Mike DuBose visited Cuba in November. Follow Bloom at https://twitter.com/umcscribe or contact her at 615-742-5470 or [email protected]
---
Like what you're reading? Support the ministry of UM News! Your support ensures the latest denominational news, dynamic stories and informative articles will continue to connect our global community. Make a tax-deductible donation at ResourceUMC.org/GiveUMCom.