Lourdes Vazquez worked for 20 years in Cuba's renowned health system but gave up her job, her home and proximity to her children and grandchildren to serve God.
"Whatever he wants me to do, I say, 'Lord, I'm here,'" says the 50-year-old, who serves as a missionary with her husband, Roberto Pozo, in the Maybeque district. They have opened nine missions so far as part of their ministry
Singing the spirit in Cuba
Special report on the Methodist Church in Cuba.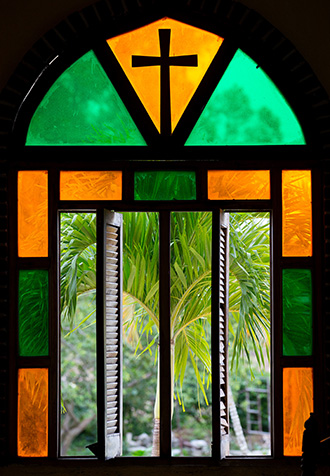 She is one of many, both clergy and lay, who have followed different paths but ended at the same destination — serving God and the Methodist Church in Cuba.
The Rev. Alcibiades Negret, 43, the Maybeque superintendent, credits both God and his mother for saving him when he was a "messed up" youth.
"My mom was the one who shared Jesus with me, when I was 20," he explains. "She had just started visiting a Pentecostal church and because of her testimony about the change God had made in her life, I also decided to become Christian."
His wife, Yoslaine Talavera, became a Christian when she was ill and someone ministered to her and took her to church. Her family was not Christian, she says, "but when they saw what God had done in my life, they also accepted Jesus."
They met at a Methodist church in the Las Tunas Province, married 18 years ago and have served in various places in Cuba since. Their son, Josue, 16, and daughter, Keren, 10, are part of the worship team at the Methodist church in San José de las Lajas.
The ministry of Alexei Velazquez, 36, pastor of the district's San Antonio church, and his wife Iliansis Rodrguez includes their young daughters, Drema and Yasmín, but also involves some sacrifice of family time.
In addition to the busy daily demands of the church, its seven missions and various evangelism programs, Velazquez is in his third year of the four-year program for clergy at the Methodist Seminary in Havana.
That has meant spending weekdays in Havana twice a year for a 21-day class period. "When I'm gone, I miss them so much," he admits.
Bloom is a United Methodist News Service multimedia reporter based in New York. She and UMNS Photographer Mike DuBose visited Cuba in November. Follow her at https://twitter.com/umcscribeor contact her at 615-742-5470 or [email protected]