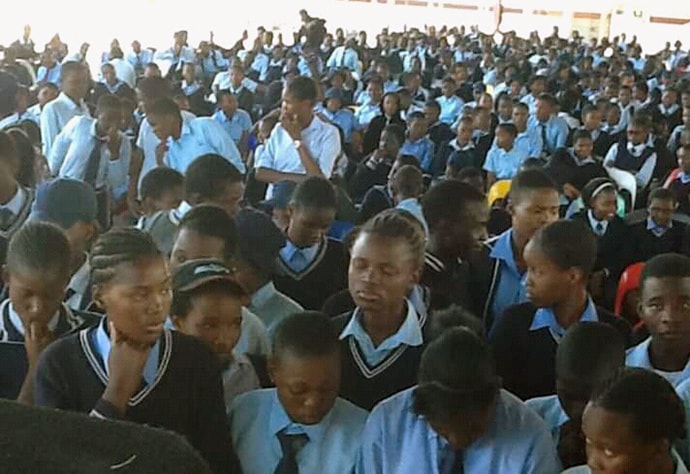 The United Methodist Church's Maun Senior Secondary School has made history by becoming Botswana's first private boarding school to have as many as 2,400 students.
The school, which opened in 1970 with only 70 students, two classrooms and five staff members, has grown into the largest and — many say — best senior secondary school in Botswana. There are now 120 teachers and 50 other staff.
The country has about 2 million people and 35 senior secondary schools. The community of Maun in northwest Botswana has about 55,000 residents.
Zimbabwe Area Bishop Eben K. Nhiwatiwa noted that United Methodist work in Botswana began as a way of following up with and taking care of Zimbabweans living there.
As for the school, he said: "The outstanding results show tremendous work which has been put into the system."
The Rev. Munyaradzi Timire is education secretary for the Zimbabwe East Conference and oversees Maun Senior Secondary School, traveling long distances to work with the faculty and staff.
"The United Methodist Church has managed to set a good standard" for the school, he said.
He stressed that the school combines academic and vocational subjects, including textile design, graphic design, agriculture and food science. Students must show proficiency in a range of areas to get a spot at the University of Botswana, which has a satellite campus at the school.
Hands-on education is a major emphasis.
"Theoretical knowledge of skill-based subjects needs to be supported by practice," Timire said. "You cannot be taught to swim … unless you get into the water."
The school's headmistress, Selebatso Modisaemang, described herself and other staff members as "very happy" with the progress that has been made at Maun.
But she said Maun faces growing financial challenges in trying to bolster academics and provide housing for employees.
Maun's board of governors includes representatives from The United Methodist Church and from Botswana-based organizations, namely the United Congregational Church of Southern Africa, North West District Council and Ministry of Education.
Nhiwatiwa appointed the Rev. Tafadzwa Mabambe to serve as chaplain and pastor-in-charge at the school.
"My task is to work closely with the locals and also to nurture the children in totality by giving education and spiritual support," Mabambe said. "On the way, I provide counseling session to all the children and staff members. I involve the children to participate in church activities so that the school is bringing Christ close to home."
Thuto, a student who preferred to be called by his first name, said counseling provided by Mabambe and others at Maun has "transformed" him.
"They have managed to bring me close to God," Thuto said.
Mabambe said the good influence of Maun can be seen well beyond the school itself.
"The Botswana project (the Maun school) is important for Methodism in Africa in that it provides a specifically defined area for inter-conference cooperation and scope for an international missionary outreach for African Methodism," he said.
"We have contributed significantly to the pastoral and evangelical ministry of the United Congregational Church of Southern Africa in Botswana and, in so doing, we have forged strong fraternal links with a cooperating denomination there."
Nhiwatiwa said Botswanans are showing an interest in The United Methodist Church.
"So, the long-term plan of the church is to expand and have Botswana pastors trained there," he said. "It may start in a small way, but that is the way to go. We are encouraged with what is happening in Zambia where we now have Zambians running the church there. So, we have a plan, which has worked in other countries, which we think would work (in Botswana)."
Since the founding of the school in Botswana, The United Methodist Church has planted two churches in the country, one in Gaborone and one in Francistown. The streets within the school campus are named for prominent United Methodist leaders including Bishop A.T. Muzorewa and Alec Chibanguza.
Chingwe is communications coordinator for the Zimbabwe East Conference.

News media contact: Vicki Brown at (615) 742-5470 or [email protected]. To read more United Methodist news, subscribe to the free Daily or Weekly Digests.