The Rev. Joe Gatei pulls the baggy, mint-green net suit over his Sunday clothes. Knee-high black rubber boots, red heavyweight plastic gloves and a straw hat with an attached net veil make him look like a giant Gumby.
With every inch of him protected, he is ready to visit the aggressive wild African bees he loves so much.
Gatei is a graduate of the United Methodist Committee on Relief's Sustainable Agriculture and Development program in beekeeping. He is a true believer in the benefits of honey as food, medicine and income.
"I have been able to pay school fees for my four children," says the lay pastor of Tunukuk Puye United Methodist Church. He is a full-time beekeeper, which means he has 50 hives. He plans to have 150.
Walking several feet into the thick tropical forest, he points out this is a perfect place for beehives.
"We have water, flowering trees and room for the bees to work in peace." Working in peace is especially important since these Africanized honey bees are also known as "killer bees." Despite their fierce name, Gatei speaks of them lovingly. They are quite calm when treated with care, he adds.
Keeping his promise
Gatei is spreading the word about the joys of beekeeping, which is part of the promise he made when he went into the program and received his first hives. People training people to be self-sufficient is the goal of the agriculture and sustainability program.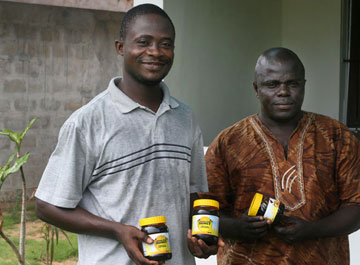 Duke Nyaeh and Ezekiel C. Freeman display their finished product, Liberian honey. Other sustainable products in Liberia include raising snails and using roots and leaves from the Moringa tree.
"They can make up to $12.50 (per gallon of honey) in the first year; that is good cash for them," says Ezekiel C. Freeman, coordinator for West African Initiative and UMCOR's Sustainable Agriculture and Development program, which includes Liberia and Sierra Leone. "Beekeeping doesn't take a lot of work, so they can continue to farm and have money to send their children to school, rebuild homes and invest in more hives."
People did not realize they could make money from gathering honey, Freeman says. It was a challenge in the beginning to convince them. They couldn't see the value in it.
In a bright yellow building tucked behind a small village, the "Liberian Pure Honey Straight from the Tropical Rainforest" is purified, and people are trained to set up their own business. Freeman says Liberian honey has been a big hit at the annual agricultural trade fairs. Even the president is a fan. President Ellen Johnson Sirleaf first tasted the honey at one of the fairs and now she often sends people out to buy it for her, Freeman says.
Two other sustainable crops in the program feature Moringa trees and snails.
Delicious and good for you
Barbecued snails are another big hit at the trade fairs, Freeman says.
Snails have always been around, and people often augment their diet with the protein-rich mollusks. But, like the honey, people were used to going into the forests and collecting snails whenever they wanted some for dinner. The UMCOR program has taught them to build cages for the snails and to feed them organically using food scraps from their kitchens.
The snail cages breed enough for people to eat and to sell during the dry season, Freeman explains.
Mary Ann Newah has 2,000 of the small native Moringa trees on her farm. Along with gardening, she spends time going around the community telling people about the nutritional value of this native tree.
Newah recently started cutting and drying the roots of the tree for tea.
"It will flush out any infection," she says. "I have seen many children saved by this tea."
Leaves from the tree are harvested, washed, dried and pounded into powder. The powder can supplement a child's diet, supplying 42 percent of required protein. The plant also provides magnesium, iron and vitamin A.
When there are cholera outbreaks, the Moringa tree is the only thing that would help people without access to health care, Freeman says.
'Blessing from God'
Freeman, who has a degree in agricultural and rural development, says the work he is doing through the West African Initiative and UMCOR is a "blessing from God."
Bees, snails and Moringa trees are some of the things readily available, but the people needed to understand their worth.
"Our intervention helped them to know that resources can generate income," he says.
The United Nations Development Programme recognized the West Africa Initiative in 2012, and Freeman went to Brazil to receive the award. The program also received a certificate of "Best Application of Business Skills and Market Linkages" from USAYS.
Liberian honey is only available locally. To sell it internationally, 50 tons a year have to be produced. Five tons are being produced now.
"Someday, everyone will taste Liberian honey," Freeman says. "That is my sweet dream."
*Gilbert is a multimedia reporter for the young adult content team at United Methodist Communications, Nashville, Tenn.
News media contact: Kathy L. Gilbert, Nashville, Tenn., (615) 742-5470 or [email protected].
---
Like what you're reading? Support the ministry of UM News! Your support ensures the latest denominational news, dynamic stories and informative articles will continue to connect our global community. Make a tax-deductible donation at ResourceUMC.org/GiveUMCom.