As protests in Hong Kong have stretched through the summer, Christians are reacting in two different ways, says a Methodist theological student.
Ben Ho, a doctoral student in Christianity and theological studies at Chinese University of Hong Kong, said churches have continued "to play an assisting role for the protesters," such as providing spaces where protesters can rest or offering spiritual counseling to both young people and their parents.
Christians also are using "soft" power to encourage the Hong Kong government to respond positively to the appeals of the people, he added. "For example, they organize various prayer assemblies and gatherings outside the government house at which Christians sang hymns and lamented for the current situation," Ho told UM News in an email.
The Methodist International Church, Hong Kong, has posted "A Prayer for Hong Kong"
on its website
, addressing both those "who carry the burden and responsibility of leadership at this time of tension and unrest" and "all who are disillusioned with the present and fearful for the future…"
"May we again learn to trust in you, Almighty God, for you will accomplish all things according to your good and holy purposes," the prayer concludes.
The church also has a weekly prayer service at 6:30 p.m. Thursdays to pray for Hong Kong, welcoming "those who would be liked to prayed for or prayed with."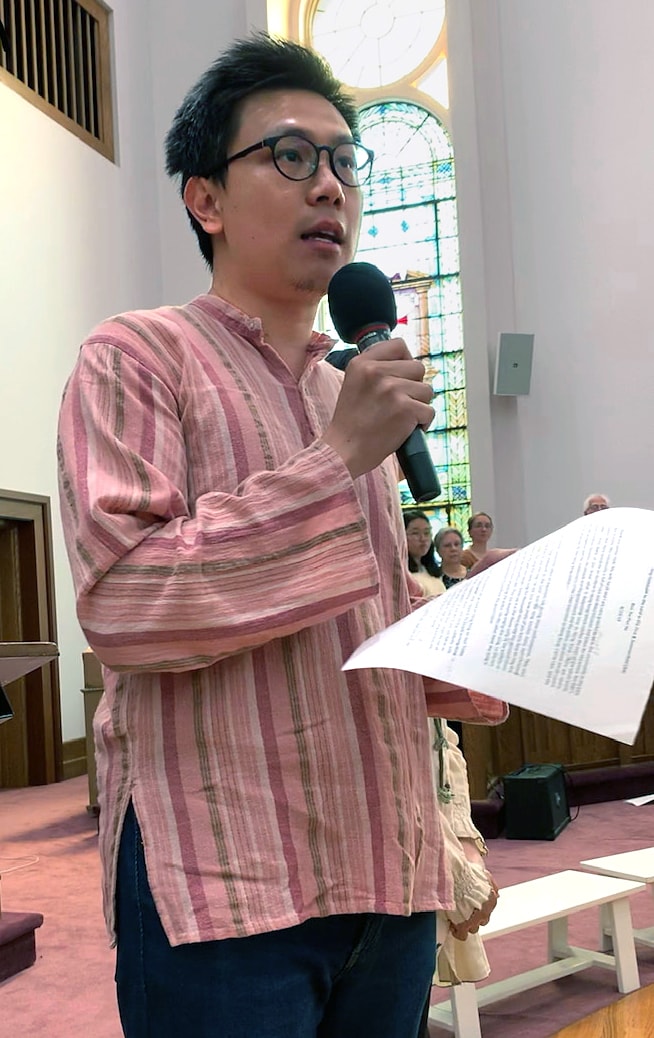 Ben Ho, a Methodist from Hong Kong, talks about recent protests in Hong Kong during a worship service at First and Summerfield United Methodist Church in New Haven, Conn. Photo by Vicki Flippin.
Hong Kong's current protest movement began in June,
sparked by opposition to a proposed law
that would allow extraditions to mainland China. Ho was finishing his year as a doctoral exchange student at Yale University Divinity School
when a Christian hymn
, "Sing Hallelujah to the Lord" became an unofficial anthem of the demonstrations, helping to diffuse tensions.
"I'm not surprised at the duration of the protest because the continuing confrontation between the Hong Kong protesters and the government is very dynamic," explained Ho, who returned to Hong Kong at the end of June. He is a member of the Methodist church in the Sha Tin district.
Clashes between protesters and police have escalated over the summer. Some church leaders, including the Catholic Diocese of Hong Kong,
spoke out after a violent assault
by a stick-wielding mob July 21 on pro-democracy protesters and passengers at an MTR station in the city's Yuen Long area.
Many in Hong Kong do not trust the police, Ho pointed out, and have accused them of cooperating with violent attacks on protesters. Carrie Lam, the chief executive of Hong Kong, has been perceived as being indifferent to the concerns of the people, he noted.
Ho believes young people are driven to continue the protests out of a sense of despair and the feeling they have nothing to lose. "All these factors keep the momentum going, and many people, including me, feel exhausted, yet are full of anger and knowing that we cannot give up," Ho said.
Most demonstrations occur on weekends. And a few "non-cooperative movements" — such as protesters intentionally blocking the train doors during the morning rush hour — have occurred over the past two months, he said. Workers at a number of shops, companies, schools and other institutions went on strike Aug. 5.
"Some people have been psychologically prepared for the inconvenience caused by the protests because we know that one fighting for something demands one's cost," Ho said. "We need to give out something in order to give pressure to the government and so our appeals would possibly have positive responses."
In contrast, Ho said he believes it is the police, not the protests, that disrupt lives. He said that is "because the police unreasonably entered into housing estates or private properties, in the name of dispersing the crowd or arresting protesters." Those actions included the release of tear gas, he said.
By Aug. 18,
when the summer's second largest demonstration occurred
, the protests over the now-suspended extradition bill had grown into a broader pro-democracy movement with demands for reforms and an investigation into alleged police brutality.
Christians and pastors from various churches organized prayer assemblies before and after the Aug. 18 event, Ho said, when some 1.7 million — including young children, families and the elderly — overflowed Victoria Park to other parts of Hong Kong.
Churches, including the Chinese Methodist Church in the Wan Chai district, unofficially supported the demonstration "by providing spaces for protesters to take rest when they passed by," Ho said.
The Chinese Methodist Church
also provided a welcoming space for all
during the student-led, pro-democracy demonstrations in 2014 that grew into the "Occupy Central/Umbrella Movement."
Methodist bodies around the world, including the United Methodist Board of Global Ministries, are connected to the Methodist Church, Hong Kong through the World Methodist Council.
Thomas Kemper, top executive of the United Methodist Board of Global Ministries, wrote a letter Aug. 14 to the Rev. Sung-Che Lam, president of the Methodist Church, Hong Kong, to express both his concern and to offer solidarity and support.
"As Methodists, we work for peace, indeed the peace of Christ," Kemper wrote. "We decry the acts of violence we have seen in the news media and continue to pray for all the people in Hong Kong."
Bloom is the assistant news editor for United Methodist News Service and is based in New York.

Follow her at https://twitter.com/umcscribe or contact her at 615-742-5470 or

[email protected]

. To read more United Methodist news, subscribe to the free daily or weekly digests.
---
Like what you're reading? Support the ministry of UM News! Your support ensures the latest denominational news, dynamic stories and informative articles will continue to connect our global community. Make a tax-deductible donation at ResourceUMC.org/GiveUMCom.