Art unlocked Ndume Olatushani's mind when his body was confined to a 4-by-9-foot cell, serving 28 years in prison for a murder he did not commit.
Starting March 1, Olatushani's work will be part of a Stations of the Cross art exhibit in Washington that depicts the tortured journey of Jesus walking through Jerusalem on his way to execution.
"I'm not claiming to be Jesus Christ but I know what it is like to be persecuted and almost executed," Olatushani told United Methodist News Service.
Stations of the Cross will be on display in 14 locations around Washington beginning on Ash Wednesday through April 16. Olatushani's installation will be Station 1 outside the United Methodist Building.
He smiles to think about his art on the lawn of the United Methodist Building, which is next door to the U.S. Supreme Court.
"Hopefully lots of people going in and out of court and Congress will see my art and talk about it. When people are educated I have to believe they will be compelled to do what's right."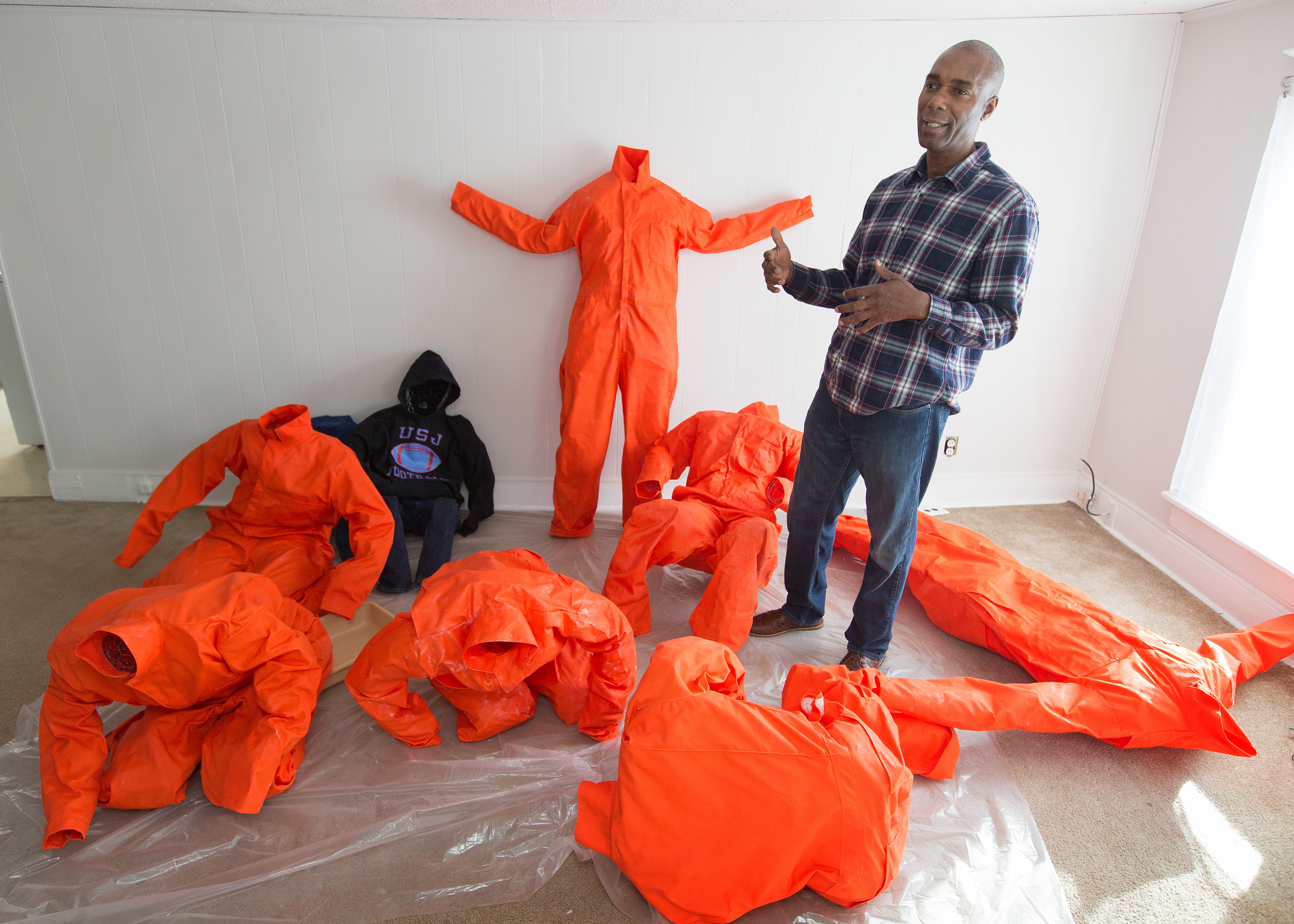 Three life-sized, headless figures in orange jumpsuits will symbolize Jesus on the cross between the two thieves. Two smaller figures dressed in hoodies will sit on a bench next to another orange-clad figure representing the one in three black men incarcerated in the U.S. A cage, representing a 4-by-9-foot cell, and five other figures make up the rest of the display.
Using chicken wire, Olatushani molds the jumpsuits into prisoners bowed and writhing in agony from being confined.
It is a pain he knows personally.
"I was an unwilling transplant to Tennessee," he said, speaking of where he spent 28 years in prison. Twenty of those years were on death row. He was freed five years ago and now willingly lives in Nashville with his wife and daughter.
Many of those years were spent in solitary confinement, where he was locked in a cell for 23 hours a day.
Amnesty International states that more than 2 million people are incarcerated in U.S. prisons. The United States accounts for 5 percent of the world's population but is responsible for 22 percent of the world's prison population.
One in three black men will go to prison if the current trend continues.
Born in St. Louis, Olatushani was accused of killing a businessman in Memphis, Tennessee, in 1983.
"Until I was brought down to this state in handcuffs and shackles, I had never been in this state," he said.
While in prison, he changed his name from Erskine Johnson to Ndume Olatushani, which means "masculinity unifier" in Swahili.
Olatushani always maintained his innocence. He was resentenced to life in prison in 2004 after the state Supreme Court found that prosecutors did not disclose important information to the defense.
In 2011, he was awarded a new trial. He entered an Alford plea, a guilty plea in which defendants acknowledge that the weight of the evidence would likely result in a guilty verdict but still maintain their actual innocence. In exchange for the plea, he was sentenced to time already served.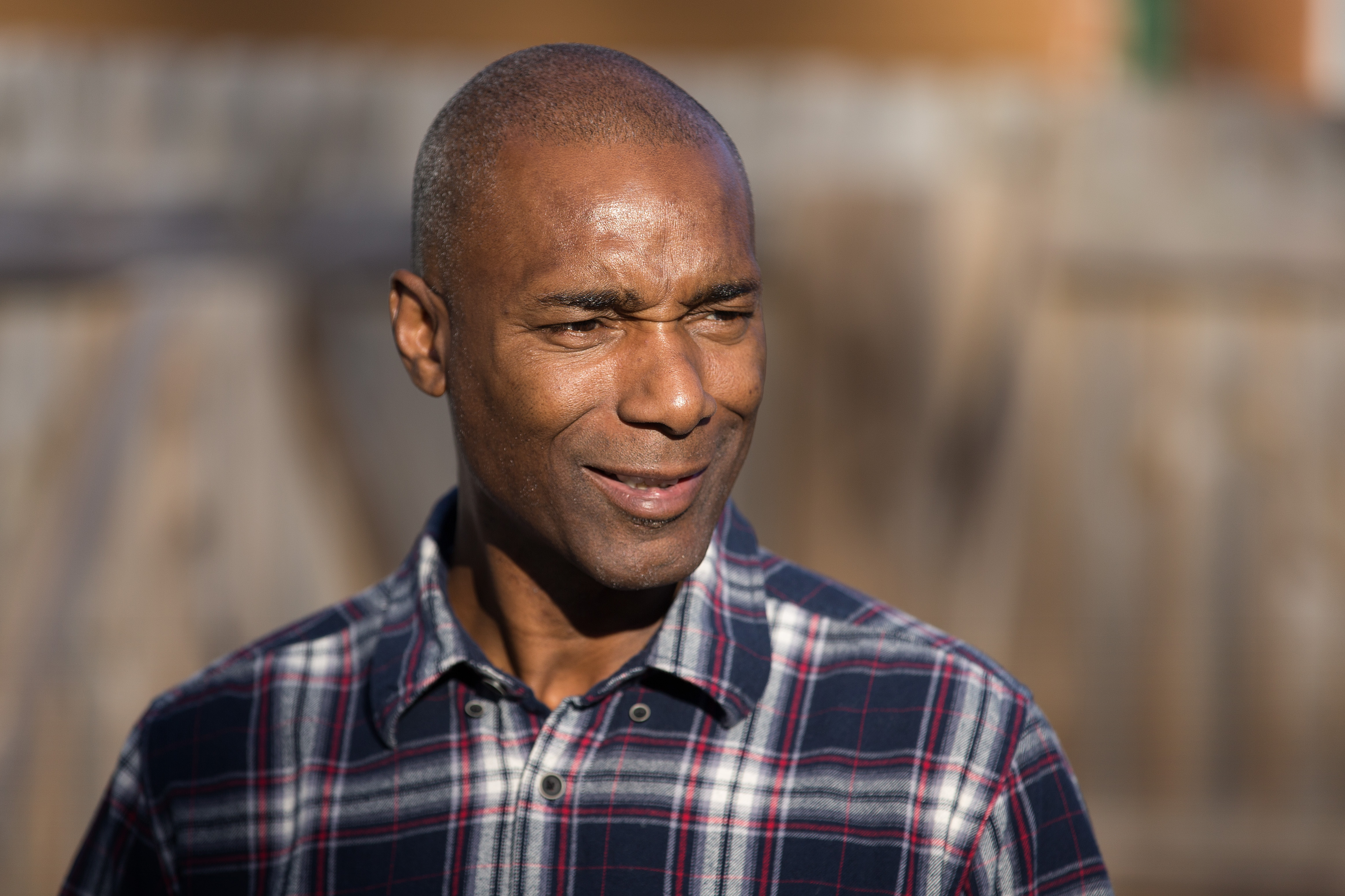 Despite his ordeal, Olatushani counts himself a fortunate man. He always had family that believed in his innocence.
"I hope people will be outraged about what goes on in prisons every day," he said. "People sitting in cells, dehumanized, stripped of dignity … how can they come out as positive, constructive people?"
The Stations of the Cross is a traveling public art project featuring new art each year. The exhibit was in London last year. Plans are underway to hold the exhibit in New York next year, said Jeania Ree Moore, a director with the United Methodist Board of Church and Society, housed in the United Methodist Building.
Moore is part of the planning team for Stations of the Cross, which is curated by Aaron Rosen, professor of Religious Thought at Rocky Mountain College in Billings, Montana, and visiting professor at King's College London. Supporting organizations including Coexist House, King's College London and the University of Cambridge Inter-faith Programme.
"I had had a spiritually significant personal encounter with the Stations of the Cross while doing anti-death penalty work, and a year prior, had visited the 2016 Stations of the Cross project in London," Moore said.
Moore met Olatushani last October at the National Prison Summit on Mass Incarceration organized by Strengthening the Black Church for the 21st Century, a program of The United Methodist Church.
At that gathering, Olatushani brought art he had created with students in Nashville using school desks to depict the injustice of mass incarceration and the death penalty.
Olatushani works with the Children's Defense Fund team in Nashville. It is his personal mission to dismantle the "cradle-to-prison pipeline."
"One piece that caught my eye was a school chair wrapped in barbed wire and papier-mâché'd with mug shot photos of George Stinney Jr.," Moore said. "Stinney is the 14-year-old African-American boy who was the youngest person executed in the U.S. in the 20th century and whose trial is marked with racial discrimination and constitutional breaches."
Stinney was convicted and executed for the murder of two white girls in South Carolina in 1944. His trial was two hours long and the jury deliberated for 10 minutes. He was posthumously exonerated 70 years later, in 2014.
"I knew firsthand how powerful bringing these topics together could be as public art engaging faith with contemporary justice issues in an interfaith/secular setting," Moore said.
"This project is a wonderful opportunity to bring spiritual practices of Lent, justice and art together in moving and reflective ways," said the Rev. Susan Henry-Crowe, top executive of the United Methodist Board of Church and Society.
Olatushani uses his personal experience with the criminal justice system, she said.
"Olatushani critiques the miscarriage of justice that happens daily in systemic, racialized ways, such as in the 'cradle-to-prison pipeline.' Ndume's heartbreaking story as a death row exonoree gives sobering, contemporary expression to the Lenten focus on suffering."
Through the Children's Defense Fund, Olatushani hopes to make a difference in the lives of kids in Nashville that have already been written off in some schools.
The billion-dollar prison industry only works if someone is sitting in a jail cell, he pointed out. It costs $70,000 a year to house a young person in prison, while it costs less than $10,000 a year to educate them.
"Something is wrong with those numbers and it's no accident," he said. "Unless you really understand this is an industry, none of this makes sense."
Olatushani said he is honored to be working with The United Methodist Church on the Stations of the Cross project.
"It is amazing the church is willing to be involved in this issue. Mass incarceration is a moral outrage. If the church community had been involved in it when it first started happening 30 years ago rather than becoming complicit in it, we wouldn't be in this situation.
"I'm really honored to have been asked to do this exhibit for Stations of the Cross," he said, a smile spreading across his face, "Right across from the U.S. Supreme Court."
Gilbert is a multimedia news reporter for United Methodist News Service. Contact her at (615) 742-5470 or [email protected]. To read more United Methodist news, subscribe to the free Daily or Weekly Digests. 
---
Like what you're reading? Support the ministry of UM News! Your support ensures the latest denominational news, dynamic stories and informative articles will continue to connect our global community. Make a tax-deductible donation at ResourceUMC.org/GiveUMCom.