Back in the 1960s, a national United Methodist call-in talk radio program drew listeners in the wee morning hours to topics like teenage drinking, astrology and "Are Protestant Churches Sterile?"
"My personal favorite was they reviewed one night the second James Bond movie," said L. Dale Patterson, archivist-records administrator at the United Methodist Commission on Archives and History for the past 26 years. "They said that probably runs the course of this particular string of films. There probably won't be another James Bond movie."
Portrait of L. Dale Patterson, archivist at Archives and History. Archived video screenshot courtesy of United Methodist Communications.
More than 200 archived episodes of "Night Talk," one of the first national radio call-in programs — produced by what was then the Television, Radio and Film Commission of The United Methodist Church — are part of the legacy of Patterson, who retired at the end of 2019.
"Throughout his distinguished career, Dale Patterson has been the consummate professional archivist: dedicated, knowledgeable, efficient, courteous and friendly," said the Rev. Rex D. Matthews, research fellow and professor emeritus in the practice of historical theology and Wesleyan studies at Candler School of Theology at Emory University. "Working with him on occasion through the years has been a joy."
Didier Aubert, associate professor of American Studies and director of undergraduate programs at Sorbonne Nouvelle University in Paris, said it felt strange to contemplate Patterson's retirement.
"I enjoyed checking in with Dale once in a while, to talk about what I was doing and ask him to clarify some of the mysteries of (the) Methodist way," Aubert said. "Mostly, I am very grateful that he supported my work in various ways."
Patterson oversaw the digitization of the Archives and History collection. He helped develop simple descriptions of content into websites that invite the general public as well as professional researchers to engage the material.
The Rev. Alfred Day III, top executive for Archives and History, pointed out that Patterson's work reveals someone "who loves his work and cherishes being a United Methodist."
"He loves (it) so much that the old books and papers, pictures and pamphlets housed at the archives become living things full of inspiration, insight and information, which he wants to share so others may have their own discoveries about Methodist DNA."
Patterson took the archives from "hi-fi" to Wi-Fi, said the Rev. Robert Williams, who worked with him as the commission's top executive from 2006-2014.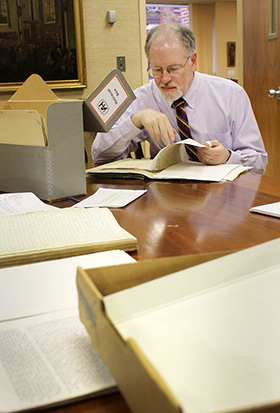 L. Dale Patterson studies papers from the archives at the United Methodist Commission on Archives and History at Drew University in Madison, New Jersey. A 2010 file photo by Kathleen Barry, UM News.
"We remember when 'hi-fi' represented high-fidelity recordings and record players that offered accurate and reliable sound," Williams said. "Dale offered high fidelity in his dedication, faithfulness and commitment to his profession.
"But across his years of service, he had to transition to the digital age and cyberspace, a transition that brought in Wi-Fi. He navigated that change so well."
Patterson was born in Oklahoma, the son and nephew of Methodist pastors. He lived in various cities and towns in Oklahoma as his father moved from church to church.
"Tulsa and Oklahoma City were key places for me," he said. "My high school years were in a little town called Wewoka."
He decided he wasn't cut out for the life of a pastor.
"One of the big tricks to being a good pastor is listening," Patterson said. "And I'm an impatient person. … But I was fascinated by the life of the church."
Patterson went to college at the University of Denver, studying physics and computer science and meeting his wife, Dawn. For graduate school at Drew University in Madison, New Jersey, he switched to American religious history.
"I got my graduate work done at Drew University and it was just about that time the (United Methodist) archives came to Drew," Patterson said. He got a job as an archivist at the University of Louisville and moved when an opening at the Methodist archives came along in 1994.
"It was a mix of everything," he said. "It was computers, it was Methodist history and it was archives — the three things that I had done in my life and studied."
Patterson has overseen the creation of multiple archive collections, and he's especially proud of rallying the support of almost half of the annual conferences in the U.S. to contribute to the United Methodist Archives Connection database.
"In this digital age, with my training back in college with computers, I was able really to help us move into this world a little bit more easily than some institutions," Patterson said. "I think I helped, and then our goal in all of that has been to try to reach out and share what ties us all together."
The absence of archives would "be like a family without any photographs of parents or grandparents or great-grandparents," Williams explained. "Dale helped to ensure that The United Methodist Church would have a memory."
Patterson also worked to prepare his team for the tasks still to come, noting that the advent of digital archives comes with challenges.
"What's the one thing that's true about all digital records?" he said. "They are designed to be changed."
Since a computer file can easily be updated and tampered with, how are future generations to discern what is a legitimate record and what is not? The answer appears to be maintaining the archives on computer servers around the clock and unconnected to the internet, Patterson said.
"We can't put it on (soon-to-be outdated technology like) a CD or a DVD," he said. "In a hundred years, they'll be able to use that as a coffee coaster."
The Archives Center has more than 300 finding aids — descriptions of its collections — along with a database of conference journal memoirs from 1773 to 2000; United Methodist radio and TV programs created in the 1950s and 1960s and a database of mission images from a century ago.
"These exercises of Dale's God-called vocation have brought the work of the Methodist Archives to life and light for countless people," said Bishop Jeremiah Park, chair of the commission.
Patterson's plans for retirement include a move to Dayton, Ohio, to be near his children and grandchildren. He wants to travel with his wife and perhaps teach or help organize some archival material for colleges and universities near his new home.
Patterson is a UM News reporter in Nashville, Tennessee. Contact him at 615-742-5470 or [email protected]. To read more United Methodist news, subscribe to the free Daily or Weekly Digests.
---
Like what you're reading? Support the ministry of UM News! Your support ensures the latest denominational news, dynamic stories and informative articles will continue to connect our global community. Make a tax-deductible donation at ResourceUMC.org/GiveUMCom.