For centuries, Africans have relied heavily on their culture and traditions to address health issues.
The use of homemade devices, herbs, wild fruits and organic vegetables and an adherence to maintaining social distances are commonplace.
As the world grapples with the COVID-19 pandemic, Africans are treating it like other viruses and diseases that have tested the continent, from cholera and influenza to Ebola and HIV.
"The general call for cleanliness has been heard in African corridors for time immemorial," said the Rev. Alan Masimba Gurupira, administrative assistant to Bishop Eben K. Nhiwatiwa.
"Regarding social distancing, Africans are known to embrace at restricted levels, making greeting through hand-clapping the norm rather than handshaking. Even at funerals, Africans have been very sensitive with their handshaking condolence when it is necessary," he said.
"The idea of disinfecting for healthy living has been the African practice, where the use of particular tree leaves dipped in water for the washing of hands is observed."
He said there is a need, however, to boost these cultural practices as Africans fight against the coronavirus and other communicable diseases.
There have been 1,009,396 confirmed cases of COVID-19 on the African continent, and 22,097 deaths, according to data from Johns Hopkins University. In Zimbabwe, there have been 4,075 cases and 70 deaths.
Shingirai Matsenyengwa, the environmental health officer at United Methodist Old Mutare Mission Hospital, said that personal and environmental hygiene is key to stopping the spread of the virus.
"During our awareness campaign programs on COVID-19, we are re-emphasizing the use of the rural invention of a 'tippy tap' or foot-pedal handwashing device with soapy water for hand-washing or ashes…," Matsenyangwa said.
"This innovative handwashing device is hygienically superior to a water tap as a person uses foot action (instead of their hands) to open and shut the flow of water," he said.
United Methodist Rudo Sarah Mazamani, a farmer in Headlands, said that the tippy tap device has made life easier and safer for farmworkers.
"There is no fear of cross-contamination with the other users through this device," she said.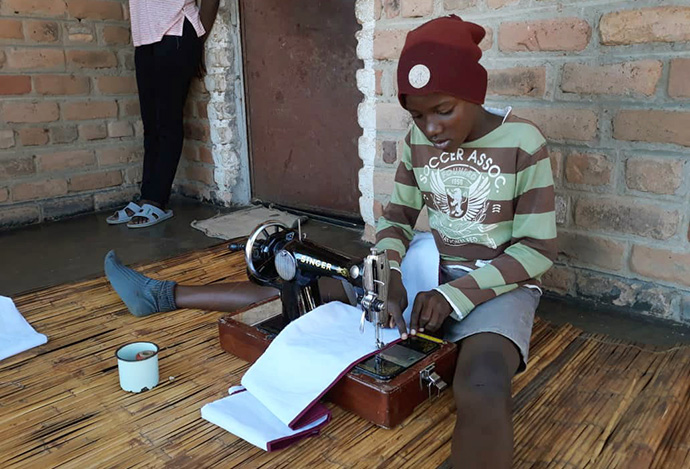 Elsewhere, church members in Zimbabwe are putting their clean hands to work by sewing much needed face masks.
The Rev. Future Sibanda, pastor-in-charge at Hanwa United Methodist Church in Macheke, said most of those in rural areas cannot afford to put food on the table, let alone buy masks.
He said a recent $3,000 donation from the Baltimore-Washington Conference's Zimbabwe Volunteers in Mission team provided material for face masks, food and other necessities to help those struggling around Hanwa Mission Center.
"We have managed to buy cotton material and engaged the Hanwa Primary School teachers and the children's sewing club to make reusable, homemade cloth face masks," Sibanda said.
Masks were included with the food packs given to every family, Sibanda said. "At the same time, we were also carrying out health and hygiene education."
Gertrude Soko of Chisipiti United Methodist Church in the Harare East District said that she observed that maids, gardeners and their families who live in her area were improvising face masks by using torn pieces of cloth.
"Our culture and tradition emphasis is on sharing the little we have," said Soko, who began sewing face masks using double cotton materials as recommended by the World Health Organization.
She distributed masks free to the needy and then started making some to sell for a small fee to help her makes ends meet.
Many women in rural communities also are using the skills they have learned from the church to help others stay safe during the pandemic.
Perekayi Takawira, a widow and member of Norton United Methodist Church, was taught by the church's Ministry with Women, Youth and Children to make detergent, and now she is educating others.
"During this COVID-19 pandemic, I have trained many people in hand sanitizer and handwashing liquid production for home use and selling," she said. "The liquid is helping us to enhance personal health and hygiene."
Christina Nyembezi Mareya, a United Methodist business owner who sells traditional food and trains people on the health benefits of less processed foods, also is focusing on personal health.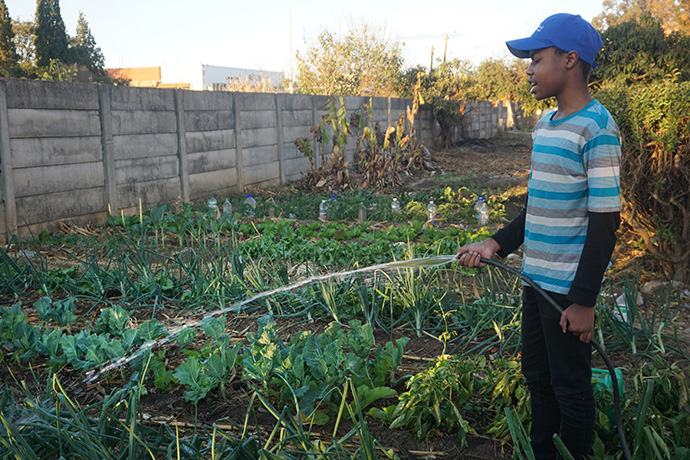 "Eating healthy foods is very important in strengthening the immune system, controlling some ailments like hypertension and diabetes. Wild fruits are highly recommended in our diet and in boosting the immune system," she said.
United Methodist Nokutenda Mudzengerere, 14, a student in Harare, has a backyard garden where he is growing organic vegetables during the lockdown period.
"I do agriculture at school and this lockdown has given me greater opportunity to put theory into practice," he said. "We no longer visit the market (where the probability of contamination is high) to buy vegetables. In times of surplus, I share with others. Therefore I eat healthily and stay healthy," Nokutenda said.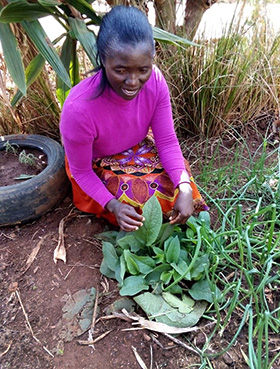 Sarudzai Muchagumisa, a member of Penhalonga United Methodist Church in Mutare, Zimbabwe, shows off her herb garden with more than 25 herbs often used to cure various ailments in Africa. Photo by Kudzai Chingwe, UM News.
Sarudzai Muchagumisa, a member of Penhalonga United Methodist Church in Mutare, said that Africans have been using natural methods to cure ailments for centuries. Before the lockdown, she planted an herb garden with more than 25 herbs.
"People now prefer to use these herbs as home remedies in the cure of certain ailments and to increase blood levels in the body," she said. "Using traditional remedies like black seed, turmeric, ginger and other natural substances for their anti-inflammatory properties is not harmful and may help," she said.
Retired Rev. Zebediah Marewangepo said that for centuries, Africans have lived a healthy life through traditional methods.
"Long back, after burial, everyone would be required to wash their hands using the traditional plant 'mumbanje' to disinfect and sanitize the hands," he said.
"What we are doing during this (time of) COVID-19 is nothing new in our African tradition and culture. The majoring traditional and cultural intervention have not been scientifically proven, but as Africans we have tested and found them working."
Chingwe is a communicator for the Zimbabwe East Conference.

News media contact: Vicki Brown at (615) 742-5470 or [email protected]. To read more United Methodist news, subscribe to the free Daily or Weekly Digests.
---
Like what you're reading? Support the ministry of UM News! Your support ensures the latest denominational news, dynamic stories and informative articles will continue to connect our global community. Make a tax-deductible donation at ResourceUMC.org/GiveUMCom.