---
Key Points:
A United Methodist institution, Africa University is a hub for preparing students from Mozambique and other African countries.
AU opened its doors in 1992 with just under 50 students from various African countries. This year, 746 students will graduate as the university celebrates 30 years of leadership transformation in Africa.
AU alumni are making a difference in many fields and sharing the blessings of their education with The United Methodist Church in Mozambique.
---
Africa University graduates from Mozambique are using their education to enrich churches and communities.
Described as "the School of Dreams in the Valley of Hope," Africa University opened in 1992 with just under 50 students from various African countries. This year, 746 students will graduate as the United Methodist university celebrates 30 years of leadership transformation in Africa.
Located in Mutare, Zimbabwe, Africa University is a strategic choice for students in neighboring Mozambique, as they can travel to the school at a relatively low cost. Africa University alumni are making a difference in many fields and sharing the blessings of their education with The United Methodist Church in Mozambique.
Mozambican Arlindo Jossias Sambo graduated from AU in 2008 with a degree in economics.
"The study program I did at AU allows me to serve in any part of human life," he said.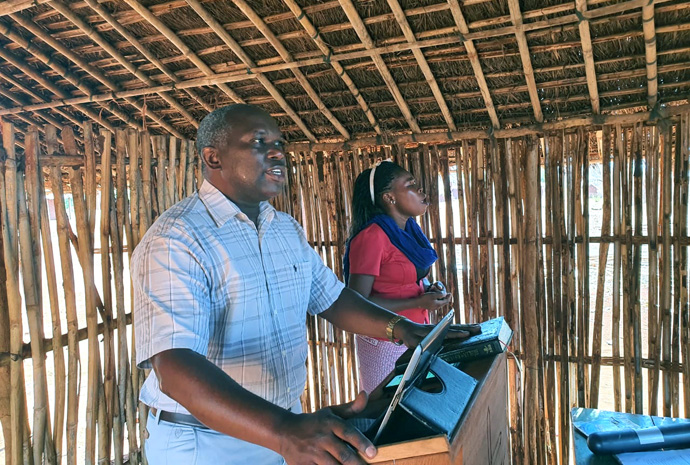 Sambo, who has worked at the National Roads Administration — Public Institute (ANE-IP) since graduation, currently serves in Mueda, Mozambique, on an ANE road-related project and is the financial representative of the African Bank. (He is not related to the Rev. Joao Sambo who wrote this article.)
"In the church," he said, "I collaborated in training future pastors." He also lectured on church financial administration for more than 12 years at Cambine Theological Seminary in Mozambique.
AU Graduation 2022
Africa University will hold its 28th graduation ceremony in person on June 11. With 746 graduating students from 23 African countries, the class of 2022 is the second-largest for Africa University to date. It includes the university's first three doctoral degree recipients from the College of Health, Agriculture and Natural Sciences' Department of Public Health. The ceremony will be livestreamed on Facebook at 2 a.m. U.S. Central time June 11 at https://fb.me/e/3ncRT3925.
Much of Sambo's church work is as a volunteer. Filled with evangelical spirit and motivation, he helped to establish two United Methodist congregations.
"Two years ago," he recalled, "we started a local church in Praia do Bilene. Now I am in Mueda (Cabo Delgado). I am starting a new mission field in Ninga, which now has more than 30 congregants."
Sambo credits Africa University with shaping him, both scientifically and spiritually. "AU brings back good memories," he said. "I have recommended many to be trained there. I would like to be a student at AU again if they provide a Ph. D. program in economics."
The Rev. Maria João Matsinhe began her studies at Africa University when she was already a pastor and a nurse.
"I joined AU in 2014," she said, "having started with intensive English classes to be proficient enough to handle my study program."
Matsinhe has been a pastor, a district superintendent and public health coordinator in the South Conference.
She graduated with a Health Services Management degree in 2019. Today she is pastor of the Almeida Penicela Circuit—Mademo.
"AU prepared me for the professional challenges of the millennium," Matsinhe said. "The knowledge I acquired empowers me to make changes, not only in my life, but for the church and society that I serve."
Subscribe to our
e-newsletter
Like what you're reading and want to see more? Sign up for our free daily and weekly digests of important news and events in the life of The United Methodist Church.
Some Africa University graduates, such as the Rev. Anastácio Chembeze, have earned more than one degree.
"I joined Africa University in 1997 to take intensive English," he said. "In 1998, I started the degree in divinity. I then did the master's degree in the peace and governance program. Now I'm back at AU, after almost 18 years, to do my Ph. D."
Chembeze was one of the first Mozambicans to graduate with a master's in Peace Studies, Leadership and Good Governance. He was a negotiator in peacemaking efforts within Mozambique.
"As a contribution to African society," Chembeze said, "I worked from 2006 to 2009 for the African Center for the Constructive Resolution of Disputes (ACCORD) in South Africa." He was program manager of peacebuilding in Angola and in political-military conflict mediation between the government of Mozambique and Renamo, a militant group.
Since 2015, he has served on the Africa University board of directors, representing the Africa Central Conference.
Of Africa University, Chembeze said, "I keep wonderful memories that will last for the rest of my life. AU forged me and influenced my way of being today. AU is a mini-African Union and a mini-United Nations."
In the North Mozambique Conference, another Africa University graduate — the Rev. Belmiro Jotamo — is a pastor and a teacher. Before going to AU in 2014, he was a pastor in the South Conference. Since graduating in 2019, he has served as principal of Bishop Henderson Secondary School in Muxungue (Sofala).
"I feel that I am making a difference in the family, society and church," he said, "through the application of the knowledge acquired at AU. I run a United Methodist educational institution with over 1,000 students in the North Conference."
Jotamo highlighted AU's cultural and pan-African diversity. He appreciates that Africa University "enables young Africans to seek solutions to the common problems that afflict their countries — and the continent as a whole."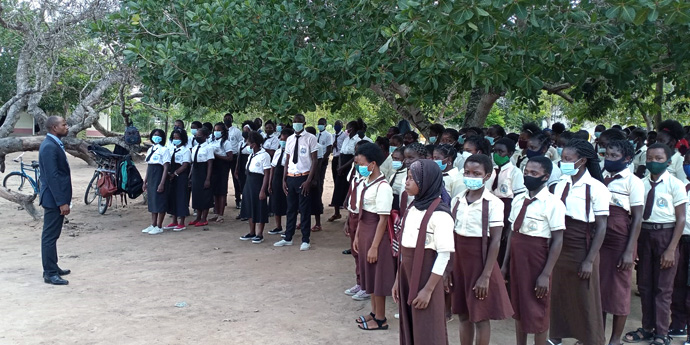 The Rev. Hortencia Bacela studied at Africa University from 2005 to 2009. She already had extensive pastoral and supervisory experience. She graduated with honors with a Bachelor of Theology degree.
Since then, she has worked as a local church pastor, district superintendent and director of connectional ministries.
"I have many pleasant memories of AU: learning a new language (English) and being trained by African scholars who are highly qualified and know how to convey pastoral knowledge, wisdom and experiences," Bacela said.
Bacela would love to return to AU.
"If I had the opportunity to go back there to do another degree, I would," she said.
The Rev. Eurico Gustavo, a 2014 Africa University graduate, has worked for the church in pastoral and communication ministries.
Though Gustavo admits he had culture shock upon arriving at Africa University, the campus eventually became his second home. Today he is assistant pastor of the local church in Beira in the North Conference. He's also the conference communicator and the Volunteers in Mission coordinator.
"My experience with AU is significant," he said. "I would recommend anyone to embrace the university," adding that the school prepared him well for the work he's doing currently.
The Rev. Olga Maria Raimundo enrolled at AU in 2003 and took intensive English before pursuing the degree program in theology, graduating in 2007. A year later, she returned to pursue a master's degree, which she earned in 2010.
"I did the Peace, Leadership and Governance program," she said.
Since 2012, Raimundo has been an educator in secular and church schools.
"I am a lecturer at Seminario Unido de Ricatla (Ricatla United Seminary) and the Universidade São Tomas de Moçambique (University of São Tomas in Mozambique)," she said. "I am a visiting lecturer at the United Methodist University in Cambine. I feel that I am making a valuable contribution to the church and society."
Another graduate who is making a difference in Mozambican church and society is Júlio André Vilanculos, who entered Africa University in 2003 and graduated in 2009 with two academic degrees.
"After enrolling in intensive English in 2003," he said, "I went on to do a degree in theology and a master's in arts and religious studies."
Vilanculos focuses on teaching, supervision and leadership of educational institutions in Mozambique.
"I was the director of the Cambine Educational Center, director of the Theological Seminary of Cambine, full-time professor at the same seminary, and full-time professor at the United Methodist University of Mozambique where I was appointed first rector in 2018," he said. Vilanculos holds a doctorate from the University of Pretoria, South Africa.
He remembers entering Africa University without knowing a word of English, the language of instruction.
"I was convinced that I could do it," he said of overcoming the language barrier. "I managed to graduate with two university degrees."
He added: "AU is a university of recognized international merit."
João Filimone Sambo is Africa lusophone correspondent for UM News. News media contact: Julie Dwyer at [email protected]. To read more United Methodist news, subscribe to the free Daily or Weekly Digests.
---
Like what you're reading? Support the ministry of UM News! Your support ensures the latest denominational news, dynamic stories and informative articles will continue to connect our global community. Make a tax-deductible donation at ResourceUMC.org/GiveUMCom.