---
Key points:
Graduating class includes 712 students from 18 countries across Africa.
The Rev. Peter Mageto, vice chancellor and professor, highlighted the university's progress in research related to malaria, child rights and nursing.
Dr. Amon Murwira, the minister of higher and tertiary education, innovation, science and technology development, stressed the importance of leadership for Africa.
---
On June 11, the academic achievements of 712 graduates from 18 African countries were recognized as they garnered degrees and top honors at Africa University's 28th graduation ceremony.
The event, held at the main campus in Mutare, focused on the theme, "Celebrating 30 Years of Excellence and Leadership Transformation in Africa." The class represented the following nations: Angola, Botswana, Burundi, Congo, Côte d'Ivoire, Eswatini, Gambia, Ghana, Kenya, Liberia, Malawi, Mozambique, Nigeria, Rwanda, South Africa, Uganda, Zambia and Zimbabwe.
The Rev. Peter Mageto, vice chancellor and professor, congratulated the graduates and their families, applauding the discipline and determination that brought them to this point. He encouraged them to continue with the same spirit as they leave the university.
Mageto highlighted the university's progress in research, particularly related to malaria, child rights and nursing. Of special note was AU's first three graduates receiving Doctor of Philosophy in Public Health degrees: Chipo Chimamise, Tichaona Goto and Ronnie Matambo.
New incoming programs also were mentioned.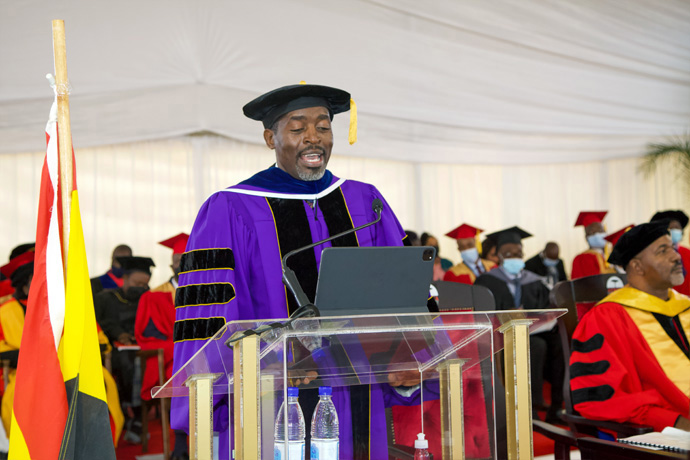 "We are proud to report," Mageto said, "that we are in the final stages of clearance for the Bachelor of Law and the Bachelor of Science Honors Degree in Food Security and Development, set to begin in August 2022, as we contribute toward the global effort of ensuring food security.
"In responding to global needs and positioning Africa University as an innovation hub," he continued, "we are strengthening our STEM (science, technology, engineering and math) disciplines by establishing a School of Engineering and Applied Sciences. We are ready to unlock the untapped potential of our youth across the continent."
Mageto also shared future infrastructural developments such as the East Ohio Women's Hostel that will provide additional accommodations for AU's female students.
Dr. Amon Murwira stressed the importance of leadership, especially understanding how to lead Africa. He is a professor and the minister of higher and tertiary education, innovation, science and technology development.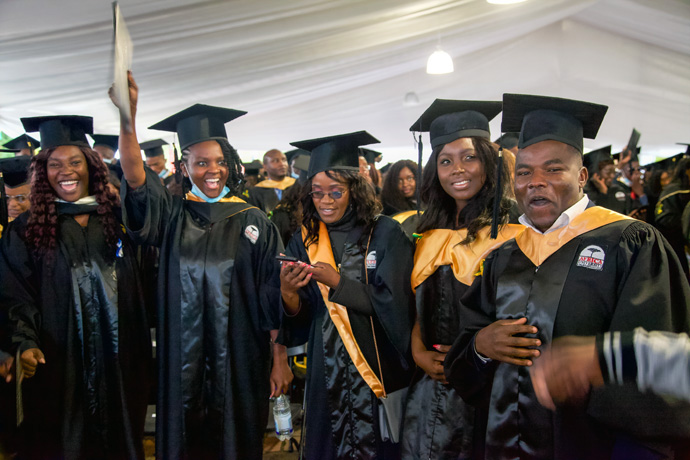 "It is the quest to restore dignity to African peoples," Murwira said, "that gives Africa University such importance and value. Correct educational designs are critical in this effort. To inspire leadership transformation on the continent and the direction it will take lies in understanding its history: from freedom to domination through colonialism, to the struggle for liberation, and now the journey toward economic freedom of the continent.
"We cannot use the colonial design for the emancipation of the continent or its transformation," he added. "We must distinguish between knowledge and memory. The former allows us to create."
Dr. Shingai Mutasa was the guest of honor and keynote speaker. His message to the graduating class was underpinned by lessons in history, individual purpose, and the collective responsibility of Africans to develop and further the aspirations of the continent.
"I am an African," Mutasa said. "Let me tell you what this means to me. In the book of Genesis, after God had finished creating the world, he instructed humans as follows: 'You have custodianship of the land. You must look after this world and its resources. You must nurture each other and multiply.'
"I was blessed by God to have custodianship of this continent, and I fully embrace this responsibility. As an African, I fully accept the legacy of the past, as well as the responsibility for the present and the future. The success or failure of our continent is determined by our actions. Its future is also our responsibility."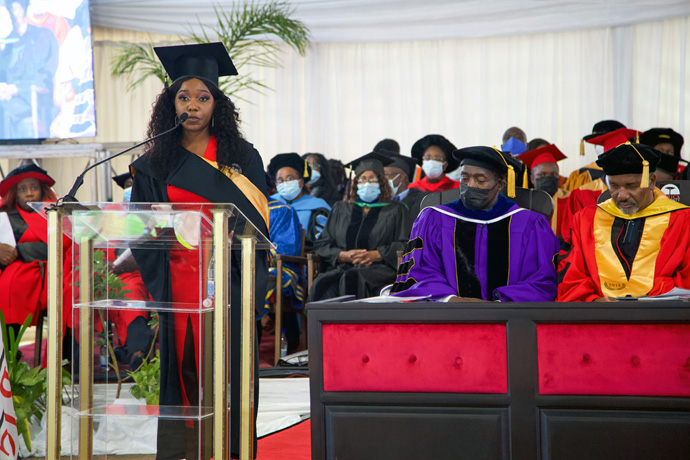 Mutasa encouraged the graduates to imagine their place and role in creating Africa's future, emphasizing the importance of identity and walking in the truth of one's heritage and origin, fearlessly and boldly.
He predicted that by 2050, the population of Africa would double and one in every four people of the working population on the planet would be African.
"We are the continent of the future," Mutasa said, "but to unleash the full potential of our human capital, it is important that you as our future leaders envision what that future looks like. This not only begins with introspection and a connection to our history and culture but (also) in tapping into what makes us all distinctly African.
"Every society across time that has excelled or achieved great feats has done so by tapping into their unique coding and culture," he continued. "Embracing all we are will propel the continent much further than (we) attempting to imitate other societies and cultures. In your pursuit of your most authentic self, grounded in our history, standing on the shoulders of our ancestors and armed with the knowledge you have learned from Africa University, be proud to be an African."
Valedictorian Tanyaradzwa Laura Chemwayi, who graduated with a Bachelor of Science Honors Degree in natural resource management, thanked the university's management, faculty and staff for guidance, love and support over the years. She described her time at Africa University as a promise fulfilled.
"In John 19:30, we read the words, 'It is finished,'" Chemwayi said. "This is the fulfilment of God's purpose. In our lives, this is the close of a chapter for us and a promise that God has fulfilled in bringing us to this day. It is a promise that we now carry forth for our families, the university and those who come after us, that we shall not let you down or squander this gift we have been given."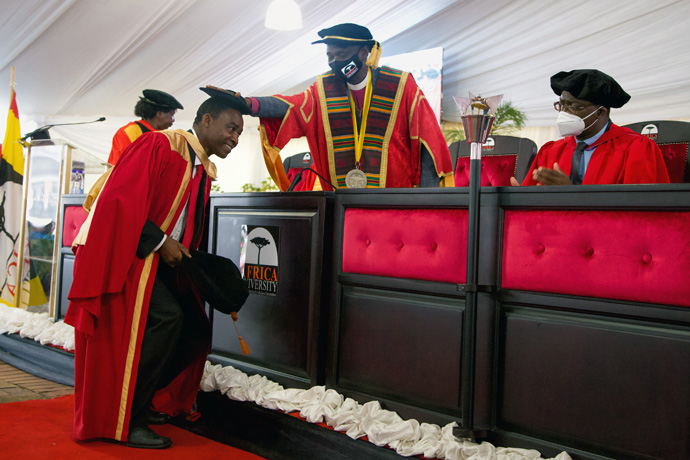 Compiled by the Africa University communications team.
---
Like what you're reading? Support the ministry of UM News! Your support ensures the latest denominational news, dynamic stories and informative articles will continue to connect our global community. Make a tax-deductible donation at ResourceUMC.org/GiveUMCom.