Hundreds gathered at United Methodist Africa University on March 25 to celebrate its 25th anniversary. There were gifts and memories as supporters looked back over a quarter of a century, but there was a lot more looking forward.
Bishop James Swanson, episcopal leader of the Mississippi Conference, came to Africa University with a delegation and a down payment on a $1.3 million pledge.
In his booming voice, Swanson talked about the journey the Mississippi Conference and Africa University have been on since the beginning of the university in 1992.
"The Mississippi Conference has placed their hopes and dreams in Africa University. It is a great irony that this conference, with a history of racism, saw an opportunity here. Jesus is a transformer," he said.
"To have a son of Africa as bishop of Mississippi is a testimony to how we have worked together," he continued. "Africa University is loved by the Mississippi Conference."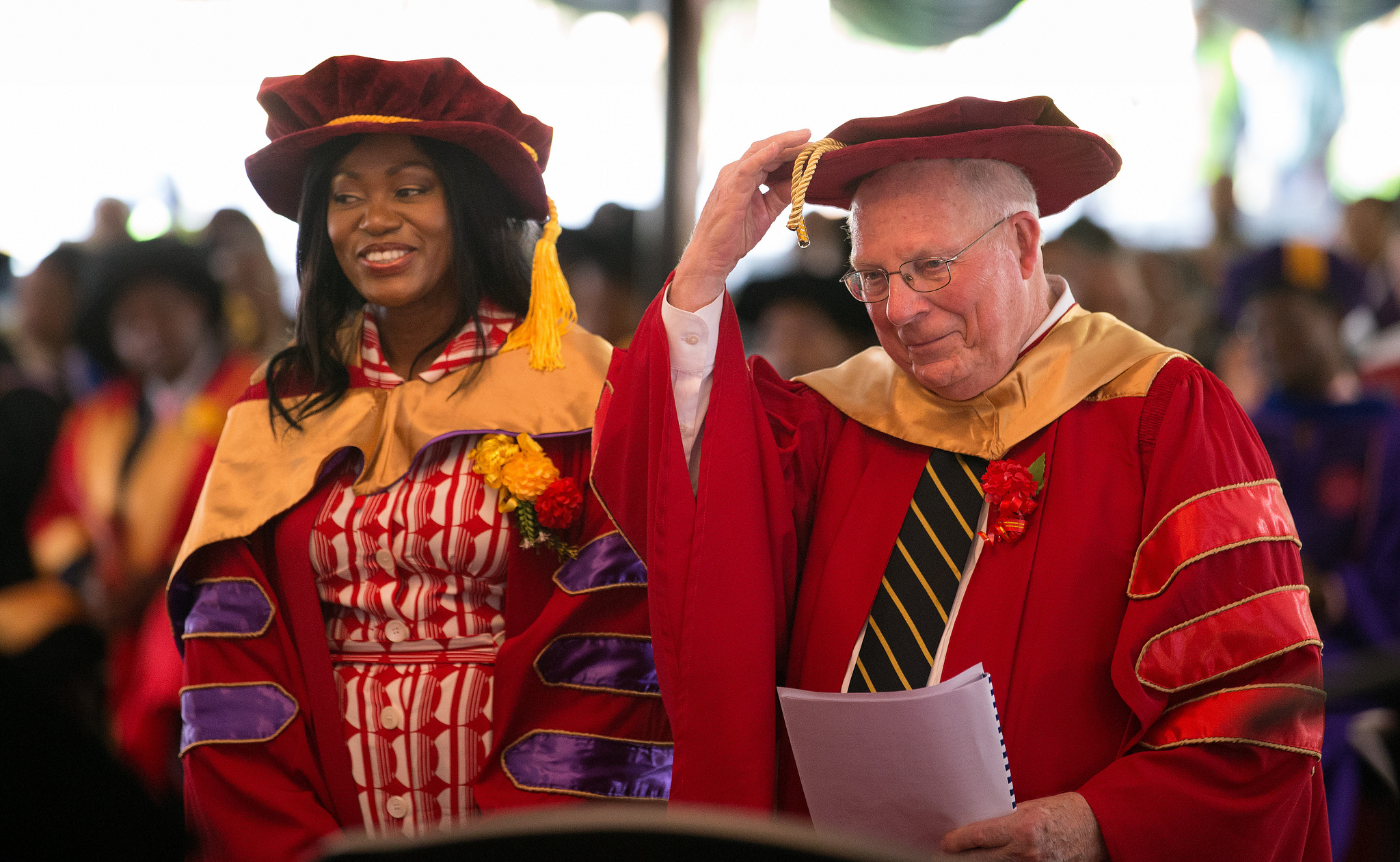 Swanson's message stirred 94-year-old Mabel Middleton, a member of the Mississippi conference delegation.
Stepping to the podium, the petite Middleton gave the university a gift of $1,000. "Your message inspired me; this is my first installment."
Gifts, tears and cheers flowed during the four-hour celebration.
Keynote speaker and guest of honor, Tsitsi Masiyima, co-founder of the HigherLife Foundation, was one of two who received an honorary degree from the university. She also promised that "a gift will be coming."
HigherLife Foundation is a nonprofit organization that invests in education for children in poverty. Since 1996, the organization has helped over 250,000 orphans.
Some of those orphans are now attending and have graduated from Africa University.
Masiyima and her husband, Strive, have been quietly giving full scholarships to 10 African students a year for the past 15 years at Africa University. They have a goal of helping 2 million children become young leaders by 2020.
The mother of six talked about how her faith was tested in the 1990s as she and her husband were struggling. Strive Masiyiwa, today the richest man in Zimbabwe, took on the Zimbabwean government in 1993 when he sought a license to establish an independent mobile telecommunications network.
The government denied his license, and he went to court to challenge the government monopoly on the mobile telecommunications business. The lawsuit went on for five years and ended up in the country's Supreme Court. Masiyiwa finally won and founded Econet, a telecommunications group with operations and investments in Africa, Europe, South America, North America and the East Asia Pacific Rim.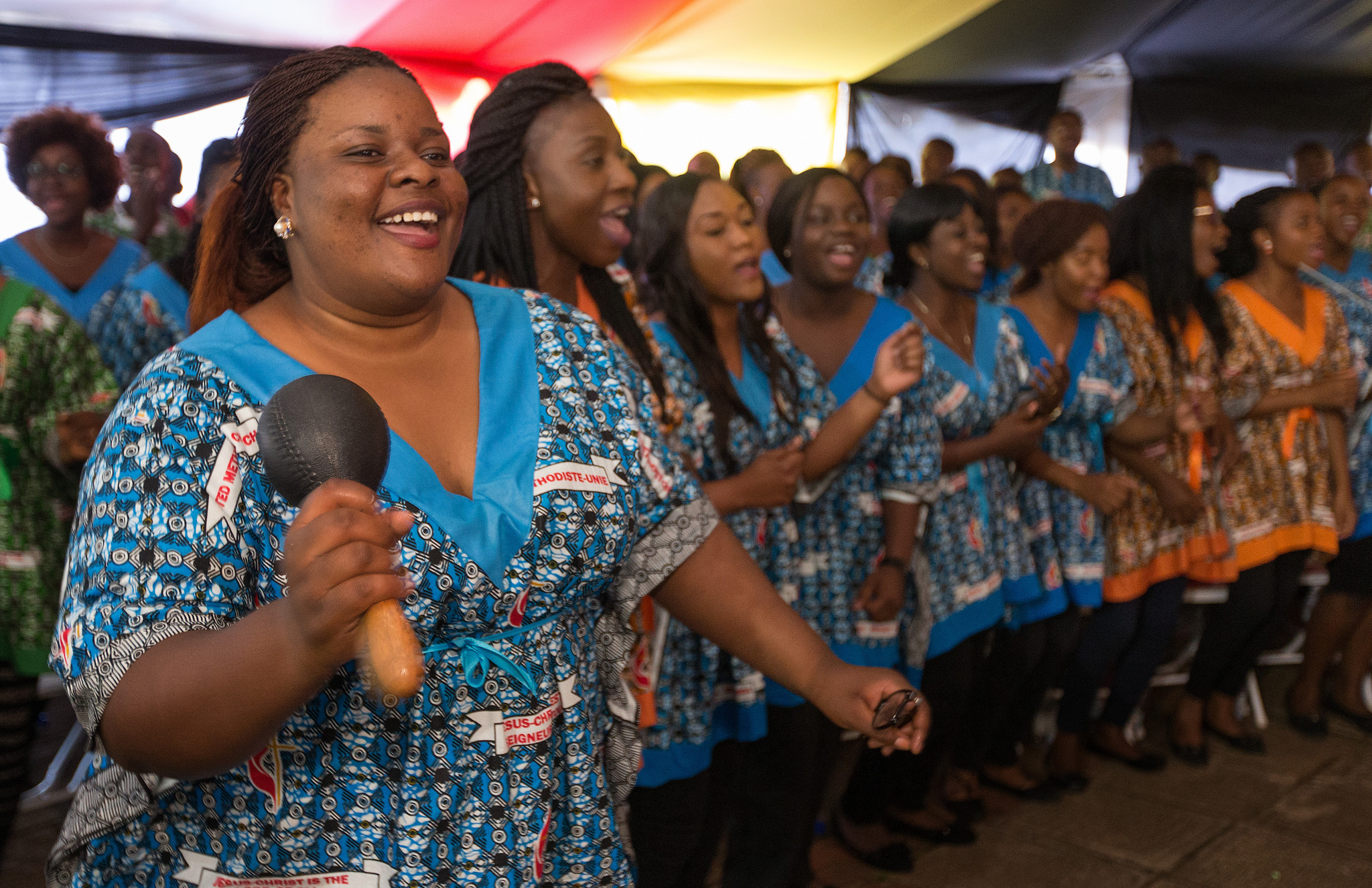 "I trusted in the Lord. God was always at the center," Tsitsi said. "I never blamed God, and I never denied God the glory when things were going right."
Swanson also asked Tsitsi to come speak to the Mississippi Conference, at any date and time she could schedule a visit. "They need to hear from you," he said.
The Rev. James L. Waits also was given an honorary doctor of ministry in religion and transformation leadership for "distinguished contributions to Africa University and humanity at large."
Waits is an ordained minister of the Mississippi Conference and as a young pastor he co-authored a public statement, "Born of Conviction," protesting racial segregation in the state. The statement was signed by 28 white Methodist ministers and provoked "considerable controversy," said Professor J.W.Z. Kurewa, vice chancellor emeritus.
Waits was dean of the Candler School of Theology of Emory University from 1978 to 1991, and became executive director of the Association of Theological Schools in 1991. In 2012, he was elected as a member of the board of directors at Africa University and now serves on its executive committee.
"We have planted Africa University and it is limited only by our personal commitment. This institution is instrumental to our survival," he said.
Kurewa began the celebration by saying God has been carrying the university on eagle wings for the past 25 years.
"This is an Africa and a God moment," he said.
Celebration in pictures
Mike DuBose, United Methodist News Service photographer, captured the university's 25th anniversary milestone on camera.
In 1984, two African United Methodist bishops, Emilio J. M. de Carvalho of Angola and Arthur F. Kulah of Liberia, challenged their colleagues at the United Methodist Board of Higher Education and Ministry to support the establishment of a university in Africa.
The board presented a plan for the pan-African university to the 1988 General Conference, the denomination's top lawmaking body, which voted to establish the university. The university received its charter from the Zimbabwean government and classes began in 1992.
The first 14 students went to school when it was just "tall grass and weeds," said Zimbabwe Bishop Eben K. Nhiwatiwa, who was one of the pioneering faculty members of the university.
Now, the university boasts more than 7,000 graduates from 32 African countries.
Africa University is ranked second among Zimbabwean colleges, Professor Munashe Furusa, vice chancellor, told the gathering.
"This university is a force to be reckoned with here in Zimbabwe. Let's do better. We don't want to be second; we want to be best," said Mandiitawepi Chimene, minister of State for Provincial Affairs, Manicaland Province. Chimene was one of several officials that brought greetings and congratulatory messages.
Lisa Tichenor and her family presented the university with a $2 million gift from their home church, Highland Park United Methodist Church in Dallas. Tichenor is on the board of directors and has been involved with the university even before it was formed. She remembers being at General Conference when delegates approved Africa University.
Highland Park is celebrating its 100th anniversary, she said.
"We are looking beyond 100 years of investing in the future with this $2 million. We are happy Africa University's dreams have become Highland Park's dreams."
James Salley, associate vice chancellor for institutional advancement at Africa University, said congregations, organizations and individuals are also celebrating Africa University's 25th year in the United States, many on the same day as the celebration in Zimbabwe. The goal is to ask each person to give one dollar for the 25 years the school has been open.
Bishop Jonathan Keaton, retired from the Illinois Great Rivers Conference, brought an oversized check made out to Africa University for $1 million. A local brick-making company in Zimbabwe pledged 10,000 bricks toward the construction of a student resident hall.
Bishop Minerva Carcaño, California-Nevada Area, will take an offering during May and again at the conference's annual meeting for Africa University.
In his benediction, Bishop David Yemba, the university chancellor, thanked everyone who had helped the university during its first 25 years. Yemba was one of the first faculty members in the school of theology and is retiring as a central conference episcopal leader.
"We follow in the footsteps of Moses; thank you for bringing us so far."
Gilbert is a multimedia news reporter for United Methodist News Service. Contact her at (615) 742-5470 or [email protected]. To read more United Methodist news, subscribe to the free Daily or Weekly Digests.
---
Like what you're reading? Support the ministry of UM News! Your support ensures the latest denominational news, dynamic stories and informative articles will continue to connect our global community. Make a tax-deductible donation at ResourceUMC.org/GiveUMCom.