---
Key points:
Attacks forced couple to flee dream apartment in Manhattan and shattered their sense of having the perfect life.
In the aftermath, they found new identities in Christ and changed their careers.
As a missions director, writer "pays forward" the transformative support she received by helping others in need.
---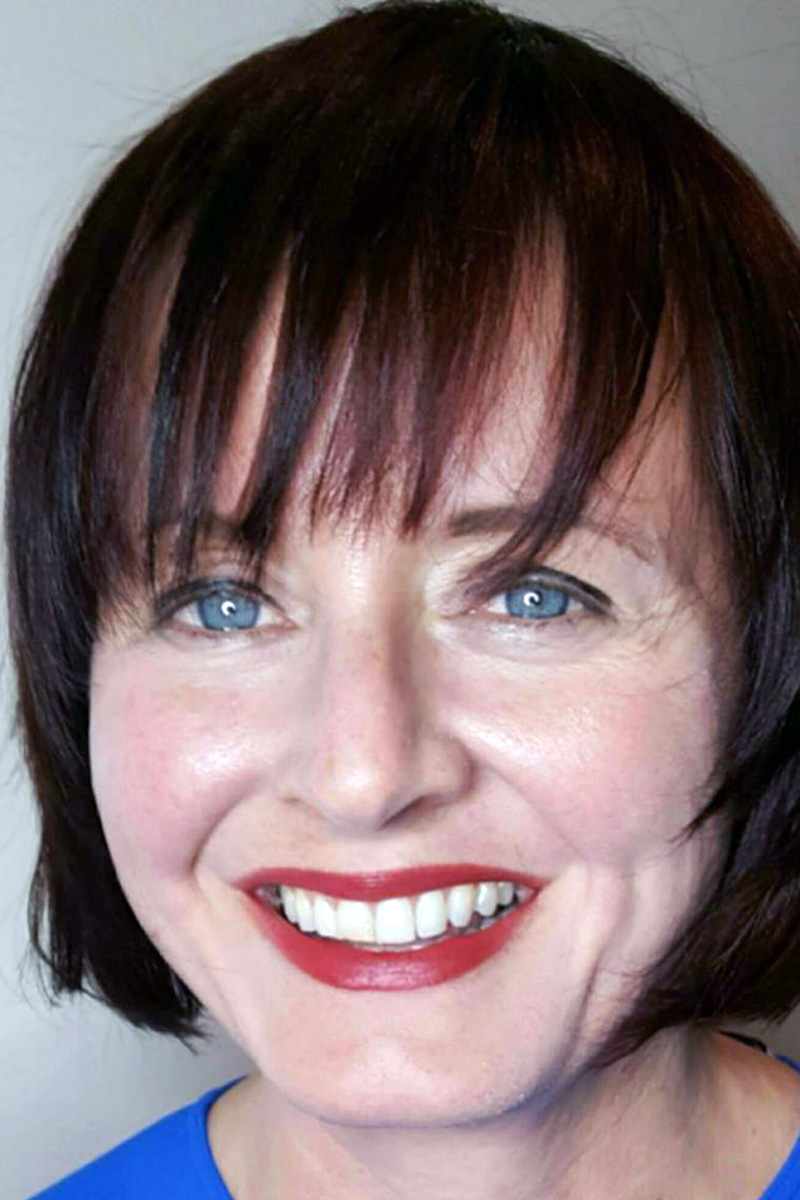 Christina Ray Stanton.
Photo courtesy of the author.
Commentaries
UM News publishes various commentaries about issues in the denomination. The opinion pieces reflect a variety of viewpoints and are the opinions of the writers, not the UM News staff.
Hotel rooms. Studios with no kitchens but lots of cockroaches. Two-hundred-square foot shoeboxes with one window. I had moved to New York City from Florida when I was 23, determined to make my way in the big city, and had lived in the typical assortment of less-than-ideal habitats.
During those years, I dreamed about the place I would live when I had "made it." Every New Yorker has their dream list of what they want in an apartment, and I dreamed of balconies, terraces, rooftops, patios and gardens.
On July 7, 2001, I was overjoyed as my new husband and I moved into my dream apartment! This new 24th-floor apartment in the Financial District had a 300-square-foot terrace and the most amazing views I had ever seen. I truly felt like I had "made it."
The setback terrace featured skyline views, plenty of fresh air, complete privacy from our neighbors, and an unimpeded view of the sky. On the left, I could see the Hudson River and all the way to New Jersey. On my right were the rooftops of downtown Manhattan. Taking center stage were the Twin Towers, rising a quarter-mile high in the sky before me and only six blocks north of our building.
I hauled two lawn chairs to the terrace so I could bask in the sun during the day and watch the city lights at night. Our dog, Gabriel, loved the terrace, too, and we kept the doors open so he could come and go as he pleased. Our apartment felt huge, as if we were floating in the sky. I began planning a "housewarming/newlywed party" for September, one of the nicest months of the year in New York.
Before bed one night, I walked out onto the terrace to say good night to the view. It was dark except for the hundreds of lights shining from residences, offices and streetlights below. Headlights snaked up invisible streets, while lights blinked on dinner cruises sailing up the Hudson. I raised my arm and imitated a royal wave to my "subjects" below. As I looked at the magnificent Twin Towers in front of me, it really did seem like the sky was the limit for Brian and me.
Just a few days later, Brian shook me awake: "Get up! Get up! Someone's bombed the World Trade Center!"
I jumped out of bed and followed him out to the terrace, where I barely recognized my beloved view. Thick black smoke was rolling out from the North Tower. Emergency vehicles raced down the West Side Highway. People were running in all directions, some directly into traffic. Even from 24 flights up, I could feel their panic.
Suddenly, something caught my eye. Looking over my right shoulder, I saw a plane flying far too low. With a deafening roar, the jet swooped just over us and banked until its nose was pointed straight at the South Tower.
We felt, rather than saw, the impact. One moment we were standing on the terrace, and the next we were lying on our backs in the middle of the living room floor. Panicked, we grabbed Gabriel and ran down 24 flights of stairs. Only when I hit the street did I realize I was barefoot and still wearing my nightgown, but it was too late to turn back then.
Hundreds of people filled the streets, racing away from the burning buildings. We made our way to Battery Park, as far away from the World Trade Center destruction as we could get. But it wasn't far enough. When the towers came down, dust and debris coated us and the park and trapped us inside clouds of smoke that threatened to asphyxiate us. After hours of terrified wandering, we were rescued by boat and deposited in New Jersey, although we couldn't go home for weeks.
Almost 3,000 people died that day, and many others have died since from cancers caused by toxic dust from the fallen towers.
Immediately after the attacks on the World Trade Center, Lower Manhattan was dubbed the "Frozen Zone." Search-and-rescue teams sorted through 2 million tons of debris, spread over 16 acres of devastation.
But sooner than we had expected, the apartment management announced it was safe to return, so on Sept. 23, we made our way through blocks of dust and debris to return to what had been my dream apartment.
Thick, yellow-hued dust covered every surface, and a bizarre mass that stood almost four feet high was lurking in a corner of the living room. It looked like a papier-mâché sculpture or a large pile of charred papers, and I realized the wind had swept the debris into the apartment through the terrace doors that we had left wide open in our panicked flight. I picked up a scrap from the mass, and thought, "This piece of paper was on someone's desk on 9/11, or in an office, or someone's filing cabinet."
Finally, Brian and I felt brave enough to step out onto my beloved terrace. The view that had once delighted me now devastated me. The beautiful, awe-inspiring Twin Towers were gone. In their place was sky and a jagged, upright piece of façade from the South Tower.
Below us I could see the roof of a parking garage, with cars covered in yellow dust or crushed by debris. I wondered how the owners were going to retrieve them — if they were still alive. As I leaned against the brick, I felt sick. I barely recognized anything. It was a foreign city — a gray, dust-covered ghost town. I avoided the terrace after that.
But one sleepless night a few weeks later, I threw a blanket around my shoulders and stepped into the chilly air. Huge spotlights lit up Ground Zero where the clean-up operation proceeded 24 hours a day. I closed my eyes and tried to remember the view that had thrilled me just a few weeks earlier: the sparkling lights on Hudson, the Twin Towers twinkling like a pair of Christmas trees.
Holding the blanket with one hand, I raised my other hand high like I had when I waved to my "subjects" below. I had been so sure that night that everything I wanted to achieve — as a new wife, as a successful New Yorker — was within reach. My struggles were behind me. I was standing on the top of the world.
Opening my eyes, I realized that world had been destroyed, and I was looking at its shattered remnants: rubble from collapsed buildings, piles of debris, and gaping holes in the black sky. And I suddenly realized that my shattered life could not be repaired by the perfect apartment. I would never again feel my future was secure because of my address or my view.
Subscribe to our
e-newsletter
Like what you're reading and want to see more? Sign up for our free daily and weekly digests of important news and events in the life of The United Methodist Church.
It took years, but Manhattan did recover and rebuild. So did Brian and I, through God's power to restore and remake and through Christians who offered us financial help and a community where we could rest and heal from our trauma. The church that helped us in the 9/11 aftermath became our cornerstone as we reconstructed our lives with a renewed commitment to Christ and his work in the world. Because of our new identities in Christ, we both changed careers and changed our views about what a successful life would look like.
For instance, I realized how transformative it had been for me to receive help from a church and be able to build community with other Christians to become strong in my faith. I wanted to pay it forward and provide the same for others, and I developed new passions for social justice causes. I am now missions director at a United Methodist church in North Florida, and I receive regular opportunities to interact with people who have undergone traumatic experiences, and be a listening ear who comforts, cares and encourages restoration.
Even though I'd spent only two weeks being displaced after 9/11, it left a big impression on me. At our United Methodist church, we are deeply involved in helping formerly incarcerated prisoners transition back into society, as well as efforts to facilitate opportunities for refugees and those who are homeless to create a new life and a fresh start. I am able to assemble teams to help in the aftermath of natural disasters.
Through our vibrant congregation, I am thrilled to participate in a healing process that points to Christ in a church that has a history steeped in social justice. And I feel thoroughly blessed that I can use my journey to inform my life as a United Methodist person of faith today.
My life changed on 9/11. Like thousands of Americans, I lost something that I have never recovered: my innocence. But I gained goals and dreams that had nothing to do with a terrace or a perfect apartment. Now, my primary desire is to share my testimony of my changed heart with others. I had to rise from the ashes of my own Ground Zero to understand that Christ walks with me. My inward scrapes and scars speak to the evil in the world — and also to the good that lifted me from the rubble and restored me to a place of prominence.
Now with the Psalmist, I can say, "Come and hear, all you who fear God; let me tell you what he has done for me" (Psalm 66:16).
Stanton wrote an award-winning book, "Out of the Shadow of 9/11," and more than 30 articles on the subject. She is the missions director at Killearn United Methodist Church in Tallahassee, Florida.
News media contact: Tim Tanton or Joey Butler at (615) 742-5470 or [email protected]. To read more United Methodist news, subscribe to the free Daily or Weekly Digests.
---
Like what you're reading? Support the ministry of UM News! Your support ensures the latest denominational news, dynamic stories and informative articles will continue to connect our global community. Make a tax-deductible donation at ResourceUMC.org/GiveUMCom.