When delegates to the 2012 General Conference approved a 2013-16 budget that was 6.03 percent less than the amount apportioned for the current quadrennium, the United Methodist boards and commissions that depend on the World Service Fund accepted the challenge to sharpen their priorities.
They also expressed gratitude for the opportunity to reach out in new and different ways in 2012. Many of their activities demonstrated commitment to the denomination's four areas of focus, which include developing principled leaders for the church and the world, creating new places for new people and renewing existing congregations, engaging in ministry with the poor and stamping out killer diseases of poverty by improving health globally.
Here are some highlights of the year, as reported by agency representatives.
Board of Church and Society
Church and Society undertook a new venture this year to increase grassroots organizing within annual conferences and local churches. A team of national grassroots organizers spread out across the United States and Africa to develop advocacy capabilities on issues such as addictions, health care, immigration, economic justice, criminal justice and human trafficking. Monthly conference calls, featuring experts on organizing and authorities on various advocacy issues, reinforced the regional advocacy training. This venture proved successful and was greeted so enthusiastically that the agency has reorganized its staff to seek a full-time grassroots organizing coordinator next year.
Board of Discipleship
Through consultation, training and resource development, New Church Starts (Path 1) at Discipleship helps The United Methodist Church move toward starting one new church a day in the United States by 2020. Since January 2008, the New Church Starts staff has consulted with 56 different annual conferences, helping the denomination to plant more than 620 churches. During that time, more than 3,000 potential church planters have taken church-planting online assessments, and nearly 1,000 prospects have received formal training for church-planting ministry. In 2012, the team launched a new connectional database for sharing church-planting best practices and tracking progress.
Board of Global Ministries
On Aug. 3, Global Ministries commissioned its 61st class of US-2s and its 35th class of Mission Interns at Aldersgate United Methodist Church in Arlington, Va. The 34 young adults, age 20-30, are from the United States, the Democratic Republic of Congo, the Philippines, South Korea, Peru, Ukraine and Liberia. The covenant they created says in part, "We advocate for a humanity of equality, mercy, compassion and love. We pursue things that do not seem humanly possible, knowing through faith in God that all things are possible."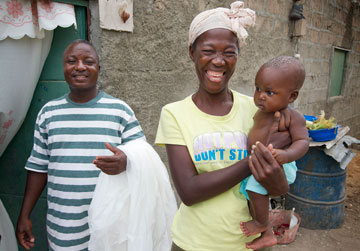 This Angolan family received a net as part of The United Methodist Church's Imagine No Malaria campaign. (From left) Domingos Adao, Esperances Manuel and baby Sandro dos Santos. A UMNS photo by Mike DuBose.
Board of Higher Education and Ministry
The 2012 General Conference approved a $7 million Young Clergy Initiative. In August, the Rev. Kim Cape, the board's top executive, hosted a Young Clergy Summit to help determine the path forward for the initiative, aimed at encouraging U.S. young adults who wish to respond to God's call to United Methodist ordained ministry. The importance of mentoring was a primary issue raised by a group of younger-than-30 clergy candidates and clergy attending the summit. Higher Education and Ministry is collaborating with the Fund for Theological Education to conduct group-mentoring training. General Conference approved group-mentoring legislation as one solution to the concerns.
Commission on Christian Unity and Interreligious Concerns
Highlights for Christian Unity and Interreligious Concerns were two General Conference events: the Act of Repentance on Healing Relationships with Indigenous Persons and approval of the Pan-Methodist Full Communion proposal. A third was the restructuring of the commission into the new Office of Christian Unity and Interreligious Relationships of the Council of Bishops. The Acts of Repentance at General Conference, said the Rev. Stephen J. Sidorak Jr., who heads the agency, "was only the beginning of a churchwide, across-the-connection process." At the commission, he added, "we adopted the motto, 'a process, not a program.' And, of course, the Rev. George Tinker's call to us was 'keep on repenting.'"
Commission on Communication (United Methodist Communications)
Since Imagine No Malaria was launched, United Methodist Communications has helped to raise more than $23 million to end preventable deaths from the killer disease of malaria. By Dec. 31, 1.3 million nets will have been distributed across Africa. The campaign's objective is to eliminate deaths and suffering from malaria in Africa by 2015 through prevention, education, communication, treatment and advocacy. Earlier this year, the World Health Organization announced that malaria's impact has been cut in half from a death every 30 seconds to a death every 60 seconds. As a result of the campaign's life-saving efforts in Africa, new churches have been planted, advancing church growth.
Commission on Religion and Race
Religion and Race sponsored two events that offered training and support to pastors and churches in cross-racial/cross-cultural appointments.These events have led to ongoing conversations within annual conferences about supporting local churches as they build relationship with their communities in new and dynamic ways. In late November, the commission was host to a summit, where more than 100 participants exchanged ideas about how to help nourish vital, multicultural congregations in the United States and around the globe. "We're trying to offer a way forward so that we're faithful proponents of the gospel of Jesus Christ," said Erin Hawkins, who leads the commission.
Commission on the Status and Role of Women
The commission marked its 40th year by making women in the denomination's central conferences a priority. In February, top executive M. Garlinda Burton met with United Methodist clergywomen from across Africa during a conference sponsored by the Board of Higher Education and Ministry, with support from Status and Role of Women and other groups. The largest-ever such gathering was an opportunity for women to network, inspire and support each other.It allowed participants to bring their unique theological and ethical perspectives to United Methodist leadership. The group elected an international steering committee to monitor and lobby for expanded rights and representation of women in their conferences and throughout the church.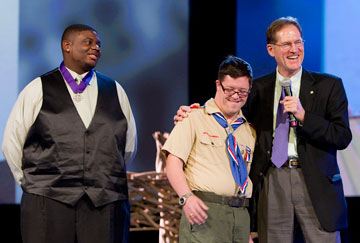 Boy Scouts Justin Jackson (left) and Ryan Wilson receive The United Methodist Church's Good Samaritan Award from Larry Coppock during the 2012 United Methodist General Conference in Tampa, Fla. Coppock is director of Scouting Ministries at the Commission on United Methodist Men. A UMNS photo by Mike DuBose.
Commission on United Methodist Men
Some churches view a Scout troop as an annoying group of kids who mess up their kitchen. Some congregations confine their ministry to men to a meet-and-eat Wednesday-night gathering.These churches are missing valuable opportunities to enrich the lives of young people and to reach unchurched men and their families. During 2012, the commission recruited and trained nearly 200 scouting ministry specialists and 30 men's ministry specialists to help churches explore ways to enrich the lives of men and young people. The commission provides training webinars for these specialists and others interested in growing their congregations and revitalizing their ministries.
Keeping the vision
While the General Council on Finance and Administration is not a program agency, it is accountable to The United Methodist Church through the General Conference for receiving, disbursing and reporting all general funds. Included in the World Service Fund budget is a line item estimate of GCFA's share of its expenses for the quadrennium. (The council also receives income from the General Administration Fund and earnings on invested funds.)
Indiana Area Bishop Michael Coyner, recently elected chair of the General Council on Finance and Administration, said, "I look forward to this quadrennium with GCFA as we deal with our reduced structure, the opportunity to work collaboratively with the other agencies, and the possibilities of helping to lead our United Methodist Church (toward) increased stewardship, faithfulness and fruitfulness.
"GCFA is moving forward with a renewed sense of being a servant of the church and we keep that vision before us."
To see all the year-end coverage, visit umc.org/yearend.
*Dunlap-Berg is internal content editor for United Methodist Communications, Nashville, Tenn.
News media contact: Barbara Dunlap-Berg, Nashville, Tenn., (615) 742-5470 or [email protected].
---
Like what you're reading? Support the ministry of UM News! Your support ensures the latest denominational news, dynamic stories and informative articles will continue to connect our global community. Make a tax-deductible donation at ResourceUMC.org/GiveUMCom.