A late-season hurricane that swept the U.S. Northeast coast and a typhoon flooding the island of Mindanao in the southern Philippines capped disaster-response efforts by United Methodists during 2012.
Although Typhoon Bopha made a deadly hit on Dec. 4 - killing at least 600 and washing away entire villages - many people were better prepared because of disaster risk-reduction training over the past year.
"We want to be proactive and not just react, so capacity-building among the people is the focus of our humanitarian response," said Ciony Ayo-Eduarte, Philippines director for the United Methodist Committee on Relief.
UMCOR is helping with immediate relief work in Iligan and its hard-hit local districts of Tambacan, Mahayahay and San Roque, working alongside local partners BALSA Mindanao, a Mindanao-wide church network, and the National Council of Churches of the Philippines, Eduarte said.
Hurricanes Sandy and Isaac
Two major storms that hit the United States and Caribbean in the latter half of 2012 were compared to Hurricane Katrina - Isaac, because of its timing and geographic location, and Sandy, in terms of its scope.
Almost seven years to the day that Hurricane Katrina devastated parts of Louisiana and Mississippi, Hurricane Isaac made its second landfall in Louisiana on Aug. 28, after striking Haiti and the Dominican Republic.
Within 78 hours of the storm, an 18-wheeler from the UMCOR Sager Brown Depot in Baldwin, La., arrived in Buras with 1,200 cleaning buckets and 2,000 health kits. Emergency grants of $10,000 each also were sent to the Mississippi and Louisiana Annual (regional) conferences.
At the end of October, Hurricane Sandy made a stunning visual impact, flooding lower Manhattan in New York and dumping a seaside rollercoaster in the water on the Jersey Shore. But, six weeks later, those in flooded communities in New York and New Jersey still were struggling.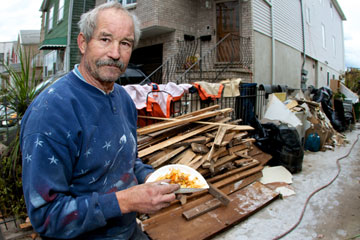 Manuel Gomes, a homeowner in the Iron Bound section of Newark, N.J., eats a meal provided by Morrow Memorial United Methodist Church in Maplewood, N.J. The homes of both Gomes and his daughter were flooded by Hurricane Sandy. Photo by Chris Heckert.
Even as church officials dealt with the effects of Sandy on church property - seven parsonages in New Jersey were flooded and more than 80 churches had some form of damage - the United Methodist response to survivors over the next few weeks included the distribution of thousands of cleaning buckets, the establishment of feeding and relief centers in churches and assessments and cleaning by trained volunteers.
Sandy knocked out power to a large part of New Jersey over an extended period of time, creating a new opportunity for ministry as churches became wifi hot spots and community centers.
The Greater New Jersey Annual Conference has hired a director, project manager and administrative assistant for its relief and recovery response. By Dec. 12, more than 15 United Methodist Early Response Teams from New Jersey and more than 18 teams from other states had assessed and cleaned New Jersey homes and churches, according to conference officials.
Seven tractor-trailer loads of disaster-relief kits, clothing, non-perishable food, pet food, space heaters, flashlights, batteries, linens and other items are being distributed through a multi-church network in New Jersey.
The New York Annual Conference also has been busy with emergency-response training, supply distribution and cleanup. On the south shore of Long Island, Community United Methodist Church in Massapequa quickly set up its own disaster-response offices. On Staten Island, teams have helped with mucking out in the Cedar Grove area.
New York Bishop Martin McLee reported Dec. 5 that more than $100,000 in donations for Sandy relief had been received from outside the conference, including $70,000 from UMCOR. Some 500 volunteers, from teams representing the area and 15 other annual conferences, have worked at relief sites.
On Dec. 10, a new disaster trailer arrived to be painted and equipped for the conference's disaster recovery site at the Freeport United Methodist Church on Long Island. The trailer was purchased through donations from the Long Island East churches and others around the conference.
Tornadoes, wildfires, refugee crisis
Other disasters during 2012 included:
Continuing recovery efforts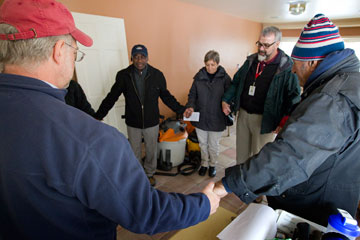 The Rev. Tom Hazelwood (second from right) of the United Methodist Committee on Relief leads a prayer at a home damaged by floodwaters from Hurricane Sandy in Massapequa, N.Y. A UMNS photo by Mike DuBose.
United Methodists continued recovery efforts related to several major disasters in 2011 and 2010.
Two years after the Jan. 12, 2010, Haiti earthquake, the denomination continued to work in partnership with Haitian Methodists, Haitian communities and various global partners on a joint comprehensive recovery strategy focusing on shelter and reconstruction, education, health and hygiene, livelihoods and capacity building.
The partnerships were highlighted in "Haiti Progress Report: Two Years Later," a summary compiled by the United Methodist Committee on Relief, which has raised nearly $46 million for its long-term recovery work there.
In March, UMCOR continued to allocate to Japanese and international partners some of the more than $12 million raised for the Japan earthquake the year before.
In Joplin, Mo, thousands celebrated a "Day of Unity" May 22, which also was a time of remembrance for the 161 people who perished because of the tornado. Disaster response through the church's Missouri Annual Conference was well ahead of schedule, aided by more than $1 million in donations, an expedited debris-removal process and unusually warm weather in the winter and spring.
June marked the one-year anniversary of the day the Souris River overflowed its banks in Minot, N.D., resulting in a loss of 4,100 homes and 24 churches, including Faith United Methodist. The Dakotas Annual (regional) Conference, in collaboration with UMCOR and its ecumenical partners, provided case management and worked to rebuild homes.
Donate to UMCOR disaster relief
To see all the year-end coverage, visit umc.org/yearend.
*Bloom is a United Methodist News Service multimedia reporter based in New York. Follow her at http://twitter.com/umcscribe.
News media contact: Linda Bloom, New York, (646) 369-3759 or [email protected].
---
Like what you're reading? Support the ministry of UM News! Your support ensures the latest denominational news, dynamic stories and informative articles will continue to connect our global community. Make a tax-deductible donation at ResourceUMC.org/GiveUMCom.