Editor's Note: In July 2013, the Barna Group released results of a study about the "State of Vacation Bible School" in the U.S.
For decades, vacation Bible school has been a staple of summer programming for local churches. Not only does it keep the church bustling at a time when attendance traditionally decreases, it also fills a niche in the community by providing God-centered fun for children who might never set a foot inside a Sunday school door.
Every year volunteers who help make the thousands of activities happen learn something new to remember for the future. Here is a look at some of the ideas and activities from 2012 that churches can replicate.
Marketing the program
Ginghamsburg Church, a United Methodist congregation in Tipp City, Ohio, stepped back into time with 363 children and more than 100 volunteers at its Camp Courageous: VBS July 9-12.
"Ginghamsburg Church has not facilitated a vacation Bible school in more than 10 years," said Emilee Hermon, the children's ministry coordinator for the grades 3-5 group. "Honestly, when we were planning the 2012 children's ministry calendar, we didn't even know if we would be permitted to call it vacation Bible school. VBS had become one of those clichs that every church felt obligated to host - no matter what. At Ginghamsburg, we don't believe in doing something simply because it's 'what we've always done.'"
Why the return?
"There's a nostalgia associated with our parents' generation," said Kelly Flora, coordinator for the infant to age 5 group. "A new generation longs to experience what its parents had, so when we announced we were bringing back VBS, excitement grew."
A new VBS meant new planning, marketing and a new audience, Flora explained.
To fit the needs of families where both parents work, the church scheduled its VBS in the evening.
The next decision was choosing the best curriculum for the church's rebranded VBS, explained Ryan Manger, kindergarten to grade 2 coordinator.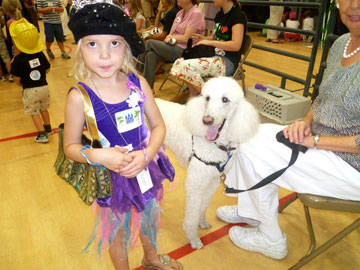 VBS student Xoa Dowell visits the Royal Animal Courtyard at Ginghamsburg Church in Tipp City, Ohio. Photo courtesy of Ginghamsburg Church.
"The most appealing part of the VBS package we purchased was the tribe theme," Manger said. "We were able to split the children into different tribes and assign a leader as the children visited every station in the marketplace. The curriculum was perfect for our space."
Manger said the church decided to change the curriculum name from "Babylon, Daniel's Courage in Captivity" to "Camp Courageous" with the aim of sounding "less churchy and more community-friendly."
The next hurdle was getting the word out to families both inside and outside the church. "As an outreach, vacation Bible school is an amazing tool," said Jennifer Morris, Ginghamsburg Church parent and volunteer.
Marketing VBS in 2012 turned out to be "crazy fun," Hermon said.
The church posted a Camp Courageous: VBS graphic and information on numerous public online calendars. Public service announcements were emailed to a long list of newspapers and radio and television stations that posted the event on their sites. But Ginghamsburg believes its best VBS marketing was on Facebook.
The Ginghamsburg Facebook page has 2,896 "likes." The church has intentionally cultivated a strong following on its page by placing timely, interactive content on the page daily.
Hermon took ownership of marketing VBS on Facebook. "We started about four-weeks out. I'm sure I made well over 60 status updates on FB about VBS, how to get involved, how to invite, come help setup, come serve and more," she said. "We even changed our cover photo from the current sermon series to Camp Courageous: VBS."
Another internal marketing tool was Constant Contact. "With the help of our communication team, we created a spreadsheet of families at Ginghamsburg with children," Manger said. "In the personalized email, we embedded a video produced by the company from whom we purchased the VBS package. The video gave parents a visual of what their children would be doing during VBS. We included the online registration and sent the letter to 600 email addresses. We also asked our parents to forward the email to any friends or neighbors with children."
Ginghamsburg parents took ownership of the mandate to preregister on the church's website and invite others, showing radical hospitality to new families, Flora said.
Ginghamsburg's financial investment for the 363 children who attended VBS was $8.25 per child. The church plans to send a follow-up Constant Contact email to all new families participating in VBS. The email will include an embedded video of highlights from VBS and an invitation to return to worship.
As they do with all programs, the Ginghamsburg staff and volunteers plan to evaluate Camp Courageous: VBS to figure out what to do next.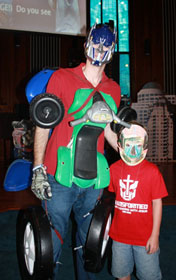 The Rev. Jonathan Hart, "Jonatron," stands with a little Transformer from Shalimar United Methodist Church VBS. Photos courtesy of Shalimar (Fla.) United Methodist Church.
Developing individual curriculum plans
Susan McLain, children's director at Shalimar United Methodist Church in Shalimar, Fla., writes her own curriculum or uses ideas she finds on the Internet.
"God just gives me ideas," she said. "I try not to do the same thing everybody else is doing, and I try to think of things that are relevant to kids in this day and age."
This year, her theme was a takeoff on the popular children's action figures "Transformers." She built lessons around Romans 12:2, NRSV. "Don't be conformed to this world, but be transformed by the renewing of your minds, so that you can discern what is the will of God - what is good and acceptable and perfect."
"If we can just get them in the door," McLain said, "we can tell them that Jesus was the first Transformer because with everyone he met and everywhere he went, lives were changed."
Getting help from Cokesbury
Judy Halverson takes advantage of the hard work of the VBS team at the United Methodist Publishing House. As VBS director for Hillview United Methodist Church in Boise, Idaho, she relies on Cokesbury's packaged curriculum because it is attractive to group volunteers who need not spend hours to prepare. This year's theme was "Operation Overboard: Dare to Go Deep with God."
"I used to teach in the olden days when it was up to one teacher to take care of each group," she laughed. "We had to do it all - Bible lessons, crafts, games. Nowadays, they have it designed so it takes the burden off the teacher to provide all the activities."
Halverson noted other ways VBS has changed.
Reaching out in the neighborhood
"VBS is an excellent way to reach out to people in the neighborhood," said Marj Pon, associate publisher for curriculum at the United Methodist Publishing House, Nashville, Tenn. "It's a rare opportunity to connect with the kids and families who do not normally attend church. It ... draws people together regardless of their formal church background."
According to the General Council on Finance and Administration, the denomination's finance agency, more than 1.1 million children participated in VBS at a United Methodist church in 2010. That's a big impact when it comes to children's evangelism and discipleship.
"For some children, this is a once-in-a-lifetime opportunity to share God's message, so vacation Bible school is a big priority every year," Pon added. "We spend a lot of time and energy developing each year's themes with fun, energy, history and relevance that will excite leaders and make the children want to come."
She said that as children are immersed in television, electronic games and computer entertainment, it becomes harder for crafts, crayons and Kool-Aid to compete. To try to keep up with the times, she has changed the way she teaches her summer program.
"How we use media is much different now," she said. "We use a lot more multimedia. We use more videos projected on the big screen. We tend to have many activity centers, and (participants) eagerly anticipate moving to new stations frequently."
Reaching out to Habitat for Humanity
For First United Methodist Church in Pasadena, Calif., the source for their summer study was the local Habitat for Humanity organization.
With a theme "Labor of Love," participants built a playhouse for an area family. The curriculum turned teachers into engineers and children into carpenters who receive Bible lessons as blueprints. The church was the "construction zone."
"It's a simple, understandable concept for young children about helping others - in this case to have a home of their own," said the Rev. Debbie Gara, associate pastor. "I love that because every child can benefit knowing that they are giving to other children that don't have what they have. How cool is that?"
Finding a place among competition
Competition among community VBS programs is tough. Leanna Wilkerson is a VBS planner at First United Methodist in Clinton, Ky. In her neighborhood, most children go to every VBS in town so she wanted to find a hole nobody else was filling. This year, she did a series of one-day summer events that involve elementary-age children. She called it "SPF-12" - "Summer Praise Fun 12." Three of the events were "More Than a Movie," "Build and Bible Day" (in conjunction with Habitat for Humanity) and "Water Park Splash Day."
Wilkerson shared a story that illustrates what she thinks every children's program should be about.
"I asked a little boy who was here for our after-school program where he went to church. He answered, 'Well, this is my church.' Even though we never see him on Sunday morning, this is where he feels he belongs. That's what I want children to feel like after they've been to VBS."
Learn about a traveling VBS program in Kansas for small churches.
To learn more about children's ministry ideas, visit the United Methodist Board of Discipleship.
*Passi-Klaus is public relations specialist/writer for the Public Information Team, United Methodist Communications, Nashville, Tenn. Hauser is communication and marketing specialist for Ginghamsburg Church.
News media contact: Maggie Hillery, Nashville, Tenn. (615) 742-5470 or [email protected].
First published Aug. 3, 2012.
---
Like what you're reading? Support the ministry of UM News! Your support ensures the latest denominational news, dynamic stories and informative articles will continue to connect our global community. Make a tax-deductible donation at ResourceUMC.org/GiveUMCom.