As the economy of Zimbabwe continues to plummet, industries are shutting down and people are losing their jobs. God's work, however, continues to shine at Old Mutare Mission Hospital.
A state-of-the-art outpatient department, kitchen and 120-panel solar system are among recent additions at the United Methodist mission hospital.
The United Methodist Board of Global Ministries' Global Health unit provided $386,903 U.S. for the project. The funding was part of a larger collection of grants for Zimbabwe clinics and facilities, totaling $742,184, according to the agency.
"We are seeing God's hand in all these developments," said the Rev. Tafadzwa Musona, Mutasa Nyanga District superintendent. "This has proved to us that God is not limited by economic conditions. He is capable of doing great developments, even in the midst of a harsh economy."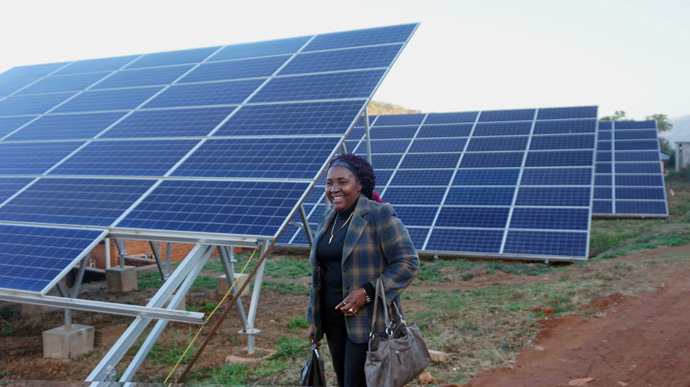 Musona referenced Philippians 1:6, which reads, "I am confident of this, that the one who began a good work among you will bring it to completion by the day of Jesus Christ."
"God, who started Old Mutare Mission," she said, "will see it to completion. My wish now is to have matching, state-of-the-art wards and other health facilities. Nothing can stop us from having a school of nursing and collaborating with Africa University."
Pleased with the achievement, hospital administrator Monica Nzarayebani marveled at the hospital's new look and outpatient department. "It is spacious and houses many departments and consultation rooms under one roof, thus meeting Ministry of Health and Child Care standards."
The comfortable waiting area, Nzarayebani added, "can accommodate many patients in the shade, unlike before when they used to sit on the veranda exposed to harsh weather conditions."
Rooms are designated for consultations, medical personnel, neurosurgery and a matron's office.
"Triaging is now very simple and short," she said. "An emergency room is now available for prompt attention to serious patients."
A pharmacy also is located on campus, speeding the treatment process.
"From registering, observation, nurse and doctor consultations and collection of medicine from the pharmacy, the circle is complete," Nzarayebani noted.
Dr. Steward Sunguro, general medical officer at Old Mutare Mission Hospital, said the new buildings are beautiful, but he noted that a lack of furniture is an issue.
"My consultation room does not have patients' chairs, a standard adjustable examination couch or curtains to provide patient privacy," he said. A critical need is an X-ray machine.
Nzarayebani said laptops also are needed for information processing.
Pishai Muchauraya, a chronically ill patient, applauded the new outpatient department as being spacious, with service now second to none.
"The outward appearance," Muchauraya said, "matches with the hearts and the welcome you receive inside. I have been coming here since 2009. I have witnessed good development and great hospitality."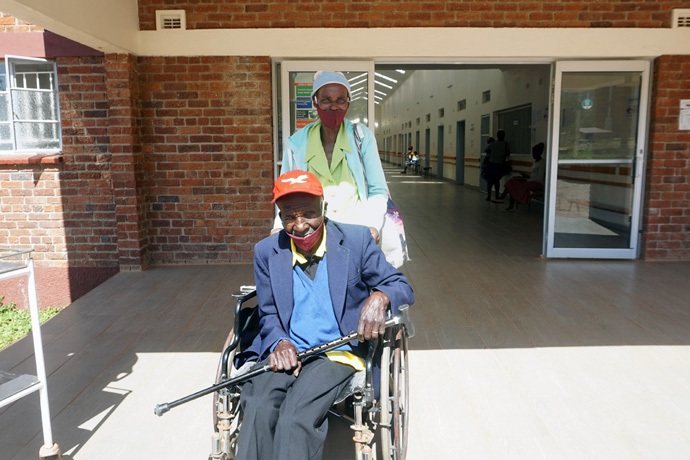 Patient Elithia Mukoma noted the difference between government and faith-based institutions like Old Mutare.
"I am very happy with the treatment we receive at this hospital," Mukoma said. "The reception is warm, and one can be easily healed before treatment. The most important part is that they start with a prayer every morning before work begins. If you come early, you can join in the prayer session. This renews (the staffs') desire to treat patients with love."
Nzarayebani said the outpatient department is connected to the maternity and family and child health departments.
"The waiting mothers' shelter is now complete, enabling the hospital to serve areas outside our catchment area."
Subscribe to our
e-newsletter
Like what you're reading and want to see more? Sign up for our free daily and weekly digests of important news and events in the life of The United Methodist Church.
The 60-capacity facility is usually full, often overflowing.
"This adds pressure on the maternity ward and ambulance," said Nzarayebani, "The surgeries done here are far more than other referral hospitals since Old Mutare has 11 feeder clinics, increasing demand on the one ambulance available."
Angela Macherechedze, sister-in-charge of the family and child health unit, said despite the pressure on her department, they appreciate the supplemental electricity provided by the recently installed solar system. It assists with energy backup and lighting and maintains refrigeration for vaccines, especially those for children under age 5.
"In addition," she said, "the maternity ward always requires electricity as deliveries are conducted any time of the day or night; hence, we appreciate the power backup."
Without a need for hasty transfers to Victoria Chitepo Provincial Hospital, Old Mutare is receiving patients from other areas including urban Mutare because power is always available. Solar power aids specimen preservation, and all tests are now being done at the mission hospital.
The spacious outpatient department also enhances COVID-19 compliance strategies. "Privacy is ever maintained," Macherechedze said, "as rooms are adequate for screening. Best practices on infection control are easily implemented, and comfort of the patients is ensured."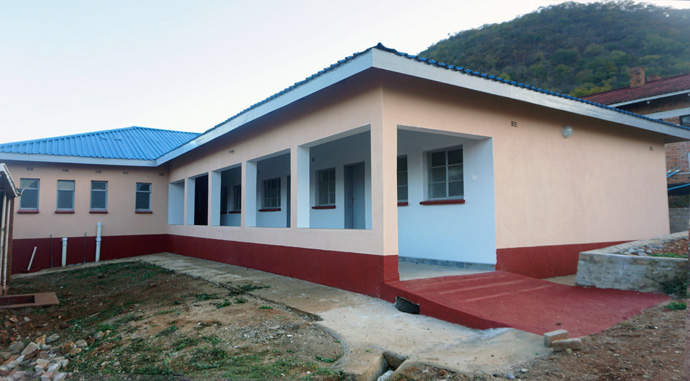 The new kitchen includes areas for refrigeration and storage, as well as a counseling room for use by the dietitians.
"Dieticians," she said, "now have a place to counsel and prescribe healthy diets and medication for patients such as those that are hypertensive and diabetic. This also ensures that confidentiality is guaranteed."
With the government complementing the church's efforts, the hospital has almost reached its staffing goal of 40 nurses. Twelve of the nurses are midwives, Nzarayebani said.
The Rev. Tadeus Lawrence Mwadiwa, station chair at Old Mutare Mission, expressed joy and gratitude. "In addition to the outpatient department," he said, "a new, state-of-the-art staff house was completed. This has demonstrated another level of a good standard."
A small store on campus eases the burden of patients and caregivers.
"All these developments," Mwandiwa said, "have made us proud as a church, and the hospital is now close to (becoming) a provincial hospital."
Nzarayebani said her vision is to upgrade Old Mutare into a "self-containing unit where evidence-based medical care is offered by well-motivated staff in a Christian environment."
She said improving staff welfare, including staff accommodation, is part of her dream.
"My last dream is to upgrade the hospital to a training institution linked to Africa University, which trains health personnel. I am very grateful to the Lord for all these achievements."
Chingwe is a communicator for the Zimbabwe East Conference.
News media contact: Julie Dwyer at [email protected]. To read more United Methodist news, subscribe to the free Daily or Weekly Digests.
---
Like what you're reading? Support the ministry of UM News! Your support ensures the latest denominational news, dynamic stories and informative articles will continue to connect our global community. Make a tax-deductible donation at ResourceUMC.org/GiveUMCom.