Tendai Musandaka graduated high school in 2017, scoring well on her Advanced Level exams. However, the 21-year-old was unable to afford higher education so she returned to her rural home without any prospects for the future.

That all changed when she was chosen for a farming project led by The United Methodist Church's Ministry with Women, Youth and Children. Now, she is determined to turn the opportunity into a steppingstone to transform her life and that of her five siblings.

"I am strong minded that with this project a lot will be transformed in my life and that of my siblings, especially in advancing in our education," Musandaka said.

The ministry has embarked on an aggressive empowerment program in the Marange District to avert the effects of the El Nino-induced drought. During the 2018-19 farming season, most farmers in Marange and many other districts lost their crops, leaving farmers struggling to provide for their families.
As part of the ministry project, 50 women and girls received chicks aimed at generating income and supplying meat for families' consumption. The women received a day of training led by Mutare's Department of Crop and Livestock to learn how to care for the animals.

The project was funded by a $15,200 grant from the United Methodist Committee on Relief, part of the denomination's Board of Global Ministries.

Lorrie King, WASH/Food Security/Livelihoods programs manager for UMCOR, said supporting the project was important to the relief agency.

"To quote the wisdom of my colleague Lorraine Charinda (a Global Ministries missionary serving in Congo), 'Unless women and girls are allowed to reach their full potential, the agricultural sector can't reach its full growth and expansion.' This is why UMCOR's food security portfolio prioritizes programs that focus on small-scale female farmers," she said.

The Ministry with Women, Youth and Children distributed 1,250 day-old chicks, 150 feeding and water troughs, 50 ropes and 6,250 tons of feed to the women.
Each beneficiary received 25 chicks and supplies. One group with four members close by are rearing the chickens as a group. When the animals are sold, the women will plough money back into the project.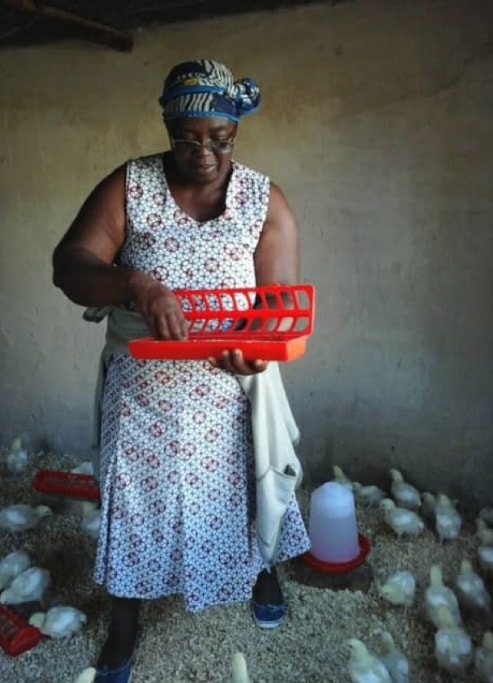 Irene Chitere tends to baby chicks in Marange, Zimbabwe. Fifty women and girls received chicks as part of an UMCOR-funded farming project. Photo by Kudzai Chingwe, UMNS.
Rebecca Tendai Gurupira, area coordinator for the Ministry of Women, Youth and Children, spoke during the distribution ceremony on International Women's Day on March 8.

"As a church, we are giving women and girls the rod to catch fish, not the fish to eat. It is our hope that with this support, families will progress well and their lives will be transformed," she said.

Gurupira, who attended the Global Ministries/UMCOR African agricultural summit in January in South Africa, is leading the way on environmental stewardship and environmental justice issues for the church in Zimbabwe.

"As a church, our objective is to empower women and girls so that they can be self-sustaining. Remember, when you empower a woman, you have empowered the whole nation," she said.

Musandaka said she is optimistic that the project is going to be a breakthrough in her life.

"Our father passed away in 2003, leaving the five of us in the custody of our mother … a housemaid in Mutare earning $80 per month, meant to cater for her welfare, us — the children — and our grandmother who is staying with us in rural areas.

"Life can be tough, but I am determined that this project is a step forward to a better life where I am looking forward to enroll at a university. I do not want to get married early before achieving my educational goals, as my sisters ages 23 and 19 did," she said.

Nomatter Manunure, livestock specialist for the Department of Crop and Livestock, urged the beneficiaries to manage the project with care.

"Broiler production is like nurturing a newly born baby," he said, adding that great care must be taken and high standards of cleanliness maintained to prevent disease.

"If well managed at six weeks, a good farmer can realize a gross of $375 and one can plough back $225 and $150 can be used to support the family," he said.

Rhodah Masiyakurima, 74, a project beneficiary in Ringai, said the program has given her hope for the future.

"This project, which is not affected by rains, will bring hope and life to most families and cushion the effects of El Nino-induced drought," she said.

"I am staying with two orphans, both age 13, and I am proud of my church, The United Methodist Church, for what they have done for my family. They have offloaded the burden on me. Indeed, when you feel hopeless, God has a way to intervene," she said.

The United Methodist Church also reached out to women who attend churches in other denominations as a way of demonstrating ecumenism.

"We might be different in denominations," said Gurupira during the International Women's Day celebration, "but we pray to the same God and that makes us one family."

Chingwe is communications coordinator for the Zimbabwe East Conference.

News media contact: Vicki Brown at (615) 742-5470 or [email protected]. To read more United Methodist news, subscribe to the free Daily or Weekly Digests.