Young United Methodists from across Africa gathered recently to look for ways to shine in leadership roles in the church and their communities.

The Rev. Forbes Matonga, general secretary of the Africa Central Conference, said the gathering comes at a time when young people are resolute in defending their faith and taking an active role in defining the future of the church and their beloved continent.

"Youth are not the leaders of tomorrow; they are as well leaders of today. And if we are to be successful as the church, then we must start utilizing youth ideas and skills as a positive input for sustainable development," he said during the conference.

He said it is vital to give youth the space to have their say and take part in church decisions.

"A youthless leadership is a short-term leadership. We must strive to assure young people always have a seat at the table."

During the event — themed "Arise and Shine" and held at the Desmond Tutu Conference Centre — the young people discussed church leadership, small business development, technical training and creative approaches to problem solving. They focused on how young people can be involved in all aspects of leadership and utilize the connectional nature of the church.

All of the 54 attendees at the July 24-29 training were members of the Africa Central Conference Youth and Young Adult Network. The network began with support from United Methodist Women's Regional Missionary Initiative, which facilitated the gathering.

"The 2019 gathering helped us as young people to share the joys, challenges and map forward on how we can have effective young people's ministries from circuit up to central conference level," said Patience Chapata, young women's coordinator for the network.

"My prayer and hope is (that) young people will arise and shine for their voice to be heard and be part of the church leadership and decision process."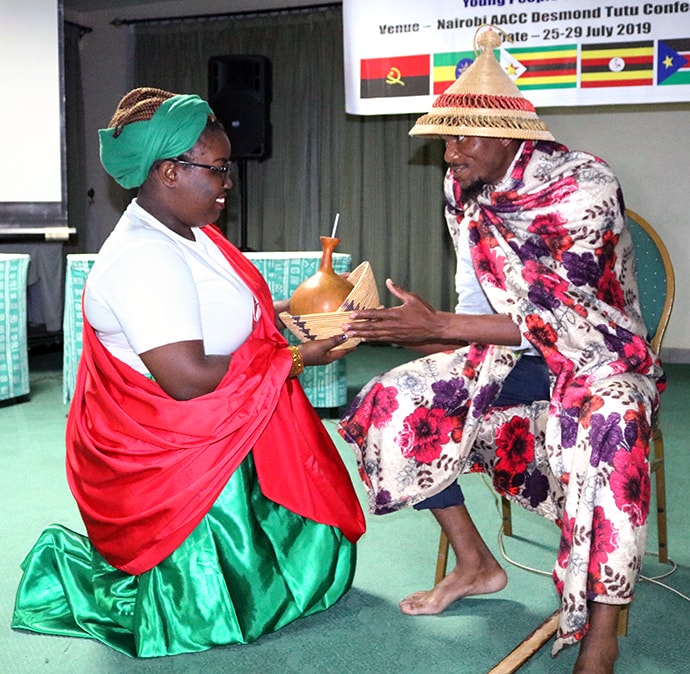 Bishop Daniel Wandabula, resident bishop of the East Africa Episcopal Area, thanked the young people for their active participation and contributions at various global and regional gatherings, including last year's Global Young People's Convocation in South Africa, which is also part of the Africa Central Conference.

"As your servant, I would like to assure you of our commitment and unwavering support during this meeting and for your plans that will come out of this gathering. … Let us strive to do the kingdom of God and reach all the young people everywhere for Jesus Christ," he said.

He also urged the participants to keep General Conference 2020 in mind.

"I am very sure that you will bring your views and ideas from each of your annual conferences and integrate them into the Africa Central Conference strategic masterplan for the 2019/2020 conference and beyond.

"This should be done in a respectful manner, knowing that we've been reconciled to God as new Christians in Jesus Christ our Lord and Savior. I would like you to use this opportunity very well," he said.

Victor Massaqoui, an academic and associate lay leader in the Sierra Leone Conference, talked to the youth about entrepreneurship, technical skills development and keys to breaking the cycle of poverty.

"A key aspect of this barrier is not only book knowledge, but understanding the concept of risk-taking. Entrepreneurship education is found to contribute significantly to risk-taking, the formation of new ventures and the propensity to be self-employed," he said.


Subscribe to our
e-newsletter
Like what you're reading and want to see more? Sign up for our free daily and weekly digests of important news and events in the life of The United Methodist Church.

He said an additional obstacle is that even when educated, many young adults have difficulty finding jobs.

"This is especially true in most countries on the African continent," he said.

He also noted the financial constraints on starting new businesses, including a lack of savings and resources, and difficulty securing loans.

During her presentation, Grace Musuka, a regional missionary with United Methodist Women, discussed the empowerment of young people through opportunities in the church.

"This gathering provides young people and their leaders with chances to connect with each other, denominational leaders and connectional agencies to help them discover the wide variety of ministries and opportunities of The United Methodist Church," she said.

Pacis-Alarine Irambona, youth and young adult coordinator for the Burundi Conference, said that young people are in a unique place in life, as they are developing their decision-making skills, continuing to learn, entering the labor force, cultivating character and learning to exercise their leadership.

"The true development of human capital comes through broadening opportunities for youth. Indisputably, youth have a great potential, if empowered, to contribute to their societies," she said.

Leah Nanyanga, a deaconess in the Kenya-Ethiopia Conference, said she is grateful for the gathering and opportunity to look at all the needs of young people to ensure holistic programs are being provided.

"If young people receive quality resources and skills in the crucial growth stage, they have a better chance of becoming positive, contributing members of society," she said.

Finda Quiwa, a United Methodist Women regional missionary, encouraged the young people to be creative as they seek to follow Biblical principles in finding ways to be involved in the church.

"Never feel the slightest disturbance because the Lord is raising you up to lift and carry the heavier burdens and proclaim the message of truth. The work before us is large, and it can't be completed by church leadership alone. All must be involved: leaders, laity, old and young … especially our young people," she said.

Maiga is a communicator for the Kenya-Ethiopia Conference.

News media contact: Vicki Brown at (615) 742-5470 or

[email protected]

. To read more United Methodist news, subscribe to the free Daily or Weekly Digests.