"How many of you are tired of hearing The United Methodist Church is dying?"
Those were Glen Simpson's first words to participants at Relevance X 2013, a three-day leadership conference in Las Vegas Feb. 15-17 for young people 18 to 30.
Through energetic worship services, sermons, dialogue and a unique "field trip," participants focused on service and how service should be a key component of their faith. They were challenged to exhibit their personal faith by being a servant to those in need.
The Desert Southwest Annual (regional) Conference began hosting Relevance X in 2010. Now an annual event, Relevance X aims to reach young adults who often find themselves without a voice in the church. The event was also sponsored by Claremont School of Theology and Rethink Church, part of United Methodist Communications.
"We need to ask each other how we can become more relevant as a church, how we can become better leaders," said Simpson, Desert Southwest's coordinator for young adult ministries. "Relevance X is all about providing that platform."
For the second year, Relevance X ran side by side with LEAD 2013, another conference geared toward young clergy and lay leaders and those who work with young people. LEAD brings together the collective wisdom of those who want to transform and grow young adult ministry in the church. TED-style talks from a variety of faith leaders and those in creative ministry sparked conversation among participants focused on transforming young adult ministry in the church.
"I noticed leaders would come to Relevance X without their kids and thought, 'How do we do this conference for a group?'" said the Rev. Rob Rynders, LEAD organizer and pastor of City Square Church in Phoenix.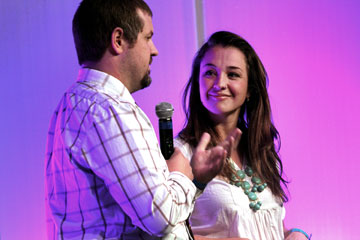 The Rev. Rob Rynders moderates questions for the Rev. Sarah Heath, pastor and artist, following her talk at LEAD 2013.
A UMNS photo by Kats Barry.
A different approach
Here come the scary numbers. For the past few months, religious news services have been breathless over an October 2012 report from the Pew Center, which declared that one in five adults in the United States are "nones," meaning they claim no religious affiliation whatsoever. According to Pew, 32 percent of adults younger than 30 have no religious affiliation, and young adults today are much more likely to be unaffiliated than previous generations were at a similar stage in their lives.
While that information cannot be ignored, Relevance/LEAD 2013 sought to highlight unique ministries that are engaging young people and find ways similar creative ministries could be created, newer ways to appeal to those who the church does not now reach.
Evan Smith, who leads the Reverence Electro-Ministry Team in Toronto, spoke about the effectiveness of electronic music and rave culture in worship. With a bevy of tattoos, a lip ring and a streak of purple in her hair, Smith doesn't look like a typical worship leader, and her ministry isn't typical worship. It's working, but she notes that whether it's something as radical as a rave or your average lock-in, one must be immersed in youth culture to connect effectively.
"We have a responsibility to connect with youth in their way," she said. "If you're not social-media savvy, if you don't know who Skrillex is, if you can't find a video on YouTube, then get out. They will learn more than us, bypass us, and therefore, bypass the love of Christ."
Richard Kentopp, musician-in-residence at Servant Church in Austin, Texas, echoed Smith's sentiment that you have to speak different languages for different audiences.
Richard Kentopp offers three tips on how to bring new or unchurched people into your worship service.
Identify what language you're speaking, both intentionally and unintentionally, and be aware of it.
Set your preferences aside. Encourage your congregation to think outside their preferences.
Make some changes. Risk your job. Be courageous. Be dynamic. The status quo isn't working and if it is working for you, it won't for much longer.
"We don't speak Latin any more, but we don't know how not to speak church-speak to those who are outside," Kentopp said. "Don't simply tailor your service to the people already in your world. We all need non-Christians joining our church and in our services."
One vital aspect of worship for youth is music. Relevance and LEAD featured everything from a praise rock band, a jazz ensemble and a spoken-word artist to a club DJ and an impromptu gospel choir.
Kentopp pointed out that staying up on musical trends is key to reaching young people. He shared an anecdote about a conversation with a music pastor who led a contemporary service and described the music as similar to James Taylor.
"Your primary weekly worship gathering is the main door to the community, and youth know Kanye West and Jay-Z more than they know James Taylor," he said. "This isn't a preference thing; it's a true linguistic barrier."
LEAD also addressed issues that young clergy face when they're the ones who represent the generation gap.
The Rev. Sarah Heath, teaching and preaching site pastor for Shepherd of the Hills United Methodist Church, Rancho Santa Margarita, Calif., often finds her youthful appearance – and actual young age – can lead to dismissive attitudes. With a nose ring and tattoos, she knows she might not be accepted at just any church.
"If they don't want me with a nose ring, that's not the place for me. Your job is to be you," she said.
Heath reminded participants that being a pastor is not the only thing they are, and perhaps they have other gifts they aren't using in their ministry. She said she also experiences God through art, music and acting and knows God wants her to use those creative urges.
"God gives you unique talents and gifts … and the world needs them. Say you're a great organizer, or you're great with finance — bless you! That's a ministry. You'll reach people I cannot." 
Having an impact
The centerpiece of Relevance X 2013 was a service experience with Impact Las Vegas, an outreach ministry in a part of Las Vegas that doesn't get shown on TV. Just a few miles from the lights on "The Strip," the neighborhoods are far from glamorous.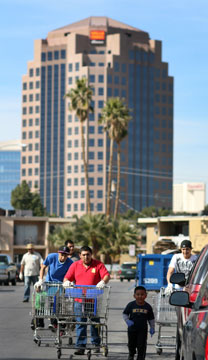 Volunteers for Impact Las Vegas 2013 help clean up the Palos Verdes neighborhood near the Las Vegas Strip. A UMNS photo by Joey Butler.
Visitors see rows and rows of homes badly in need of repair and with bars over windows to prevent burglaries. Nearby, homeless people sleep in tent cities by the interstate.
More than 500 volunteers loaded onto buses and headed into those areas to clean them up. The volunteers, more than one-third 18 to 34 and unconnected to a church, picked up trash from the streets and alleys of the Palos Verdes neighborhood and also cleaned up parts of a nature trail.
Yvonne Agduyeng, a Relevance X participant from Seattle, said she liked the experience so much at last year's event that she decided to come back.
"It's good to talk about doing something for your community, but to actually do it at a conference is why I came back. I know I can do this at home, but going somewhere else to where I can - this feeds my soul," she said.
"I always hope for people to realize we don't have to do church a certain way," Simpson said. "And I want people to see the power of the connection. The United Methodist Church is a very powerful connectional system, and how much work can we accomplish instead of competing against each other?"
View United Methodist News Service's photos from Relevance/LEAD 2013
*Butler is editor of young adult content for United Methodist Communications, Nashville, Tenn.
News media contact: Joey Butler, Nashville, Tenn., (615) 742-5470 or [email protected].
---
Like what you're reading? Support the ministry of UM News! Your support ensures the latest denominational news, dynamic stories and informative articles will continue to connect our global community. Make a tax-deductible donation at ResourceUMC.org/GiveUMCom.