A small group of young people inquisitive, well educated and diverse will carefully watch the proceedings during the 2012 United Methodist General Conference.
These "watchers" are learning how The United Methodist Church really works.
During a pre-conference news briefing Jan. 19-21, the Bishop Melvin G. Talbert Leadership Institute Fellows got a taste of what to expect when General Conference convenes.
More than 300 delegates, communicators and others were part of the preview at the Tampa Convention Center, the site of the 2012 legislative assembly April 24-May 4. General Conference is held every four years and is the only body that speaks for the entire denomination.
Attending the news briefing was part of the training the fellows are receiving in their two-year tutorial that started in January 2011. The program honors one of the church's most prophetic leaders, retired Bishop Melvin G. Talbert. He and his wife, Marilyn, are part of the team of leaders and coaches advising the young people.
Black Methodists for Church Renewal, the organization that established the program, chose this first class of fellows for their leadership potential.
Sitting in an early morning breakfast hosted by representatives of the six United Methodist national ethnic plans on Jan. 21, the fellows heard repeatedly how vital it is to the future of the church to raise and nurture young leaders.
During panels representing different views on some of the major legislation set to come before the conference, participants were encouraged to ask questions. The fellows listened, and for the most part, they were impressed.
"I really enjoyed hearing from Bishop [Minerva] Carcaño," said Deliah Fakalata, a member of Tongan United Methodist Fellowship of Sacramento, Calif. "The things she said really inspired me, especially about how we need to keep the church alive and vital."
Carcaño was part of a panel discussing proposals to restructure The United Methodist Church.
"This weekend was very beautiful. I was able to see respect from a lot of people - respect and understanding, even when they didn't agree with each other's point of view," said Liberia native Walter Gizzie Jr., in the United States to pursue a degree in nursing. "It gave me a lot of hope. They actually showed that they had the spirit of God in them."
Linda Furtado is a married mother of two small children. Her spouse is on the ordination track to become a United Methodist elder. She said the time to debate and debrief after the plenary sessions was "unbelievably valuable."
Furtado is just beginning the process to become an ordained deacon.
The presenters at the conference represented themselves and the church well, she said. "I just want to aspire to be able to be that kind of person wherever I am. It seems they engrain that in their whole selves."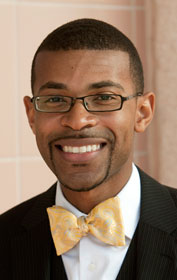 Theon Johnson III, Bishop Melvin George Talbert Leadership Institute.
Growing into leadership
The institute held its first meeting a year ago, and the fellows have grown close to each other through interactive webinars, phone calls and face-to-face meetings, said Marilyn Talbert.
Through technology, the fellows have started "meeting" Saturday mornings at 7:30, she said. "They developed a buddy system amongst themselves, and it has been rewarding to watch their growth and how they are now beginning to lead us."
Cassie Hinnen, a young person acting as a liaison between the young people and those on the leadership team, sees herself as an "honorary fellow."
Listening to Erin Hawkins, the top executive of the Commission on Religion and Race, talk about the importance of holy conferencing was important to Hinnen.
"That brings a lot of hope and spoke to me personally because that is what I strive to do - to understand all people when I find myself judging another person," said Hinnen, a kindergarten teacher assistant who will go to seminary in the fall.
Marcus Smith, enrolled at Carnegie Mellon University in Pittsburgh, said he is "straddling the line between government leadership and church leadership."
Forming a bond with people who have something in common has helped him grow. "We'll see what happens."
Theon Johnson III, director of the Wesley Foundation at Jackson (Miss.) State University, did not lose sight of the importance of the issues being discussed by the church. He is also on the track to become an ordained elder.
In April, when the full conference is in session, the 10 days delegates will spend deciding church policy will have far-reaching effects, he said. "Meetings like this become gathering moments for doing the business of God in ways that really matter."
Kevin Kosh Jr. said the leadership institute opened the door for graduate school.
"When we first got together, I got to meet the president of Gammon Theological Seminary, and through that, I was actually able to make the connections to get into Gammon."
Kosh said the honesty and openness from the presenters and participants at the pre-General Conference briefing made the experience "very insightful."
"Even though the church is representing God, we realize we are not doing everything right - but just because we aren't doing everything right doesn't mean we can't be more Christ-like," he added.
*Gilbert is a multimedia reporter for the young adult content team at United Methodist Communications, Nashville, Tenn.
News media contact: Kathy L. Gilbert, Nashville, Tenn., (615) 742-5470 or [email protected].
---
Like what you're reading? Support the ministry of UM News! Your support ensures the latest denominational news, dynamic stories and informative articles will continue to connect our global community. Make a tax-deductible donation at ResourceUMC.org/GiveUMCom.