Young adults from the African continent have launched a COVID-19 prevention campaign in children's homes, universities, health facilities, markets and other public places, with financial support from United Methodist Discipleship Ministries.
The campaign is being spearheaded by Young African Leadership Development, which was formed in 2018 after a series of young leader summits held by Young People's Ministries. The goal of the group — mostly United Methodists — is to promote awareness about the global pandemic and offer relief to vulnerable communities.
Young People's Ministries, a division of Discipleship Ministries, provided money for the project. The agency's work is funded by apportionments through the World Service Fund.
"It is our hope, under the leadership of the Rev. Junius Dotson, that projects like this from well prepared and trained young leaders can encourage innovation and evangelism efforts while also meeting community needs," said Young People's Ministries director Chris Wilterdink.
Young African Leadership Development is present in 19 countries in Africa and eight were selected for the COVID-19 campaign, which started in June with a $15,000 grant from Discipleship Ministries. The participating countries are Zimbabwe, Congo, Nigeria, Sierra Leone, Cameroon, Rwanda, Tanzania and Côte d'Ivoire.
Cesar Lodiha Akoka, a divinity student at Africa University in Zimbabwe, said 10 representatives went to Fairfield Children's Home at United Methodist Old Mutare Mission and the church's Nyakatsapa School to promote COVID-19 awareness.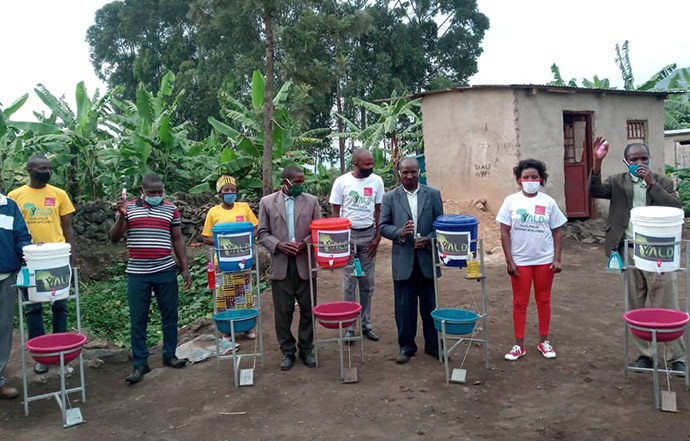 "The aim was to reach vulnerable people who may not be aware how to prevent this deadly disease," Akoka said. "During this crisis, we have no time to sit and watch millions of Africans die because they are not informed or they are not in possession of masks or liquid soap to wash hands regularly. Instead, we felt we should participate by putting love in action."
He said as a trainee pastor for The United Methodist Church, the project offered an opportunity for him to practice what he's learned and is still learning at Africa University.
"Church and social transformation has to be our lifestyle," he said.
The Young African Leadership Development team donated buckets, hand sanitizers, masks, corn meal, cooking oil and thermometers to the two institutions.
According to the most recent Johns Hopkins University data, 1,820 people have tested positive for COVID-19 in Zimbabwe and 26 have died.
In Congo, young people are running the awareness campaign on preventive measures to stop the spread of the coronavirus in Kinshasa, the capital and epicenter of the disease in the country.
According to Peter Cibuabua, president of Young African Leadership Development in Africa, who is based in Congo, the campaign alerts local communities that the coronavirus is a reality.
"The campaign allowed us to tell our friends, beloved ones, fathers, mothers and everyone that the coronavirus is real and that it kills. Let's protect ourselves in order to protect others," he said.
There have been 8,626 COVID-19 cases recorded in Congo — more than 6,900 cases in Kinshasa — and 197 deaths.
The young people also raised awareness at the Christian University of Kinshasa and the National Institute of Building and Public Works, where local and international students are stuck on campus because of travel restrictions.
"In the two universities, we donated food to the students. We also gave face protection masks, hand-washing devices or even hydro-alcoholic gels to disinfect the hands," Cibuabua said.
He said the group helped more than 50 children ages 1 to 14 at an orphanage in Bandal, where they gave food, masks, disinfectants and hand-washing devices. They also donated a refrigerator to store blood for transfusions and other medication at a hospital that treats children with COVID-19 and sickle cell anemia.
Jenifer Philip, a Young Africa Leadership Development member, distributes face masks to children at the church's orphanage in Jalingo, Nigeria. Photo courtesy of Peter Cibuabua, Young Africa Leadership Development.
"In the Sola market in Kinshasa, we made sellers aware of preventive measures and the importance of protecting themselves in order to finally protect others," he said.
He said the group used the market's radio to relay the group's message and donated masks, disinfectants and two hand-washing buckets for the entrance and exit at the market.
Papar Tshimanga, the market administrator, appreciated the initiative. "This is the first time we have seen young people come to educate sellers on barrier measures."
The group organized several other COVID-19 awareness-raising sessions.
"We invited a doctor to explain to the young people of The United Methodist Church about the coronavirus and how to protect themselves. They, in turn, can sensitize others," said Dr. Hervé Tshoso, who is responsible for Youth for Christ in the Kindu District.
In Cameroon, Lizette Che led a delegation of 15 young adults from various denominations, including United Methodists, Presbyterians, Baptists and Catholics, for the awareness campaign in Buea, the South West region of Cameroon. They visited an orphanage, rehabilitation center for the blind and a motorist terminal.
"Research helped us in isolating Buea as one of the least-informed regions regarding COVID-19. Unlike some other cities like Yaoundé, the capital of Cameroon, we noticed that much sensitization had not been done in this part of the country, probably because it has not been affected that much by the pandemic," Che said.
"We felt it was our responsibility to make the community understand the fact that they have not been hit hard by the virus does not mean it cannot happen to them in the future."
The team also visited the Grace of God Philanthropic Orphanage and a rehabilitation center for the blind.
"We desired to reach out to marginalized groups with special needs in our society, a place where we could extend a hand of fellowship and remind ourselves about the love for one another that Jesus Christ taught us," Che said.
In addition to face masks, sanitizers and hand-washing buckets, the team also gave out bags of rice, cartons of tomatoes, vegetable oil, nuts, sanitary pads and soap.
Ahmed Ayuba Koppi said the Young African Leadership Development campaign in Nigeria was conducted in Gombe, which has the highest number of COVID-19 cases in the Northeastern region in Nigeria, and Jalingo, where The United Methodist Church in Nigeria has its headquarters.
"We wanted our members and the communities there to feel the impact of YALD," Koppi said.
The group distributed hand sanitizer, liquid soap, buckets, face masks and food to beneficiaries that included orphanages and camps for internally displaced persons.
In Côte d'Ivoire, orphans, families with low monthly incomes, the elderly and vulnerable and youth leaders benefitted from the campaign held in Abidjan, said Monique Assi, Young African Leadership Development country director.
The group visited 20 families who are members of the Bethanie United Methodist Church of Koumassi Prodomo and 10 other families from the Koumassi Camp. "We ended with mass awareness in the streets," Assi said.
"At the orphanage in Abobo, we sensitized the children and their supervisors and reminded them different stages of hand washing," she added. "At the end of the training, we donated goods, which included rice, cooking oil, buckets for handwashing, sugar, milk, cocoa powder, face masks, liquid soap and hydro-alcoholic gels."
The group also conducted a workshop at the Methodist Church of Abobo-Gare under the theme, "COVID-19 is not a delusion" to educate and mobilize youth and young adults, Assi said.
Nyasinde Mwamba Rashid, Tanzania country director, said the campaign reached Tanzanian orphanages and vulnerable groups of people, including those who are at high risk of contracting the virus.
"During different trips, we had enough time to play games, share our experiences, give the word of encouragement, sing and dance and also to give material support including food and protective equipment," Rashid said.
United Methodist churches, which will soon reopen for in-person worship in the Gisenyi District of the Rwanda Provisional Conference, were some of the beneficiaries of the young people's campaign in Rwanda, said Anastase Habiyaremye, country director.
"Hand-wash buckets and stands, sanitizers and liquid soap will be used by church members during church services in order to protect them and avoid the spread of COVID-19," he said.
Habiyaremye said the team also visited orphans of Remera and Rwinkwavu United Methodist churches in the Kibungo District and distributed corn flour, beans, cooking oil and laundry soap in addition to COVID-19 protection materials.
In Sierra Leone, Young African Leadership Development members targeted two schools, a juvenile detention center and The City of Rest, a Christian-run rehabilitation home for drug addicts and mentally challenged youths, said Senesie T.A. Rogers, the country director.
"Our visits to the detention center and the rehabilitation home resulted in inmates and the young people getting caught up in an outpouring of emotions. The effect left the inmates feeling hopeful and cared for, while YALD members were enlivened and motivated," he said.
Chikwanah is a communicator in Zimbabwe. Chadrack Tambwe Londe from Congo contributed to this story.
News media contact: Vicki Brown, news editor, [email protected] or 615-742-5470. To read more United Methodist news, subscribe to the free Daily or Weekly Digests.
---
Like what you're reading? United Methodist Communications is celebrating 80 years of ministry! Your support ensures the latest denominational news, dynamic stories and informative articles will continue to connect our global community. Make a tax-deductible donation at ResourceUMC.org/GiveUMCom.