United Methodists in the U.S. elected and assigned eight new bishops and re-assigned the rest during jurisdictional meetings held in five regions last week. 
It was an often-intense week as delegates worked to fill leadership vacancies created by seven retirements, one resignation and a death. Bishops are the top clergy leaders of the denomination, and the 50 or so U.S. bishops oversee some 7.9 million of the church's 11.5 million members worldwide.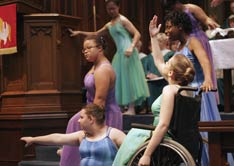 The United Methodist Southeastern Jurisdiction wasted no time, taking its first ballot on opening day, July 16, and announcing the first elected bishop of the 2008 group — Paul Leeland — the next morning. The Northeastern Jurisdiction, which began meeting two days earlier than the other jurisdictions, also took its first ballot July 16 and finished choosing a bishop the next day.
The process took longer elsewhere. The Western Jurisdiction, which had two bishops to elect, went into the wee hours of the morning July 19 before completing its selections. The South Central Jurisdiction started quickly, electing the first of three bishops on the third ballot before noon on July 17, and then worked until late in the evening July 18 to elect the third. The North Central Jurisdiction experienced slow going, at one point disqualifying a ballot because of a chocolate chip cookie smudge, but it managed to complete its work July 18.
The newly elected bishops expressed feelings of humility and gratitude, and also shared glimpses of their personal visions.
"I claim my baptism this day and the special callings to which God has called me," said Bishop Elaine J.W. Stanovsky, at the Western conference in Portland, Ore. "... May God lead us faithfully forward in the name of Jesus Christ."
At the South Central gathering in Dallas, Bishop John Michael Lowry said a bishop needs to be the spiritual leader "casting a vision for God's people and God's kingdom that is really inclusive." Most of the people the church makes decisions about are not in the church, he said.
Also in Dallas, Bishop W. Earl Bledsoe said his philosophy is that "the church is either growing or dying, and if it is standing still, it is dying." In a briefing after his election, he said the connectional system, the diversity of theological thought and differences of opinion are what he views as hopeful about The United Methodist Church. "We are a church that allows people to develop their faith and grow in their faith experience," he said.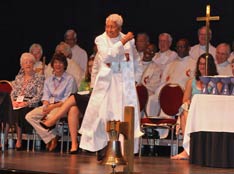 In addition to choosing and assigning bishops, delegates in the jurisdictions acted on other items:
In the South Central Jurisdiction, delegates approved a regional mission council's decision to give Southern Methodist University permission to lease land for a President George W. Bush Presidential Center. SMU in Dallas is operated by the South Central Jurisdiction. Leasing land for building the center, which would be part of a Bush presidential library, has generated debate. Some United Methodists support it, while opponents say Bush's policies on major issues contradict church positions and that the center would be a partisan think tank.
In the Western Jurisdiction, delegates adopted four statements challenging the denomination's position that homosexuality is "incompatible with Christian teaching." One resolution celebrated a May 15 ruling by the California Supreme Court clearing the way for gay marriages in that state. Another asks that church leaders look for "creative ways" to "be in full ministry with all who come to us." The resolutions followed others passed in June by the California-Pacific and California-Nevada annual conferences in support of United Methodist clergy who choose to perform same-sex marriages an action forbidden by the church's Book of Discipline. The Northeastern Jurisdictional Conference also voiced support for those clergy.
In the Northeast, church members approved a redrawing of annual conference boundaries, decreasing the number of episcopal areas from 10 to nine by 2010.
North Central delegates gave permission July 18 to the North Indiana and South Indiana annual conferences to unite into one new Indiana Conference. Indiana Bishop Mike Coyner has called both conferences to attend a special session Oct. 4 to finalize details.
The jurisdictional gatherings are held every four years. Bishops for the church in Africa, Europe and Asia are elected at other times in central conference gatherings.
Of the eight new bishops elected, two are women and six are men. One is Asian American, two are African American and five are white.
The bishops' new assignments take effect Sept. 1. 
South Central
The Bush library issue received much discussion and media attention at the South Central Jurisdictional Conference. During the deliberation, a delegate raised a question about whether the jurisdiction was going to get fair market value in the transaction. Bishop Robert E. Hayes Jr., presiding over the conference session, said he would seek a declaration of law from the Judicial Council, the denomination's top court, on the matter.
In another matter, South Central delegates accepted a motion on holy conferencing from the SC Black Methodists for Church Renewal, in response to jokes from the floor and the treatment of a woman bishop as she led a session. The motion called the conference "to a time of prayerful discernment to reaffirm our commitment to holy conferencing."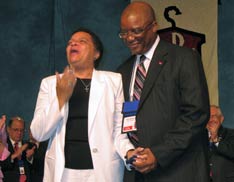 "Today we have witnessed the sexist jokes, the disrespectful addressing of a female presiding officer and responses such as laughter after demeaning comments, which perpetuates a hostile environment that limits inclusive dialogue," the motion stated. "These type of behaviors and attitudes are not consistent with holy conferencing and are not compatible with Christian teachings. Therefore sexist and/or racist remarks and demeaning language have no place in our conferencing."
The statements reflected the concerns not only of the SC BMCR but also of the SCJ Black Clergywomen, the SCJ Methodist Association Representing the Cause of Hispanic Americans, the SCJ Women's Leadership Team, and individuals.
Newly elected bishops in the South Central Jurisdiction are:
Bishop W. Earl Bledsoe, who succeeds Bishop Alfred L. Norris in the North Texas Annual Conference. Norris, who retired in 2004, re-entered active service following the 2006 death of Bishop Rhymes Moncure Jr. A new bishop, Bledsoe was superintendent of the Bryan/West District in the Texas Conference.
Bishop James E. "Jim" Dorff, San Antonio Area (Rio Grande and Southwest Texas conferences). A new bishop, he was area provost of the North Texas Conference. He succeeds Bishop Joel Martinez, who is retiring.
Bishop John Michael Lowry, who succeeds retiring Bishop Ben R. Chamness in the Fort Worth Area (Central Texas Conference). Lowry was executive director of new church development and transformation of the Southwest Texas Conference.
Bishops returning to their geographical assignments are:
Bishop Robert E. Hayes Jr., Oklahoma Area (Oklahoma and Oklahoma Indian Missionary conferences).
Bishop Charles N. Crutchfield, Arkansas Area (Arkansas Conference).
Bishop Scott Jones, Kansas Area (Kansas East and Kansas West conferences).
Bishop William W. Hutchinson, Louisiana Area (Louisiana Conference).
Bishop Robert C. Schnase, Missouri Area (Missouri Conference).
Bishop Ann B. Sherer, Nebraska Area (Nebraska Conference).
Bishop Janice Riggle Huie, Houston Area (Texas Conference).
Bishop D. Max Whitfield, Northwest Texas-New Mexico Area (Northwest Texas and New Mexico conferences).
Southeastern
Bishop Paul L. Leeland, the new Southeastern bishop, was assigned to the Alabama-West Florida Area (Alabama-West Florida Conference) for the next four years. He has been serving as assistant to the bishop in the Raleigh (N.C.) Area. Leeland succeeds Bishop Larry M. Goodpaster, who is moving to the Charlotte Area (Western North Carolina) from Alabama-West Florida.
Three other active Southeastern bishops who have served in their current locations for at least four years have received new assignments. They are:
Bishop Lindsey Davis, Louisville Area (Kentucky and Red Bird Missionary conferences). He is moving from North Georgia.
Bishop James R. King Jr., South Georgia Area (South Georgia Conference); moving from the Louisville Area.
Bishop B. Michael Watson, North Georgia Area (North Georgia Conference); moving from South Georgia.
Eight bishops will return to their areas:
Bishop Alfred Wesley Gwinn Jr., Raleigh Area (North Carolina Conference).
Bishop Charlene Payne Kammerer, Richmond Area (Virginia Conference).
Bishop James E. Swanson Sr., Holston Area (Holston Conference).
Bishop Mary Virginia Taylor, Columbia Area (South Carolina Conference).
Bishop Hope Morgan Ward, Mississippi Area (Mississippi Conference).
Bishop Timothy W. Whitaker, Florida Area (Florida Conference).
Bishop William Willimon, Birmingham Area (North Alabama).
Bishop Richard Wills Jr., Nashville Area (Memphis and Tennessee conferences).
North Central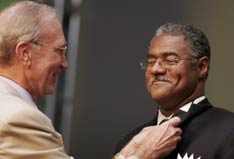 United Methodists in the North Central Jurisdiction, meeting in Grand Rapids, Mich., elected Julius Calvin Trimble as a new bishop. Bishop Trimble was assigned to the denomination's Iowa Area for the next four years.
Trimble was elected to fill a vacancy created by the retirement of Bishop Sharon Brown Christopher. Bishop Gregory V. Palmer, president of the Council of Bishops, will move to the Illinois Area, where Christopher was leading the church's Illinois Great Rivers Conference. Palmer has been serving the Iowa Area (Iowa Conference).
The North Central College of Bishops requested that Bishop Bruce R. Ough remain in the Ohio West Area (West Ohio Conference), where he has already served two terms.
The seven other active North Central bishops are being reassigned for second terms in their areas:
Bishop Michael J. Coyner, Indiana Area (North and South Indiana conferences).
Bishop Sally Dyck, Minnesota Area (Minnesota Conference).
Bishop John L. Hopkins, Ohio East Area (East Ohio Conference).
Bishop Hee-Soo Jung, Chicago Area (Northern Illinois Conference).
Bishop Jonathan D. Keaton, Michigan Area (Detroit and West Michigan conferences).
Bishop Deborah Lieder Kiesey, Dakota Area (Dakotas Conference).
Bishop Linda Lee, Wisconsin Area (Wisconsin Conference).
Northeastern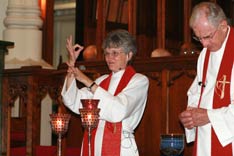 Meeting in Harrisburg, Pa., United Methodists in the Northeastern Jurisdiction elected Peggy Johnson bishop. Johnson has been serving as pastor of Christ United Methodist Church of the Deaf in Baltimore. She was assigned to the Philadelphia Area, comprising the Eastern Pennsylvania and Peninsula-Delaware conferences.
Because of an earlier vote to redraw conference boundaries, two episcopal areas New York West and Albany (N.Y.) will be changed in 2010, becoming part of a new Upper New York Area. Bishop Marcus Matthews, who has led the Philadelphia Area, has been assigned to the New York West Area, covering the North Central New York and Western New York conferences.
The jurisdiction's college of bishops is requesting the United Methodist Council of Bishops appoint retired Bishop Susan Hassinger to the Albany Area, according to Bishop John Schol. She has served there since the early retirement of Bishop Susan Morrison in 2006.
Seven other Northeastern bishops were assigned for second terms to their areas:
Bishop Peter Weaver, Boston Area (New England Conference).
Bishop Jane Allen Middleton, Harrisburg Area (Central Pennsylvania Conference).
Bishop Sudarshana Devadhar, New Jersey Area (Greater New Jersey Conference).
Bishop Jeremiah J. Park, New York Area (New York Conference).
Bishop Thomas J. Bickerton, Pittsburgh Area (Western Pennsylvania Conference).
Bishop John Schol, Washington Area (Baltimore-Washington Conference).
Bishop Ernest Lyght, West Virginia Area (West Virginia Conference).
Western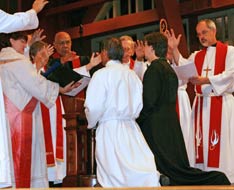 In Portland, Ore., delegates to the Western Jurisdictional Conference elected Grant Hagiya and Elaine J.W. Stanovsky as bishops. 
Hagiya was appointed to lead the Seattle-based Pacific Northwest Conference and the Alaska Missionary Conference. A former district superintendent in Los Angeles, he is most recently executive director of Leadership Development and the Center of Leadership Excellence, a joint project of the church's California-Pacific Annual Conference and the Claremont School of Theology.
Stanovsky is being sent from Seattle, where she has been a district superintendent, to the Denver Area, where she will oversee the Rocky Mountain and Yellowstone conferences.
Bishop Warner H. Brown Jr., who has served the Denver Area for eight years, is returning to the San Francisco Area (California-Nevada Conference), where he served for 20 years as a pastor, district superintendent and conference council director.
Bishops returning to their current areas for second terms are:
Bishop Minerva Carcaño, Phoenix Area (Desert Southwest Conference).
Bishop Robert Hoshibata, Portland Area (Oregon-Idaho Conference).
Bishop Mary Ann Swenson, Los Angeles Area (California-Pacific Conference).
*This report was written with information from UMNS staff at the jurisdictional conferences, as well as from Neill Caldwell at the Southeastern gathering and Dan Gangler at the North Central conference.
News media contact: Tim Tanton or Kathy Noble, Nashville, Tenn., (615) 742-5470 or [email protected].
---
Like what you're reading? Support the ministry of UM News! Your support ensures the latest denominational news, dynamic stories and informative articles will continue to connect our global community. Make a tax-deductible donation at ResourceUMC.org/GiveUMCom.