Delegates to the United Methodist General Conference renewed their baptism, celebrated rural churches, and spent most of April 26 in committees perfecting legislation to be considered by the entire 992-member assembly.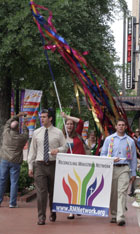 The Texas sky was clear when delegates to the top legislative body of the denomination entered the Fort Worth Convention Center. However, they would soon be sprinkled with water as young confirmands moved throughout the meeting hall, wetting branches and shaking them over worshippers.

Those present made signs of acceptance and renewed their baptismal commitment as musicians sang, "Rain down, rain down, rain down your love on your people."
Hutchinson sermon
In the morning sermon, Louisiana Area Bishop William W. Hutchinson recalled the biblical story of Nicodemus, a man of stature and wealth, who asked Jesus for counsel for his soul.

"Unless one is born of water and the spirit, he cannot enter the Kingdom of God," Jesus responded. "That which is born of the flesh is flesh, and that which is born of the Spirit is spirit."

"In other words," said the bishop, "Jesus is saying we have to be born from above out of this world so to speak. We have to be inhabited by that spirit of the living God, bringing life to our otherwise plodding souls, and lifting us from the ashes of life around us into the splendor of life in the living God."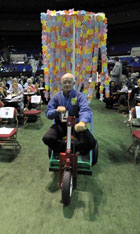 Hutchinson asked the crowd, "Have we been baptized into form, but not yet into power? Have we been born from above as well as from below? Have we been baptized with water and the Spirit? To use two phrases spoken frequently by one of our district superintendents in Louisiana, have we moved from the 'my my my' state of baptism to the 'yes indeed' state?"
Planting seeds
Later in the morning, some 100 representatives of 25,000 rural United Methodist churches processed down the assembly hall aisles with colorful banners covered with 25,000 paper butterflies. Senior citizens in the Redbird Missionary Conference spent three months cutting out the butterflies.

Members of the procession also passed out packets of "Seeds of Hope" to grow zinnias, long-stemmed flowers that come in several colors.

Bishop Kenneth L. Carder described rural congregations as one of "our greatest assets for evangelical and missional renewal." However, he warned that "forces within and outside the church are choking the life from the fragile plants."

The bishop said negative forces within the rural church include a loss of identity as a center of evangelism and mission. "Rather than seeing the church as a mission station and themselves as missionaries and evangelists, they see the church as a family chapel and themselves as merely mutual comforters or perhaps hospice volunteers for a dying institution," Carder said.

The bishop said negative forces outside the rural church include demoralizing rhetoric that devalues small-member congregations, pastoral attitudes that consider rural and small-member congregations as career stepping stones, and marginalizing small-member congregations by omitting their voice from denominational structures.
Other events
After concerns were registered about a coalition giving cell phones to some 150 African and Filipino delegates to use during General Conference, delegates asked the 2009-2012 Commission on General Conference to create an ethics committee to review such matters.
Some delegates and visitors attended a Nothing But Nets basketball tournament held by the Central Texas and North Texas conferences at First United Methodist Church in Fort Worth. The tournament between the conferences began at the local church level last June. The tournament and offerings raised $300,000 for the campaign to provide insecticide-treated mosquito nets to African families.
An effort to raise retirement funds for pastors serving outside the United States has raised $7.8 million, but, in a video, Barbara A. Boigegrain, chief executive of the church's Board of Pension and Health Benefits, said it would require an additional $20 million to fully fund the program. Liberian Bishop John Innis said Liberia started receiving quarterly pension payments in 2007.
Some 200 people attended a noon rally asking the assembly to adopt legislation that welcomes everyone regardless of sexual identity. "Don't worry, it will happen because nothing can stop the force of this generation," said Rachel Birkhahn-Rommelfanger, chairperson of the United Methodist Student Movement. Supporters drummed for 24 hours leading up to the noon rally. After the event, participants went in the convention center and prayed outside conference rooms as delegates worked on legislation.
A study committee is offering several recommendations designed to establish closer ties with autonomous Methodist Churches in Latin America and the Caribbean. Among the recommendations is a suggestion that U.S. churches and conferences establish relationships. The study group also wants all General Conference documents translated into Spanish.
*Peck is a retired United Methodist clergyman and four-time editor of the Daily Christian Advocate now serving as an editor for United Methodist News Service during General Conference.
News media contact: Tim Tanton or Kathy Noble, e-mail: [email protected]

Phone calls can be made to the General Conference Newsroom in Fort Worth, Texas, at (817) 698-4405
(817) 698-4405 until May 3. Afterward, call United Methodist News Service in Nashville, Tenn., at (615) 742-5470
(615) 742-5470.
Video
Anthony Carmichael "It was defeated...I was not happy."
Related Article
Resource
---
Like what you're reading? Support the ministry of UM News! Your support ensures the latest denominational news, dynamic stories and informative articles will continue to connect our global community. Make a tax-deductible donation at ResourceUMC.org/GiveUMCom.